First the bad news. . .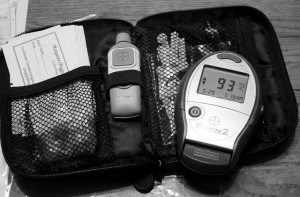 This is my constant companion now for the next eight weeks. I have to check my blood sugar levels four times a day – a fasting check in the morning before eating anything, then one hour after breakfast, lunch, and dinner. It's not too bad. I found my pinkies are the best bleeders. 🙂 But holy smokes, the testing strips are expensive! $323 for the three hundred strips to take me through the end of pregnancy. The monitor itself only cost $13. The diet is not much different than how we normally eat. I just need to count and limit my carbohydrate intake.
The good news . . .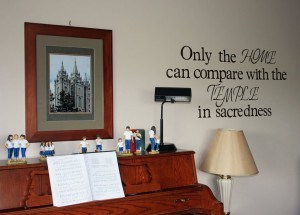 We are slowly trying to redecorate our living room and kitchen. No major changes in the living room, just adding some better pictures and other decor. My dad took this photo of the Salt Lake Temple. I should have gotten a close-up because you can really see the gold lettering that says Holiness to the Lord, The House of the Lord on it. We tried our hand at vinyl lettering with our Cricut as well. We chose this sentence from the first paragraph under Temple in the Bible Dictionary. I absolutely love it! And I have noticed a difference in the way we act because it is right there in big letters to remind us of what we are striving for in our home.
We'll be tackling the kitchen next. Just repainting the cabinets and getting new knobs and probably painting the walls a different color too. Right now they are a mustard yellow. Hopefully the girls and I can tackle that job in the next week or two. We'll be sure to show before and after pictures. It definitely won't be anything fancy but it will be a big improvement – if not in function at least in looks.
And finally….there has been absolutely no change whatsoever in the weather. It has been rainy, windy and cold for the last couple of weeks. It's going to be June in two days and it still feels like winter! My cold weather garden plants are loving it but we sure can't plant anything else. Last night it was below freezing. Ugh. And I can't even enjoy a nice cup of Spanish Hot Chocolate..
© 2007-2011 Chocolate on my Cranium, LLC all rights reserved