If you haven't ever tried true Spanish Turron you are missing out!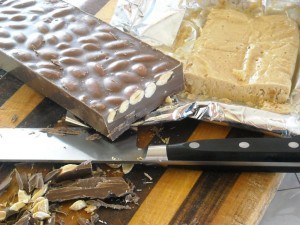 This almond paste one on the right is what I particularly remember from my childhood when my grandfather would return from his trips to Spain. Just taking a single little bite brings back a flood of memories.
Just one of the many simple pleasures Bon Bon and Semisweet brought back from Barcelona.
Edited: Jaime asked what turron was. It is a confection made with honey, sugar, egg whites, and almonds (though other nuts can be used as well).
What brings you simple pleasure?
© 2007-2011 Chocolate on my Cranium, LLC all rights reserved