Okay, so I assigned writing a limerick on motherhood this week thinking it would be easy. My brain must be on vacation. I took paper and pen with me while I did my three hour glucose test
(which I FAILED –
can I get a big BOO!!!!)
and seriously, it was hard trying to find words that fit the pattern of the limerick or that rhymed properly. Should have taken a rhyming dictionary. You should see the margins of my paper full of rhyming words that I wrote trying to come up with something. Actually the rhyming words were the easy part. I had different things about motherhood I wanted to write about but really couldn't make things fit. Finally I came up with this – which is only partly true – the last line is what my son said to me on Monday.
One day my dear son was quite bad
I yelled at him which made me sad
I gave him a hug
Then he said with a shrug,
"Know what? You're pretty when you are mad."
He really did say that! The kids had watched the old black & white version of Cheaper By the Dozen several days before. One of the younger boys says that to his oldest sister. I think Special Dark realized "Hmm… that's a good one to store away for future use!"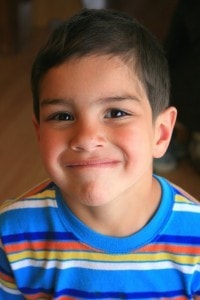 This next motherhood limerick was submitted by someone who doesn't have a blog.
You know the fridge needs to be cleaned
When from the cupboards you've gleaned
Not a bowl in the place
The smell won't erase
And things that aren't veggies are green
Haha! I think that happens around here at least twice a month. Thanks Leslie.
Join us today for Wordfull Wednesday. Write a limerick about motherhood on your blog – or leave one in the comments if you don't have a blog. Come back here and link up!
© 2007-2011 Chocolate on my Cranium, LLC all rights reserved