Girls Camp is only two weeks away! This year the theme for our camp is "Happily Ever After."
I was asked to be in charge of what the camp leaders call "sharing time." At the end of the first three days the youth camp leaders (YCL), who are 16-17 years of age, go to every group of girls to discuss what they learned that day and what their favorite parts of the day were. My job is to have a little object lesson, story, scripture, and handout for the YCLs to do for the daily sharing time. Each one is to be centered around the camp's theme for the day. Here is what I came up with for day #1 which just includes the YCLs and 4th year girls.
Be Your Own Knight in Shining Armor
Monday's Theme
What was the hardest part about today?


What lesson did you learn from that?


What was your favorite part of the day?


Show the picture of Joan of Arc and ask: "Do you know who this is?"
Story: "Young Joan of Arc, one of the greatest heroines in history, became the unlikely standard-bearer for the French army in the Dark Ages, long before the gospel was restored. Joan had the Light of Christ and also the courage to follow its promptings and make a difference. Joan was a peasant girl who could neither read nor write. Long years of war had impoverished and divided her country. At 16, sensing her life had a purpose, she left home, determined to help liberate her oppressed country. People scoffed at her ideas and thought she was a little crazy, but in the end she persuaded them to let her have a horse and an escort to go and see the king.
"Young King Charles VII had heard about Joan and decided to test her. He slipped into the ranks of the army and let one of his trusted associates occupy the throne. When Joan came into the room, she barely acknowledged the man on the throne, but promptly walked up to Charles and curtsied to him. This so impressed the king that he gave her command over his 12,000 troops. At first the French soldiers did not want to obey her, but when they saw that all who followed her succeeded and all who disregarded her failed, they came to look upon her as their leader.
"Clad in a suit of white armor and flying her own standard, Joan of Arc liberated the besieged city of Orleans in 1429 and defeated the English in four other battles. Twice she was wounded, but each time she recovered and went on fighting. Her orders seemed to be those of a military genius.
"She was captured by English allies and burned at the stake in 1431. Although this is a sad ending, it does not take away from Joan's greatness. She was courageous enough to follow the personal inspiration to which all of us are entitled." (James E. Faust, Don't Be Afraid to Be Different, Friend May 2007)
Ask: Joan of Arc suffered death for following her beliefs. What are some things you fear you might suffer for following yours? How can you find courage to follow them anyway? (make sure you wait – even up to a minute if needed – to give the girls time to think before they answer. Quiet time is okay!)
We read in the book of Abraham about three young women, virgins, that were also killed for their beliefs. They were offered upon an altar "because of their virtue; they would not bow down to worship gods of wood or of stone, therefore [these courageous, valiant, faithful young women] were killed upon this altar" (Abr. 1:11) These young women treasured their virtue! And they guarded it with their life.
Sister Elaine S. Dalton, Young Women General President, counseled us earlier this year to be Guardians of Virtue. She said, "As a guardian of virtue, you will protect, shield, and defend moral purity because the power to create mortal life is a sacred and exalted power and must be safeguarded until you are married. Virtue is a requirement to have the companionship and guidance of the Holy Ghost. You will need that guidance in order to successfully navigate the world in which you live. Being virtuous is a requirement to enter the temple. And it is a requirement to be worthy to stand in the Savior's presence."
Pass out the necklaces. Ask the girls to put them on.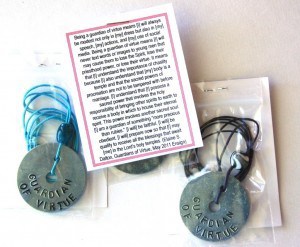 Ask everyone to read the card that came with the necklaces aloud as a group.
"Being a guardian of virtue means [I] will always be modest not only in [my] dress but also in [my] speech, [my] actions, and [my] use of social media. Being a guardian of virtue means [I] will never text words or images to young men that may cause them to lose the Spirit, lose their priesthood power, or lose their virtue. It means that [I] understand the importance of chastity because [I] also understand that [my] body is a temple and that the sacred powers of procreation are not to be tampered with before marriage. [I] understand that [I] possess a sacred power that involves the holy responsibility of bringing other spirits to earth to receive a body in which to house their eternal spirit. This power involves another sacred soul. [I am] a guardian of something "more precious than rubies." (Elaine S. Dalton, Guardians of Virtue, May 2011 Ensign)
Wearing these necklaces will help you to remember to be a Guardian of Virtue. It is made out of a piece of metal to help you think of the armor Joan of Arc wore in battle. We are also in a battle, a spiritual battle, against Satan. To put on the Armor of God we need to do those basic things we have been taught by prophets of God: read our scriptures daily, pay our tithing, pray daily, obey the Word of Wisdom, attend our church meetings, keep the commandments, etc. If we do this we can receive the same promise given to Emma Smith in the Doctrine and Covenants 25:2 "and if thou art faithful and walk in the paths of virtue before me, I will preserve thy life, and thou shalt receive an inheritance in Zion."
End by bearing your testimony of the value of virtue.
***************************************
And as a side note to these handouts. Mr. Ferrero Rocher stamped all the washers for me using metal alphabet stamps we have at the shop. The men use them when building parts or to mark equipment. He decided to do them at our kitchen table so Bon Bon could help him make sure everything was spelled correctly and to make sure they met my approval. Mr. FR was stamping one while also on the phone with his brother when the mallet hit the stamp funny and the stamp ended up ricocheting out of his hand, across the room . . . .
. . . .and straight into the window of our sliding door!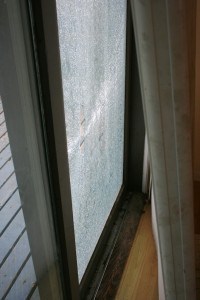 We could see and hear cracks spread throughout the whole window for a good 10 minutes before teeny tiny pieces started falling. There was nothing we could do but laugh and laugh and laugh. It really was hilarious! Especially seeing Mr. FR's face when it happened.
Those silly 20 cent washer necklaces will end up costing us an extra $500 for a new window. It's a good thing the window was double paned so there is still a window on there!
After it all happened Special Dark asked Mr. FR why he was making them anyway. Muttering under his breath Mr. FR said, "All for the love of a woman…." but turned to SD and answered, "Because mom asked me too and I always do what mom says. Do you?" Yeah, that made us laugh even more!
© 2007-2011 Chocolate on my Cranium, LLC all rights reserved