Are you getting excited about our Family Proclamation Celebration yet? I am! We have some great posts written by guest bloggers, and some awesome giveaway prizes lined up.
See this amazing custom family tree from ShabbyLadybug?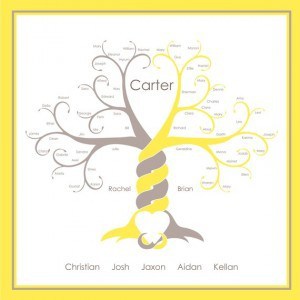 Available in any color or combination of colors, this 12x12inch digital file is delivered to your e-mail after you provide the genealogy names. I love how the two trees are intertwined to create one tree – so unique and beautiful.
Here's your opportunity to win it! Help us spread the news about our Family Proclamation Celebration. There are several ways to enter.
*Grab the Celebrate Family Blog Button and place it on your blog's sidebar. Leave the url to your blog so we can come and check.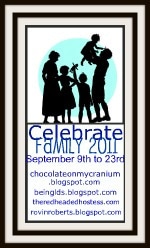 *Write a blog post about the celebration and let us know in the comments.
*Leave a comment telling us what your favorite fall activity is to do with your family.
*Like Chocolate on my Cranium on Facebook.
*Like We Talk of Christ, We Rejoice in Christ.
To make entering easier I am trying out this new Rafflecopter widget. It allows you to do all the entries from right here. You don't have to travel to each individual facebook page to like it, you can do it right from the widget! You don't have to enter a separate comment for each thing either. You will have to take the effort to post the button on your blog or write a blog post though. The great thing about Rafflecopter is it will keep track of all entries, giving them a number, making it much easier for a winner to be picked. When Rafflecopter asks for your info such as an e-mail address, that is strictly for notification purposes only if you are the winner.
Help us spread the word about the Family Proclamation Celebration!
Good luck!
© 2007-2011 Chocolate on my Cranium, LLC all rights reserved