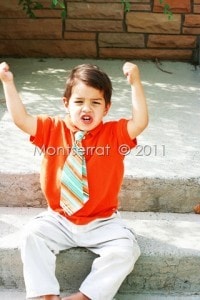 When my first born son was a baby, only 8 months old, he would sit in his walker and play with the baby toys. Then my husband or one of his brothers would drive by in a tractor or semi-truck loaded with hay. My son would go nuts! He'd make truck noises, wave his arms wildly and kick his legs wanting to be held to the window or taken outside where he could see the big piece of equipment going by. We didn't teach him to do that. It was just a natural reaction because of his gender.  When my daughters were that same age, playing in the same walker, hearing the same noises of farm equipment going by they reacted too – by saying "Dada!"  I never in my life thought I'd have so many daughters.  They were born with an inherit desire to be hospitable , motherly, nurturing, and feminine. It showed in how they choose to play – tea parties, dolls, dress-up. Now that they are all a little older my daughters aren't afraid of getting dirty. They enjoy working with their dad, driving tractors, raking and swathing hay.  My son occasionally enjoys playing dolls with his little sister, pretending to change their diapers and rock them to sleep.  He likes helping me cook and bake. These are also part of their physical and spiritual make-up – to help each other learn to  fulfill their divine roles.
"By divine design, fathers are to preside over their families in love and righteousness and are responsible to provide the necessities of life and protection for their families. Mothers are primarily responsible for the nurture of their children. In these sacred responsibilities, fathers and mothers are obligated to help one another as equal partners."
The importance of gender is now being attacked on many fronts. In Sweden there is a preschool that is "gender-neutral." The pronouns 'he' and 'she' are not used. Instead everyone is referred to as 'friends.' When a guest is coming to the preschool the teachers use a made up word – one that doesn't even exist in the Swedish language – so they don't reveal the gender of the guest . There is also a couple in Canada (and another in Sweden) who refuses to tell people the gender of their baby.  They don't want their child to be defined by gender.
And that is where they are wrong.
To be human is to have a gender, and gender does help to define who we are. Elder David A. Bednar of the Quorum of the Twelve Apostles has said: "[Gender] in large measure defines who we are, why we are here upon the earth, and what we are to do and become. For divine purposes, male and female spirits are different, distinctive, and complementary. … The unique combination of spiritual, physical, mental, and emotional capacities of both males and females were needed to implement the plan of happiness" ("Marriage Is Essential to His Eternal Plan," Liahona, June 2006, 51; Ensign, June 2006, 83).
When a new baby is born what is the first question typically asked? Is it a boy or a girl? Why do we ask that? Why does it matter to be male or female? The answer can be found all throughout the The Family: A Proclamation to the World. Here's an example from just the second paragraph.
"All human beings—male and female—are created in the image of God. Each is a beloved spirit son or daughter of heavenly parents, and, as such, each has a divine nature and destiny. Gender is an essential characteristic of individual premortal, mortal, and eternal identity and purpose."
From the very beginning of life the differences in gender are evident.  Children are born knowing who they are.  Elder Richard G. Scott of the Quorum of the Twelve Apostles has taught that our creation as male and female children of God "was done spiritually in your premortal existence when you lived in the presence of your Father in Heaven. Your gender existed before you came to earth." (The Joy of Living the Great Plan of Happiness, Nov 1996) My sons have always been male. My daughters have always been female. They will always be such!
In the beginning we know God created Adam.  It was not good that Adam was alone, so God created Eve. President Boyd K. Packer explained: "The plan of happiness requires the righteous union of male and female, man and woman, husband and wife. … A body patterned after the image of God was created for Adam, and he was introduced into the Garden. At first, Adam was alone. … But alone, he could not fulfill the purposes of his creation. No other man would do. Neither alone nor with other men could Adam progress. Nor could Eve with another woman. It was so then. It is so today. Eve, an help meet, was created. Marriage was instituted." (For Time and All Eternity, Nov 1993)
Can you see how important gender is? We need both male and female working together as equal partners to fulfill God's plan of happiness. If one is missing progress is stopped. Satan knows this! That is why he is working so hard to confuse gender roles.
"To the first man and woman on earth, the Lord said, "Be fruitful, and multiply" (Moses 2:28; see also Gen. 1:28; Abr. 4:28). This commandment was first in sequence and first in importance. It was essential that God's spirit children have mortal birth and an opportunity to progress toward eternal life. Consequently, all things related to procreation are prime targets for the adversary's efforts to thwart the plan of God." ( Dallin H. Oaks, The Great Plan of Happiness, Nov 1993)
Gender-neutrality and same-sex marriage are just a couple of examples of how Satan is trying to confuse and distract us from our real purpose in life – to have families. "When you stop and think about it from a diabolically tactical point of view, fighting the family makes sense. When Satan wants to disrupt the work of the Lord, he doesn't poison the world's peanut butter supply, thus bringing the Church's missionary system to its collective knees. He doesn't send a plague of laryngitis to afflict the Mormon Tabernacle Choir. He doesn't legislate against green Jell-O or casseroles. When Satan truly wants to disrupt the work of the Lord, he attempts to confuse gender and he attacks God's plan for His children. He works to drive a wedge of disharmony between a father and a mother. He entices children to be disobedient to their parents. He makes family home evening and family prayer inconvenient. He suggests family scripture study is impractical. That's all it takes, because Satan knows that the surest and most effective way to disrupt the Lord's work is to diminish the effectiveness of the family and the sanctity of the home." (M. Russell Ballard, The Sacred Responsibilities of Parenthood, March 2006)
While the world around us continues to drift further and further from God's standards set forth in the scriptures, we need to stand firm and anchor ourselves and our families to the truths they contain – one of the most basic being gender is essential.