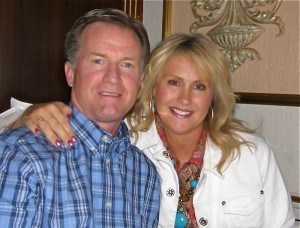 My next guest blogger has fully embraced the good of technology and she knows how to use it! Not like this cute couple. 🙂
Kathryn Skaggs has a very specific goal in everything and everywhere that she can be found on the Internet — which is "to DO MORE good" (tDMg). She enjoys promoting credible information to those who are seeking to learn more about Mormonism, to gain a better understanding of her faith.
Kathryn is passionate about her beliefs. You can find her blogging at A Well-Behaved Mormon Woman where she regularly shares thoughts about her religion, family and traditional marriage.

In being invited to participate in this wonderful event to celebrate The Family: A Proclamation to the World – and given the ability to choose my topic from a breakdown of the proclamation, for me, this was a no brainer. From the very day when I sat in that historic general Relief Society meeting, (broadcast) and heard President Gordon B. Hinckley first present and read that inspired document to the women of the Mormon Church, these are the specific words that resonated in the heart of this Well-Behaved Mormon Woman — and continue to do so every time I read it:
"The family is ordained of God. Marriage between man and woman is essential to His eternal plan. Children are entitled to birth within the bonds of matrimony, and to be reared by a father and a mother who honor marital vows with complete fidelity."
As a child of divorce, and now an adult, coming to understand the eternal doctrine that I had a
literal birthright
to have both a mother and a father,
in my life
, was a profound confirmation of a truth that gripped my soul at its very core! And not just for me, but every child, ever born on this planet — is
entitled
to such an arrangement.
The Family is ordained of God
, through the covenant of marriage between a man and a woman. Period. The definition of a family is a man and woman united by marital covenant, who together create children, and live as a unit. Granted, not every marriage is able to produce children naturally, but nonetheless this is the pattern of the family, as ordained by God. This is the only familial unit that has the potential to be eternal and experience the blessings of living the quality of life that our Heavenly Father lives. When we learn that our Father in Heaven has two goals for His children, which are to 1) bring to pass our immortality, and 2) ultimately bestow upon us Eternal Life — we must accept that in order for this to come to pass, we must choose to live our lives in accordance to His authorized way. Jesus Christ has assured our immortality — and has made it possible for us US to
claim
Eternal Life!
"The family is not just the basic unit of society; it is the basic unit of eternity. We lived as Heavenly Father's spirit sons and daughters before this mortal existence. In that grand premortal family council, our Heavenly Father's plan for the eternal happiness and peace of His children was presented. We understood that we would come to this earth to live as families, and through the sealing authority of the Melchizedek Priesthood we could live through out the rest of eternity as families."
Lately we are hearing much about the negatives of
entitlement
, and how it is the plague of these times — in our children. Books are being written to help teach parents how to
not
raise entitled children. It's currently a hot topic on many talk shows. That's all well and good, when it comes to worldly possessions and rights. However, our children need to be taught that there are
positive entitlements
that they should not only demand, but be prepared to claim — if not for themselves, for their posterity. And this is exactly what I have done in my own life…
When I was sealed to my husband over 33 years ago, I committed to give my children the gift of an eternal family. Little did I know then, but this would become the challenge of my life — and ultimately the thing that I am most proud. I pretty much married the
perfect guy
in every way, but even with all of that going for us, I found marriage to be really hard work! Particularly the beginning years — these were challenging, and continued to be so until we arrived on the other side of raising teenagers! Now, we are enjoying our grandchildren, and reaping the benefits of struggling through the challenging times of raising an active family. I can honestly say that life is really really good — and filled with a lot of joy!
Children do not have advocates. They are the recipients of the choices that adults make — and far too often these choices are based in selfishness. I can't help but believe, that much of societies current problems with entitlement, began with the previous generation, and so on… The majority of adults seem to feel an entitlement to be happy. If they are not happy, for instance, in a current marriage, then they have a right to divorce — and find happiness elsewhere. Some believe that they have a right to love whomever they choose, regardless of gender. But more important than even that, is their eagerness and willingness to promote a distorted pattern of a family, by bringing children into these relationships — where either father or mother is dismissed altogether. Proponents for same-sex marriage would have society believe that children brought into these homosexual relationships have equal chance for becoming socially well adjusted adults, as those raised in the traditional family. Even if that were so, which it is not, building a family in opposition to Heavenly Father's Plan will not bring about eternal happiness — which is the purpose of life.
How blessed are those children who have loving parents, a father
and
a mother, to nurture and love them — who commit to complete fidelity. Yes, I realize that this sounds like a fairytale, and that the majority of society believe it to be just that. But that is exactly what our Heavenly Father created His Plan to accomplish — and ultimately will accomplish, through the Atonement!
Well said, Kathryn!

Today's giveaway!
FreshlyPainted is sponsoring this completely original painting of the Salt Lake Temple Doorknob with the words, "Holiness to the Lord". Have you ever spent time to look at the doorknobs at the Temple? They are very beautiful and unique. One can't help but think of the early pioneers and the dedication and love they had for the Salt Lake Temple when you look at all the beautiful details all over. This magnet measures 2.5" x 3.5". Visit FreshlyPainted for more original freshly painted works of art!
Hank Smith, the guest blogger at The Red Headed Hostess today, is also giving away 3 copies of his CD, The Do's and Don'ts of Dating. Drawing on some hilarious experiences from his own dating years, poignant stories of others, and the wise counsel of the prophets and other Church leaders, Brother Smith shares an important message that youth will relate to and appreciate.
© 2007-2011 Chocolate on my Cranium, LLC all rights reserved