*** We have a winner! Congrats to D-lyn from Yesterday! ***
I am a photographer. I think most moms are! We want to capture those sweet moments, those funny moments, those OH NO moments (that later turn into funny moments), and yes, even those heart wrenching moments. Why do we do that? Because we want to always remember, and never forget, all those wonderful LIFE moments of childhood and motherhood and family.
With my oldest daughters I was very good at diligently keeping scrapbooks.I wasn't good at it – NOT AT ALL but I did manage to save the memories. After the first three though everything started to slide downhill pretty fast. The amount of pictures taken didn't subside but getting those pictures into albums, let alone scrapbook pages was almost nil.
And now it is getting worse. I am a couple years behind in actually getting the pictures printed. YIKES!
Enter digital scrapbooking. I've been doing it with my Adobe Photoshop. I've been able to create family calendars that way and it has been a lot of fun, but it is also time consuming. I was given the opportunity to review My Memory Suite, the #1-rated digital scrapbooking software. Talk about easy!
Here are a couple of pages I was able to make in five minutes flat.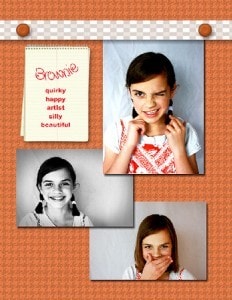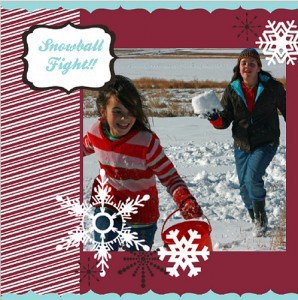 And that was with the basic papers and embellishments that come with the software. But you don't have to limit yourself to those! There are a ton of freebies on their website: templates, papers, and embellishments for you to download for even more scrapbook options. They even offer great freebie packages on their facebook page every Friday!
Here's one using the Autumn Embrace Quick Page.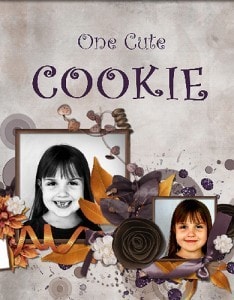 And one using the facebook freebie from this week.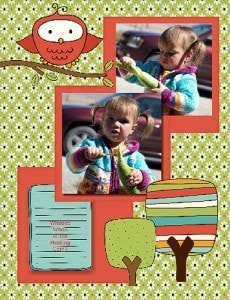 Isn't the owl adorable?
It was difficult at first to find all the papers, embellishments and templates that I downloaded to use. I had to go searching through them. Once I got that figured out though it went faster (obviously). It would be nice if there was a recently added feature, kind of like in itunes, or a download folder where you can more easily find what you downloaded.
My Memories Suite can do a whole lot of things, not just scrapbook pages or photobooks, which you can order directly from My Memories. You can create slideshows with music or narration and then burn them onto dvds. Can you imagine the fun, personalized Christmas gifts those would make for grandparents or distant relatives? We are anxious to try our hand at those in the next month.
One feature I really, really like is the auto fill. If you have a folder of pictures already sorted out – say a special day like a trip to the pumpkin patch – you can create an album with already designed templates, then have My Memories auto fill all of your pictures into it! You can easily go back and add text and other embellishments if you want but the majority of the work is done – and isn't that most of the battle we face with digital photos and scrapbooking? My older daughters plan on using that to create special photo books of Girls Camp and their trip to Barcelona.

This isn't just a review of My Memory Suite, this is a giveaway too!
To Enter: Visit My Memories, choose your favorite digital paper pack or layout, then comment here telling which one you chose. (All of their digital packs can be used with other programs too!)
Open to everyone! The giveaway closes Sunday, October 23 at 5 pm PST. A winner will be chosen via random.org.
As a special for all of you readers, here is a code that provides a $10 discount off the purchase of the My Memories Suite Scrapbook software and a $10 coupon for the MyMemories.com store – ($20 value!) There are so many cheap digital kits you can purchase with that $10. And with the price of the software at $39.97 you get 25% off! The code is STMMMS48094 . Just enter it upon checkout. The easiest thing to do is copy and paste it in the box at checkout to avoid typos.
© 2007-2011 Chocolate on my Cranium, LLC all rights reserved