Once we have gone over the very basics of sewing with a sewing machine my daughters start asking (incessantly) when they can start sewing their own lap quilt.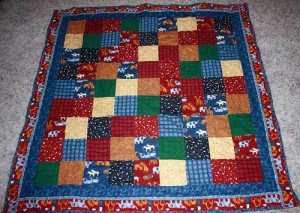 Nine patch quilts are timeless. The patterns can vary greatly with no rhyme or reason for some or definite patterns for others. The pattern I like to use also involves a popular logic puzzle – Sudoku. I like this way of making a nine-patch quilt because there is a definite order to it but the finished quilt still looks 'random.'
In a Sudoku puzzle the numbers 1-9 are are not repeated in a 3×3 grid, nor are they repeated in the same row or column.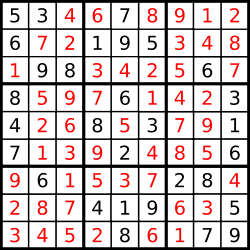 Following a Sudoku puzzle for a nine patch quilt means there are nine different fabrics in each nine patch block, but also each row and column will only contain each fabric only once. (See Brownie's quilt above)
The next several sewing posts (every Tuesday!) will cover how to sew a Sudoku or Sew-doku quilt with your beginning sewer.
This week we cover the materials and preparation needed to get started.
1 Sudoku puzzle completed correctly
9 different fabrics – 1/2 yd. each
rotary cutter
self healing mat
paper
pencil
stapler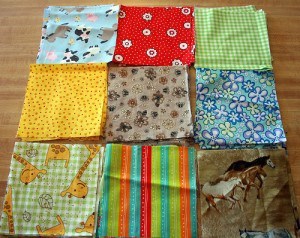 Fudge's choices for fabrics. My children look forward to this as we make a special trip to the fabric store just for them to choose whatever fabric they want!
Wash and dry your fabric. Iron if needed. Cut nine square blocks from each piece of fabric. We cut ours 6in x 6in as that's the size of our ruler. It makes for easy measuring!
Find a Sudoku puzzle and complete it together with your child. This site has easy ones! Or you can use the one I posted earlier in this post.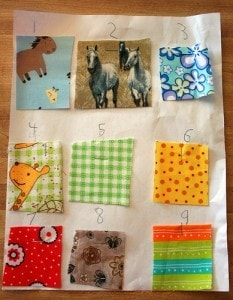 Next on a piece of paper write the numbers 1-9 in three columns. Using leftover scraps of fabric, assign one fabric to each number and staple.
Keep all your materials – fabric and papers – together, either in a tote box or gallon sized ziploc bag.
Next week we start sewing!
© 2007-2011 Chocolate on my Cranium, LLC all rights reserved