The Challenge: Pick up a paint strip sample with several shades of color on a strip. Write a story or poem that incorporates every paint color name on your paint chip sample. Be creative!

A little intro to my story: While at the store I sent my children to get the paint samples. I should have been more specific. They picked up the ones with seven color hues rather than three! Aye-aye-aye!
Excitement. That's what I was feeling as I approached the pinky white sandstone building right in the middle of Main Street. With determination I marched towards it. Not even the coffee Hot Chocolate Shop on the corner could entice me with their special flavor of the day, Perfect Pecan Twist. Mmmm.
My sweaty hands trembled as I grappled with the weathered bronzetone door handle. Why wouldn't the stubborn door open? Aha! Yes, push not pull. Pushing the door open, my nose was assaulted with the scents of wet clay, linseed oil, and forest sienna redwood. In the far corner I nodded to the Sana Fe artisan huddled over a potter's wheel, her western rodeo tan hands skimming the spinning mud.
Along the walls were paintings, some originals most copies, of Mexican flower vendors, the Indian painted desert, women making tortillas, and peasant laborers in the field. And there, tucked between Rivera's Baile en Tehauntepec and Montoya's Ninos Mexicanos was the reason for my trek, Simon Silva's Amor a Todas Horas (Love at All Times)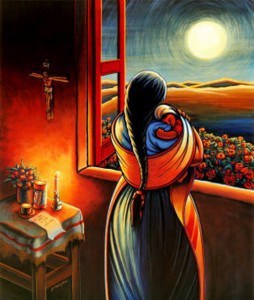 Spectacular? No. Meaningful? Yes. A reminder of the beautiful Mexican mothers who came before me.
Whew! My creative juices need replenishing now. Can you guess what color my paint sample was?
Join us for Wordfull Wednesday! Write a story or poem using paint chip sample color names. Come back here and link up to your post!
© 2007-2011 Chocolate on my Cranium, LLC all rights reserved