Old-fashioned homemade goodness!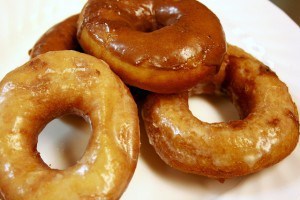 Pin It
Spudnuts
1 cup water
1 cup shortening
1 cup sugar
2 cups mashed potatoes
2 tsp. salt
3 cups water
6 eggs, slightly beaten
2 TBSP yeast
2 TBSP lemon juice
1/4 tsp. grated lemon rind
12 cups flour (plus two more cups)
3/4 cups dry milk
oil for frying
Place the 1 cup water in a large pan and heat. Add shortening, sugar, potatoes, and salt. Stir until shortening is melted. Remove from heat. Add 3 cups water to make mixture lukewarm. Add eggs, yeast, lemon juice, lemon rind, 12 cups flour and dry milk. Mix thoroughly. Let rise 1 hour 15 minutes. Add additional flour until it can be kneaded well. Let rise another hour or until dough has doubled. Punch down. Roll out to a little less than 1/2 inch. Cut into donuts. Let rise 1/2 hour. Cook in 375 degree oil, turning once. Drain. Glaze with plain glaze or chocolate glaze.
© 2007-2011 Chocolate on my Cranium, LLC all rights reserved