Watch the video for a special announcement!
Pin It
We are already in the planning stages for this year's Family Proclamation Celebration. One of our projects that we would like to do is gather video submissions from men, women, and children throughout the world reading parts of The Family: A Proclamation to the World and then splicing them together to create a video about the Proclamation! We welcome submissions in your native language and Sign Language.
Video Guidelines:
1. Eliminate background noise.
2. Keep the backdrop behind you simple with no distractions.
3. Don't shoot into the light, but shoot with natural light on your subject. (or on yourself)
4. Wear colors that compliment you. Brush your hair. If you own lip gloss, use it.
5. Be just slightly more animated than you are in real life…it translates well on video.
6. Leave a few seconds (about three) before and after you deliver your lines.
7. Speak slower than you normally do and enunciate (pronounce your words clearly and completely).
8. Sit still, don't wiggle, keep focus on the face.
9. No chewing gum or candy.
10. Keep hands away from your face (unless you are using sign language)
11. Try, try again until you get a video you would want to be seen throughout the world
12. DO NOT say the whole proclamation. Choose your favorite paragraph or a couple of consecutive sentences to memorize. Keep video submissions under 2 minutes.
Submitting Videos:
2. Upload your video to your account.
3. While in your account, send an e-mail with a link to your video file to familyproclamationvideo@gmail.com
4. If your video submission is in a language other than English please write in the e-mail what language you are speaking as well as the part of the proclamation you are saying in English. This is so we can create captions in English at the bottom of your segment.
5. Video submission deadline is March 31st!
6. In submitting your video you give us permission to use it in our project. Please be aware that not all videos will be used.
If sharing through twitter please also include the hashtags #celebratefamily and #familyproclamation and link to http://tinyurl.com/77yvp5g
Here is a sample tweet: "Call for video submissions saying parts of the #familyproclamation Find out more at http://tinyurl.com/77yvp5g Help #celebratefamily"
Please use these buttons on your blog to help spread the word! They are linked to the Family Proclamation page on my blog that will contain this whole post as well as updates or announcements for the upcoming celebration in September. There are also links to all the posts from past celebrations. A big thank you to my friend, Misty, for creating this beautiful buttons for us!
large 400 px button {for use in posts}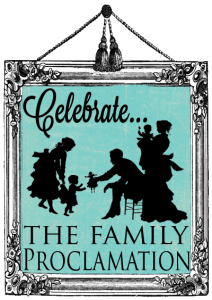 medium 180 px button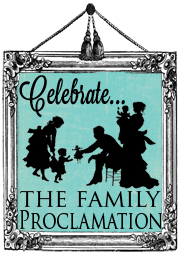 small 150 px button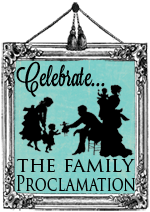 © 2007-2011 Chocolate on my Cranium, LLC all rights reserved