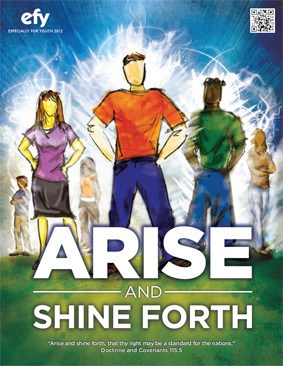 I think you know by now that we love music, all kinds of music, at our house especially if it is uplifting and encouraging. The EFY Arise and Shine Forth CD delivers just this type of music. The songs cover, among other topics, friendship, service, love, and following Jesus Christ. A variety of artists are featured: David Osmond, Russ Dixon, Julie Yardley, pianist William Joseph, and others.
Because it is geared toward youth I asked my oldest daughter, Bon Bon to share her thoughts.
"I have two favorite songs. Arise and Shine is upbeat and gives a call to action. Never Be the Same is touching. One is never the same after having felt Christ's love. It changes us for the better."

My favorite songs are Glorious
"It's like a symphony, just keep listening
And pretty soon you'll start to figure out your part
Everyone plays a piece and there are melodies
In each of us, oh, it's glorious"
and The Light Within, the piano solo by William Joseph. It is peaceful and soothing.
This giveaway is sponsored by YourLDSRadio, streaming LDS music 24/7 online or on your phone. To enter follow the directions on the rafflecopter. There are three ways to enter!
a Rafflecopter giveaway