Utah has a day celebrating the first settlers' arrival there on July 24, 1847. Those first settlers were Mormons, members of The Church of Jesus Christ of Latter-day Saints, fleeing the severe persecutions they faced in Illinois after the martyrdom of the prophet Joseph Smith. The first company consisted of 143 men, three women, and two children. Thousands of pioneers would follow over the next 23 years. Here's an infographic that tells just a bit about them.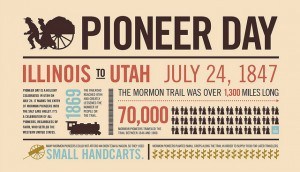 There are now more members of the church outside of the US then in the US so for those of us outside of Utah Pioneer Day has come to be a celebration of those pioneers who are the first in their family or country to join the church. Pres. Deiter F. Uchtdorf said, "The faith of our fathers—I love that phrase.
For many members of the Church, these words bring to mind valiant

pioneers

who abandoned the comfort of their homes and traveled by wagon and on foot until they reached the valley of the Great Salt Lake. I love and honor the faith and courage of those early

pioneers

of the Church. My own ancestors were living an ocean away at the time. None were among those who lived in Nauvoo or Winter Quarters, and none made the journey across the plains. But as a member of the Church, I claim with gratitude and pride this pioneer legacy as my own.
With the same joy, I claim the legacies of today's modern-day Church

pioneers

who live in every nation and whose own stories of perseverance, faith, and sacrifice add glorious new verses to the great chorus of the latter-day anthem of the kingdom of God.

"
In that vein I'd like to share a short biography, his obituary actually, of my paternal grandfather who died four years ago. His birthday was July 22 and he was truly a pioneer in my eyes.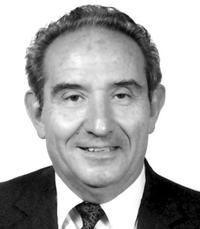 Juan Subirats Ventura 7/22/1925 ~ 7/13/2008 Our dear husband, father (Pop), grandfather (Avi), and great-grand-father (Avi), Juan Subirats Ventura, age 82, passed away peacefully at home on July 13, 2008. He was born July 22, 1925 in Barcelona, Spain, to Pere Ventura and Juana Subirats. He married Betty Gibbs on May 19, 1954 in Paris, France. The marriage was later solemnized in the Salt Lake Temple in 1957. He was an active member of the LDS Church and attended the LeGrand Ward.
Juan was raised and educated in Barcelona, Spain eventually obtaining a degree in electrical engineering.
At age 12 he began singing as a cabaret singer and his love of singing continued all his life. He was known for his beautiful singing voice.
In his early twenties, he and his brother Jordi became interested in other religions, eventually contacting the LDS Church by mail. He received pamphlets and a Book of Mormon, was converted and was baptized in France in 1952. He was the first Spanish convert to the Church in the modern era. In Barcelona, he had a group of 40 that was studying the Church in Barcelona. Because of this, he was arrested and beaten severely for four days.
Upon his release from prison he fled to France. While there, he wrote his friend Betty (the secretary from the Church who had sent the pamphlets). Betty and her sister Norma had visited Spain and she and Juan established correspondence by mail. They were married four years later in Paris. They moved to Salt Lake City and established a home and there attended the Lucero Ward.
The oxen in the Salt Lake Temple Baptistry
Over the years Juan established his own businesses including Toledo Metal Arts. His metal work artistry included the railings at the Deseret Gym, railings and the spiral staircases at the Wilkinson Center and the flag pole at the Smoot building at BYU. He also helped with refurbishing the Salt Lake Temple, including the bronzing of the oxen in the baptistry, casting and refinishing all the doorknobs, redoing all the scroll work above the ordinance room doors, and making and installing the bronze columns and bronze frame work in the temple annex. His other businesses included Anodizing and Name Plates of Utah, and Western Arts Studio where he mentored and cast fine art bronzes for Utah sculptors such as Arnold Friberg, Justin Fairbanks, Ed Fraughton, Clark Bronson, Grant Speed, and Dennis Smith.
In 1972, his good friend President Spencer W. Kimball suggested he return to Spain to help with the Church. The family moved to Spain, where he served the members as the first Spaniard branch president of Barcelona. He later served as a district president and as a counselor to three mission presidents. President Kimball set him apart as a temple sealer in the Swiss Temple in 1979. Many of the future Stake Presidents and General Authorities of the Church from Spain were sealed by Juan. Juan and Betty returned to Salt Lake City in 1982 and he retired from work but not from service in the Church. From 1986 to 1988 he served as the president of the Cambodian Branch. He was able to return to Spain for the historic dedication of the Madrid Temple in 1999.
He is survived by, and will be missed by, his eternal companion Betty of 54 years; their children Peter (Isa), Kim, Jed (Maria), George (LeeAnna); his sister Quimeta Carles (Baldomero) of Barcelona, nine grandchildren, and 10 great-grandchildren. He is preceded in death by his parents, Pere and Juana, and his beloved brother Jordi. He died peacefully due to the problems of old age.
His legacy was one of service to God and his children. He was known for his humor; always the life of the party even in his later years. We will always remember his stories of the Spanish revolution and his hospitality. He was the best paella maker in Utah which he shared with hundreds.
I am so grateful for this legacy which has been passed on to me! There are so many more stories, more firsts I could share from my family tree. How about you? Write a post about a pioneer in your family! Write about someone who:
* was the first to graduate from college
* started a business
* traveled across the plains
* broke the cycle of abuse
* paved the way for you to follow
It's a chance for you to delve into a little family history and write about your family, your heritage. Write a blog post and link to it below.