The end of our celebration on The Family: A Proclamation to the World is here.  I am sad to see it end for another year. We've had wonderful insights and testimonies shared by a great variety of guest bloggers. You can always access past posts by visiting the Family Proclamation Celebration page. Or by clicking on this image in my sidebar.

Winners of the giveaways will be announced tomorrow. And now for our last post for this year. I'll let Neisha introduce herself.

I am Neisha Sykes: wife, stay-at-home mom to four kids, writer, editor, and blogger. I love flower gardens, crafting, digital and paper scrapbooking, baking, and curling up with a good classic novel and some European chocolate. Most of my time is spent loving, supporting, transporting, encouraging (nagging?), feeding, tutoring, and cleaning up after my four children, ages 19, 16, 9, and 6. My husband and I will celebrate our 23rd wedding anniversary this winter and he is my best friend and greatest support. I serve in our ward Young Women's presidency and started my blog, Hang a Ribbon on the Moon, to share the LDS printables and projects that I create for my Church callings. This year I was thrilled to work with Jennifer Wilson of SimpleScrapper.com as copy editor for Everyday Storyteller, an inspiring memory keeping/scrapbooking idea book now in its second printing. I also write articles on digital scrapbooking for DigiShopTalk.com.

"Parents have a sacred duty to rear their children in love and righteousness, to provide for their physical and spiritual needs, and to teach them to love and serve one another, observe the commandments of God, and be law-abiding citizens wherever they live," The Family: A Proclamation to the World.

Last month was an important anniversary for me: six years since the passing of my dear grandma. Grandma had suffered several strokes and health problems and finally succumed just five months after the birth of my youngest son. Ever since I have patiently worked on editing, scanning and inserting photos and preparing Grandma's life history for publication. What a great blessing it has been to keep her memory in my heart all this time!
Grandma's parents raised her and nine living siblings on a farm during the Great Depression, and although her family was poor, Grandma forged strong family bonds and developed a testimony of the Gospel of Jesus Christ and of the Church of Jesus Christ of Latter-day Saints. And, when she later met and married Grandpa and began a family of her own, a focus on the eternal importance of families was paramount to her. Despite some challenges in her upbringing, throughout her seventy-six years Grandma lived up to the ideals of The Family: A Proclamation to the World.
I am my grandparents' eldest grandchild and was blessed to know them for many years. I am so thankful for their example to me and for the way I saw Grandma and Grandpa live their lives. One important thing I observed was how Grandma established righteous family traditions in her home.
From family Christmas gatherings and special occasions, sharing family history stories and photo albums to Sunday evening at Grandma's house and Gospel discussions, Grandma focused on teaching her posterity to love one another and to follow the commandments. Many times I'd drop by Grandma's house to see her scriptures on the table opened up for study. She'd share her spiritual and practical insights with me. Every year, on the date of their wedding anniversary, Grandma and Grandpa would gather in the temple with their adult children.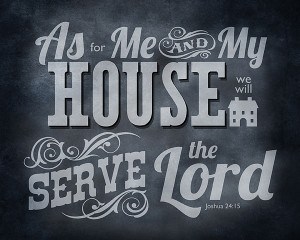 Not only did Grandma teach us the Gospel, more importantly, she lived it. I saw her selflessly and quietly serve others–taking care of her aging mother and parents-in-law, generously helping those less fortunate and bearing the burdens of family members, including me, in times of pain, loss and trial. She and Grandpa counseled their children and grandchildren on all facets of life from financial management and gardening to child rearing.
When I married and began a family of my own, I wanted to raise my children in a home inspired by Grandma and Grandpa's example.
Having positive family traditions is so important. I've seen and experienced how negative family systems can hurt generations and I admire how Grandma built on the positive traditions of her family of origin and worked to change the negative ones. Doing this wasn't easy for her and Grandpa–both of them had dysfunctions in their childhood homes. It isn't easy for anyone. I know. I had plenty of problems in my family of origin and my husband and I work daily to build upon our parents' successes and to discontinue the negatives.
As I read Grandma's journals, I am impressed that she took notes during every General Conference, Stake Conference and other important meetings. She would thoughtfully record the messages presented by the Lord's prophets and write down ways to apply them in her own family. Long before Family Home Evening was a standard program of the Church, Grandma gathered her six children together for songs, stories and crafts and she and Grandpa planned and discussed important family values and beliefs with their children at the dinner table.
When Grandma's health was deteriorating and we knew she would soon meet her Savior, the fruits of her labors were borne. Her six children, grandchildren (except those serving missions) and great-grandchildren gathered at Grandma's home. We each had an opportunity say goodbye. And no one wanted to leave. Those who were able spent that day together as an extended family–lots of good people sharing a bittersweet time. We were all there and that's how Grandma wanted it to be, for to her family meant everything.
Grandma was a humble follower of Christ and set the example and standard of following Him. Now that Grandma is on the other side, I feel her presence near. I love her so much and hope that I am raising my children in the Gospel as she would have. I am so grateful she and Grandpa worked with purpose and determination to stop negative family patterns and to develop righteous traditions in their own family. I want to continue building on their success because, as Grandma taught me through words and action, "As for me and my house, we will serve the Lord" (Joshua 24:15).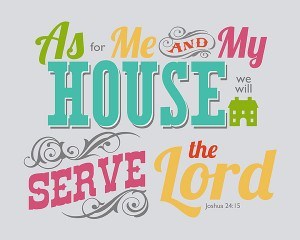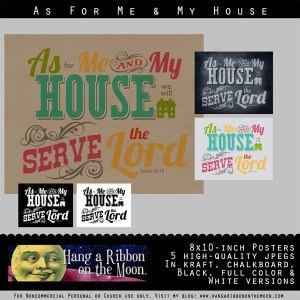 I've created some printable 8×10-inch posters of this scripture for you. Why not print one and frame it for your home? I like to upload one of these posters to my favorite photo printer and have it printed as an 8×10-inch photo. Pop it into a frame for a perfect wedding or neighbor gift! As a bonus, I've also saved the scripture word art in a separate file for use on Christmas cards, invitations, handouts and other projects. If you like these projects, take a peek at my LDS printables blog:
Hang a Ribbon on the Moon
. You will need to unzip the download before you can access the files. My designs and files are for noncommercial personal or Church use only. Please DO NOT share these files in any way. Send your friends to this blog to download their own. Enjoy!
To download the posters click here.
To download the word art click here.
Thanks so much Neisha! You really should take a look at all the other wonderful printables and projects Neisha shares on her blog. She is one talented lady!
A HUGE THANK YOU to my fellow co-hosts for the celebration this year! Go and visit and leave them a little love.