General Conference was held this past weekend. It was a wonderful two days filled with admonitions to live as true disciples and followers of Christ. You can listen to all of the talks here. The transcripts will be available later this week.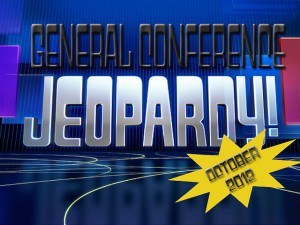 One of the ways we review General Conference is to play General Conference Jeopardy. I created the questions based on my notes and summaries of the talks found at Church News and Events. We are using this game in seminary tomorrow to review with the youth what we were taught by the Prophet, Apostles, and other church leaders. We also like to play this for Family Home Evening. It is surprising what even the younger ones remember!
Download the pdf file here: October 2012 General Conference Jeopardy
The questions are set up for regular Jeopardy, Double Jeopardy, and a Final Question. Play with 2-4 teams depending on how many are participating. The answers are right after the questions in red. I usually set up a white board to look like a Jeopardy board with the categories at the top and points under the categories like so.
A team will choose a category and point value. I'll ask the corresponding question and wait for them to give the answer. If they get it wrong I let the other team try to answer. You can play real Jeopardy style and have those that know the answer "press the buzzer" by ringing a bell or slapping the desk. We erase the point values that have been answered and keep track of the score on another white board.
Have fun playing!