Tis the season for for a little giving! This Thanksgiving Blessing Mix is something we love to give to family and friends every year. Each item in the mix represents part of the Thanksgiving story.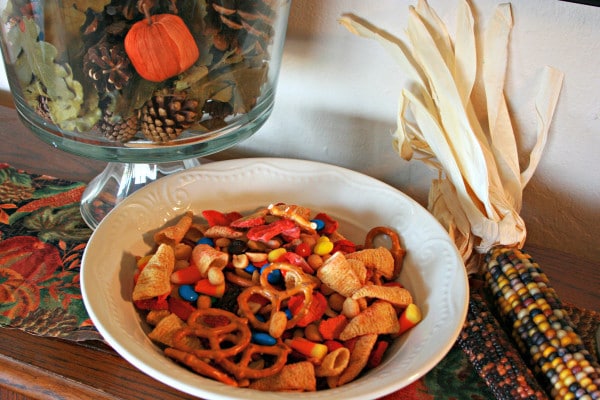 Bugles – Shaped like a cornucopia, a Horn of Plenty, a symbol of our abundance.
Pretzels – Arms folded in prayer, a freedom sought by those who founded our country.
Candy corn – Sacrifices of the Pilgrims' first winter. Food was so scarce they survived on a few kernels of corn a day.
Nuts/Seeds – Promise of a future harvest obtained as we plant and nourish with diligence and faith.
Dried fruits – Harvest gifts of our bountiful land.
M&Ms – Memories of those who came before us to guide us to a blessed future.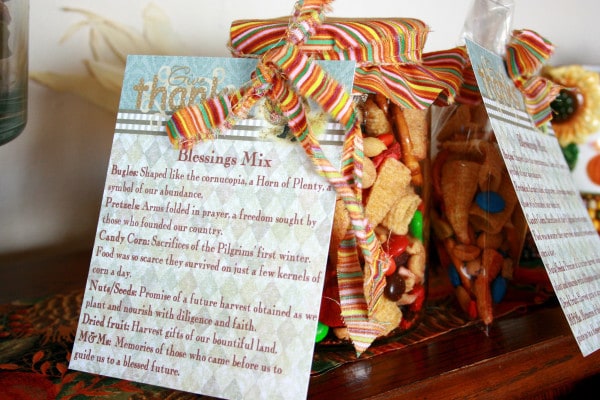 Thanksgiving Blessing Mix Recipe
2 cups Bugles brand corn snacks
2 cups small pretzels (not the stick kind)
1 cup candy corn
1 cup dried fruit bits or raisins
1 cup peanuts or sunflower seeds
1 cup M&Ms
Gently mix all ingredients together. Place mix in cellophane bags, jars, or snack size ziploc bags. Attach tags or toppers.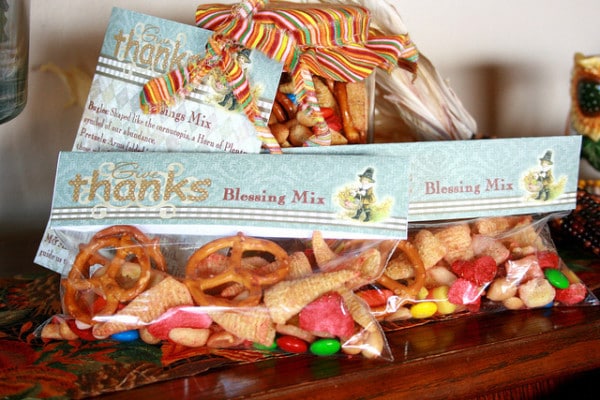 I first posted this recipe five years ago without a picture and just some simple tags to go with it. Since then I have seen variations popping up all over the web. I've noticed as Thanksgiving approaches my old post is getting pinned. I think it is time for an updated version! You can download the tags and some snack bag toppers below.