Stories are powerful. It's why they are a part of every culture. There are legends and myths, fairy tales and fables, and then there are the most powerful stories of all – the stories that bind us together, create in us a sense of place and duty, make us more resilient in times of difficulty. These are the stories of our family.
"Mom, can tell me a story about _______?"
This question is often asked at our house with the variations of dad, grandma, aunt so-and-so, or great-grandpa inserted in the blank. Children love to hear stories, there is no doubt about that. They especially love to hear stories about family members both immediate and extended.
Studies have shown that children who have developed a sense of a strong "family narrative" tend to do better when they are faced with challenges. When children know the family stories of good times and bad times and see the attributes of persistence or faith or humility shown by their ancestors they tend to be more secure and resilient. They are able to draw upon those past experiences to help them through their own tough times.
As a little girl I loved hearing my grandmother, Yaya, tell stories about her pioneer ancestors. One escaped the clutches of an abusive shoemaker he was apprenticed to in Wales. Another was a stone mason in England and was able to use his skills to help build the Nauvoo and Salt Lake Temples. Another died of the cholera she contracted after nursing other sick pioneers as they crossed the plains.
My grandfather, Avi, would tell me stories of his ancestors' ingenuity as he taught me how to make paella, estofado, or shrimp soup, dishes he grew up eating in Barcelona, Spain. I learned about Sebastia who lived around 1580. He sailed to Africa, not to take slaves, but to rescue slaves from pirates. Avi Pere was generous and kind giving food to those who needed it. Yaya Juana was resourceful never making the same meal twice in a week – something very hard to do during the Spanish Civil War.
It's not just the stories I heard as a child that help me. When I heard this story about my husband's grandmother, Sylvia, I felt an instant kinship with her for I, too, left a much beloved home to move to the desert. Sylvia was smart and pretty and naturally that attracted several suitors. The Christmas of 1939 one suitor gave her a gold watch while another suitor from Panaca, NV showed up with a 5 lb bag of pine nuts. Gold watch…pine nuts…gold watch…pine nuts. Quite a contrast, don't you think? Sylvia made her choice and she married that tall, handsome returned missionary, F. Don Wadsworth, from "Podunk." After a honeymoon in Las Vegas they moved to the little town of Panaca. Sylvia cried when it came into view. It was a wasteland, a desert, with no trees, so different from her beloved Utah home. And yet, she went to work and made it a home to love. Hearing this story and so many others about my own foremothers leaving their homes – in Utah to move to Spain, in Mexico to move to America, in Utah to move to Florida – helped me buck up and face my own fears when a big move was eminent.
Genealogy and family history is important to my husband and I. We want our own children to learn of their ancestors, the trials and triumphs that made them who they are. Their stories are a part of our everyday lives. Their pictures hang on our walls but their personalities and characteristics, struggles and successes are woven into our souls.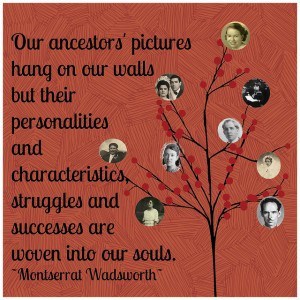 Genealogy is addictive. Why? People want to know where they came from, what makes them tick, why they are a certain way. Shows like "Who Do You Think You Are?" and "Genealogy Roadshow" are becoming more popular fueling the rising interest in family history.
"Behold, I will send you Elijah the prophet before the coming of the great and dreadful day of the Lord: And he shall turn the heart of the fathers to the children, and the heart of the children to their fathers, lest I come and smite the earth with a curse." (Malachi 4:5-6) This scripture from Malachi is used frequently at church when a lesson on genealogy is presented. There is a lesser known passage in the chapter before that is just as relevant I think. "Then they that feared the Lord spake often one to another: and the Lord hearkened, and heard it, and a book of remembrance was written before him for them that feared the Lord, and that thought upon his name. And they shall be mine, saith the Lord of hosts, in that day when I make up my jewels; and I will spare them, as a man spareth his own son that serveth him." (Malachi 3:16-17)
Under 'Book of Remebrance ' in the Guide to the Scriptures at lds.org we read, "A book begun by Adam in which were recorded the works of his descendants; also any similar records kept by prophets and faithful members since that time. Adam and his children kept a book of remembrance, in which they wrote by the spirit of inspiration, and a book of the generations, which contained a genealogy (Moses 6:5, 8). Such records may well have a part in determining our final judgment." We have been commanded to record our stories, not only for ourselves, but for our posterity. These stories are the soldering filling in the joints, welding our family for generations.
There has never been a better time to start learning about your own family history. Online tools such as Ancestry.com or FamilySearch.org can help you get started. Contact older relatives, do a little digging, and go on your own family treasure hunt. The rewards will be priceless!
And next time, your child asks you to tell them a story, you'll have the most powerful kind ready to mesmerize and enchant them.
————————————–
Other articles to read:
The Family Stories that Bind Us
Can You "Manage" Your Family?