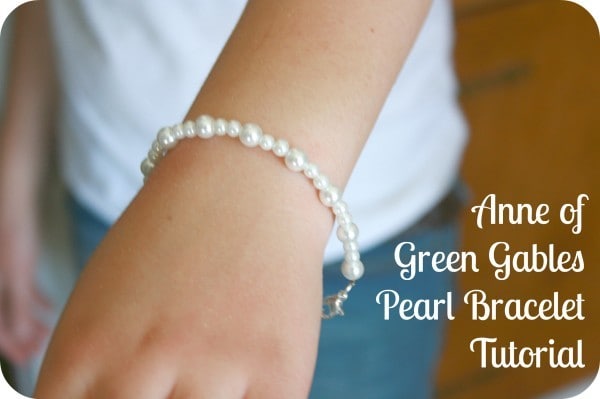 Throughout the Anne of Green Gables series pearls make an appearance here and there. When Anne is dressing for her recitation at the White Sands Hotel she asks Diana,
"Shall I put my pearl beads on?" asked Anne. "Matthew brought me a string from town last week, and I know he'd like to see them on me."

Diana pursed up her lips, put her black head on one side critically, and finally pronounced in favor of the beads, which were thereupon tied around Anne's slim milk-white throat.
After the concert Anne is talking with Diana and Jane about all the rich women that were in attendance.
"Did you see all the diamonds those ladies wore?" sighed Jane. "They were simply dazzling. Wouldn't you just love to be rich, girls?"

"We ARE rich," said Anne staunchly. "Why, we have sixteen years to our credit, and we're happy as queens, and we've all got imaginations, more or less. Look at that sea, girls–all silver and shadow and vision of things not seen. We couldn't enjoy its loveliness any more if we had millions of dollars and ropes of diamonds. You wouldn't change into any of those women if you could. Would you want to be that white-lace girl and wear a sour look all your life, as if you'd been born turning up your nose at the world? Or the pink lady, kind and nice as she is, so stout and short that you'd really no figure at all? Or even Mrs. Evans, with that sad, sad look in her eyes? She must have been dreadfully unhappy sometime to have such a look. You KNOW you wouldn't, Jane Andrews!"

"I DON'T know–exactly," said Jane unconvinced. "I think diamonds would comfort a person for a good deal."

"Well, I don't want to be anyone but myself, even if I go uncomforted by diamonds all my life," declared Anne. "I'm quite content to be Anne of Green Gables, with my string of pearl beads. I know Matthew gave me as much love with them as ever went with Madame the Pink Lady's jewels."
Anne even had pearls on her wedding ring!
Gilbert laughed and clasped tighter the girlish hand that wore his ring. Anne's engagement ring was a circlet of pearls. She had refused to wear a diamond.

"I've never really liked diamonds since I found out they weren't the lovely purple I had dreamed. They will always suggest my old disappointment ."

"But pearls are for tears, the old legend says," Gilbert had objected.

"I'm not afraid of that. And tears can be happy as well as sad. My very happiest moments have been when I had tears in my eyes—when Marilla told me I might stay at Green Gables—when Matthew gave me the first pretty dress I ever had—when I heard that you were going to recover from the fever. So give me pearls for our troth ring, Gilbert, and I'll willingly accept the sorrow of life with its joy."
As part of the Anne of Green Gables package we sent to my daughter we included all the supplies to make pearl bracelets (or necklaces).
Supplies Needed:
Beading wire
Pearl Beads in various sizes
Crimp Tubes
Jump Rings
Lobster Claws
All in One Jewelry Pliers (it cuts wire as well as grips)
Cut a piece of wire about 9 inches long. Put one end of the wire through a crimp tube, string it through a jump ring and back into the crimp tube, clamp the crimp tube shut with the pliers.
String the pearls on in whatever design you wish. Stop when your bracelet is long enough for your liking.
Attach a jump ring to a lobster claw. String the bracelet wire through a crimp tube, then the jump ring, and back through the crimp tube. Adjust the wire pulling it tight so the beads are right up against the crimp tube.
Clamp the crimp tube shut with pliers and cut the excess wire sticking the end back into the top bead.
You're done!