My favorite season, of gratitude and giving, is almost upon us. I love reflecting upon the tender mercies the Lord bestows upon me and my family, especially those which at first glance do not seem to be blessings but later are evidenced to be small miracles of love. Oh, it makes my heart swell with gratitude!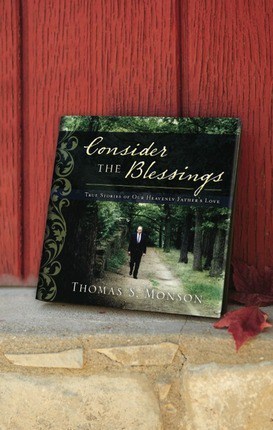 This past week my children have found me teary eyed at various times throughout the day as I have taken the time to read the stories in President Thomas S. Monson's new book Consider the Blessings, True Accounts of God's Hand in Our Lives.
When teaching a principle or doctrine of the gospel Pres. Monson almost always shares a true story either from his own life or the lives of others. It helps to illustrate in real terms how living the gospel affects people's lives and shows how the Lord's hand is evident when we stop to look and see.
This book is a compilation of stories taken from talks given over the last fifty years. Yes, you can readily find them all online for free in the text of the talks and I wondered if printing them in a book was even necessary. After reading them and seeing the beautiful photographs that adorn the pages I have changed my mind. It is wonderful to have all these stories gathered in one place. It is easy to grab the book and read one story for a quick pick-me-up or to use as a short devotional or share in a church lesson.
One of my favorite stories told by Pres. Monson, taken from a CES fireside in 2009, was shared in the book.
"Brother Edwin Q. Cannon Jr., we call him Ted, was a missionary to Germany in 1938. He loved the people and served faithfully. At the conclusion of his mission, he returned home to Salt Lake City. He married and commenced his own business.

Forty years passed by. One day Brother Cannon came to my office and said he had been pruning his missionary photographs. (That's a good word. You go through all of them, throw two away, and keep all rest.) Among those photographs he had kept since his mission were several which he could not specifically identify. Every time he had planned to discard them, he had been impressed to keep them, although he was at a loss as to why. They were photographs taken by Brother Cannon during his mission when he served in Stettin, Germany, and were of a family—a mother, a father, a small girl, and a small boy. He knew their surname was Berndt but could remember nothing more about them. He indicated that he understood there was a Berndt who was a Church leader in Germany, and he thought, although the possibility was remote, that this Berndt might have some connection with the Berndts who had lived in Stettin and who were depicted in the photographs. Before disposing of the photos, he thought he would check with me.

I told Brother Cannon I was leaving shortly for Berlin, where I anticipated that I would see Dieter Berndt, the Church leader, and that I would show the photographs to him to see if there was any relationship and if he wanted them. There was a possibility I would also see Brother Berndt's sister, who was married to Dietmar Matern, a stake president in Hamburg.

The Lord didn't even let me get to Berlin before His purposes were accomplished. I was in Zurich, Switzerland, boarding the flight to Berlin, when who should also board the plane but Dieter Berndt. He sat next to me, and I told him I had some old photos of people named Berndt from Stettin. I handed them to him and asked if he could identify those shown in the photographs. As he looked at them carefully, he began to weep. He said, "Our family lived in Stettin during the war. My father was killed when an Allied bomb struck the plant where he worked. Not long afterward, the Russians invaded Poland and the area of Stettin. My mother took my sister and me and fled from the approaching enemy. Everything had to be left behind, including any photographs we had. Brother Monson, I am the little boy pictured in these photographs, and my sister is the little girl. The man and woman are our dear parents. Until today, I had no photographs of our childhood in Stettin or of my father."

Wiping away my own tears, I told Brother Berndt the photographs were his. He placed them carefully and lovingly in his briefcase."
Coincidence? I think not. The Lord knows each of us intimately. He cares for us individually. Take some time at the beginning of this season to Consider the Blessings and maybe write down a few of your own.
Disclaimer: I was given a free copy of Consider the Blessings by Deseret Book to review. All opinions are mine.