We took the whole family to Yellowstone before dropping my oldest off at BYU-I. We were gone for four days. I love going on trips with my family! Packing for those trips however is a nightmare. Seriously, everyone with their own suitcase or bag (usually we end up with 10), where the clothes gets all jumbled by the end of the trip – the clean with the dirty, and everyone's stuff ends up being scattered around, and then there's the problem of squeezing all the luggage into whatever vehicle we are taking.
Not something to look forward to.
This time around I approached the packing completely differently thanks to suggestions from some friends on facebook. Instead of everyone having their own suitcase I bought plastic tote containers and packed our clothes according to days. Each outfit was put in its own ziploc bag with the air squeezed out, labeled with the person's name, and then put in the tote for the day they wanted to wear it. We had totes for three days, one for pjs, and one for undies.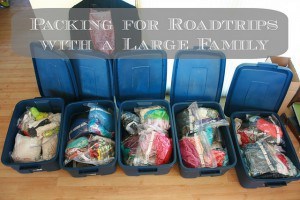 This trip we traveled in a motorhome and had room in the storage compartments below it to stack the totes. I specifically bought the totes so they would also fit under our van seats for any road trips we take in the van. We only had one tote that we pulled out in the mornings instead of 10 suitcases. It was awesome! At night we pulled out the pj and undie totes and packed the dirty clothes back into the day tote but not in the ziploc bags. I did pack multiple outfits for the littler kids (Ganache is just messy and Junior Mint is in the drooling stage) for each day. I grabbed the extra outfits from the tote, shoved them in the diaper bag and we were set for that day's adventures.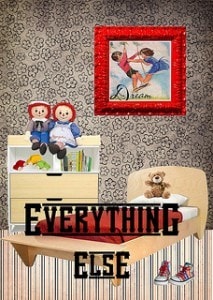 It was so nice in the morning not to have to repack all the suitcases we normally would have and then try to fit them back into the storage spaces. Taking the amount of suitcases from the typical 10 down to 1 was sooooo nice! Even in the evening when we had three totes out (the day tote for the dirty clothes, the pj tote and the undie tote) it just worked so much better.
Packing this way for longer trips would also be great. For a two week road trip we'd have 14 totes but still only get out one a day instead of 10 pieces of luggage. I will definitely be packing for trips like this from now on!
This is part of the Establish a House series that posts every Tuesday.