See this sweet little face?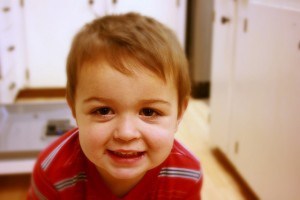 Ganache is such a funny boy. His is learning so much about the world around him. This is his latest discovery (taken with my phone).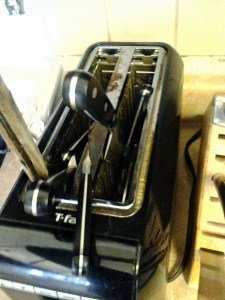 When you stick a knife in a toaster it provides a shock of electricity. Seriously who is supposed to be keeping an eye on him? Oh, that's right….
me
. My heart skipped a beat when Fudge yelled, "Mom! Ganache is playing with knives!" When I got to him I realized he was not only playing with very sharp knives, he was sticking them into the toaster. He is one very lucky kid. He could have been very badly injured or worse.
Oh, and in case you are wondering, there were seven knives and one pair of meat scissors in the toaster. Yes, it was plugged in. Yes, he got shocked. And unfortunately, yes, he liked it. Now we are all on Ganache watch.