Right now in seminary we are just getting to the chapters in 2 Nephi where Isaiah is quoted extensively. Anyone that has read Isaiah knows how hard it can be to understand and apply his words….unless you take one phrase at a time. As you begin to study a phrase here and a phrase there you start to see the beauty of Isaiah's teachings. Much of the Old Testament is the same way. I have been known to gloss over or skim through chapters because I figured they were too hard to understand or didn't apply to my own life.
Oh, how wrong I have been!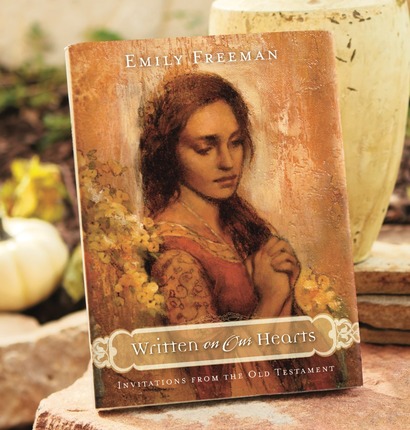 Written on Our Hearts, Invitations from the Old Testament is a truly beautiful book written by Emily Freeman. It is not a verse-by-verse guide nor even an in-depth doctrinal study. Rather Emily (I will call her Emily as I read her blog Daily Closer to Christ and feel like I know her) writes about the stories in the Old Testament and helps us look for the inspiration within. She asks a few questions or gives a suggestion to help you dig a little deeper.
Recently my daughters and I gave a presentation on 'Putting on the Whole Armor of God' at a combined Relief Society and Young Women meeting. With that still fresh in my mind I loved reading the chapter, The Holder of the Bow, toward the end of the book.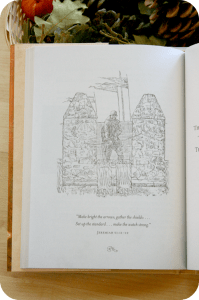 Emily quotes from chapter 51 of Jeremiah, "The Lord hath brought forth our righteousness: . . . Make bright the arrows; gather the shields: . . .Set up the standard . . . make the watch strong." She points out that gathering the arrows was not enough; there was work to be done to make sure the arrows were ready for battle. As Emily researched more about arrows she came across this quote from Elder Jeffrey R. Holland,
"We anxiously watch that arrow in flight and know all the evils that can deflect its course after it has left our hand, nevertheless we take courage in remembering that the most important factor in determining that arrow's destination will be the stability, strength, and unwavering certainty of the holder of the bow." (A Prayer for the Children," 87)
Emily prods us to look within "How bright is your arrow? Where does your stability come from? Where do you turn for strength? In what areas is your certainty unwavering?" Have I ever noticed those verses in Jeremiah before? No. Is it applicable to my own day? Yes!
This book is not one to be read straight through, devoured in one sitting. Each short chapter (they are only two or three pages each) should be pondered over, cherished, indeed experienced and applied to our own situations. As you read Emily's insights then read the stories from the Old Testament (because, really, some of them you might have glossed over too so you need a refresher) you will learn to seek out those phrases which help you to see with new eyes and you will find what Emily found:
"The Old Testament taught me that there is One who is with us through every journey, through every wilderness place, and through every mountain moment. Her is there through the detours, and the changes of course, and the occasions that cause us to climb vertically. He is the Deliverer, Jehovah. He is Jesus Christ." (pg 173)
Written on Our Hearts is available as a hardcover book or as an e-book. Cover art is by Annie Henrie and inside illustrations are by Dan Burr.
Disclaimer: I was given a copy of Written on Our Hearts by Emily Freeman to review from Deseret Book. All opinions are mine.
GIVEAWAY: Would you like to win a copy of Written on Our Hearts courtesy of Deseret Book? Just leave a comment sharing a story from the Old Testament or even a phrase of scripture that has helped you in your own life. Giveaway ends Sunday at 8pm PST.