At church today we sang one of my favorite hymns, How Great Thou Art. What a glorious list of blessings from the Lord is contained in that hymn! Music is so intertwined in our lives. I am certain one reason is because when we are filled with gratitude to God we cannot be kept from singing. It is part of our nature, whether we can carry a tune or not, to break out in songs of praise. It is also a commandment.
"Be filled with the Spirit; speaking to yourselves in psalms and hymns and spiritual songs, singing and making melody in your heart to the Lord; giving thanks always for all things unto God and the Father in the name of our Lord Jesus Christ." — Ephesians 5:18–20
"If thou art merry, praise the Lord with singing, with music, with dancing, and with a prayer of praise and thanksgiving." — Doctrine and Covenants 136:28
Throughout the scriptures we read of God's people singing psalms of gratitude. When ancient Israel was delivered from Egypt, "then sang Moses and the children of Israel [a] song unto the Lord" (Exodus 15:1). As the Jaredites crossed the ocean, "they did sing praises unto the Lord" (Ether 6:9). In the dark days of Winter Quarters, the Lord revealed His will to Brigham Young that the camp of Israel should "praise the Lord with singing, with music, with dancing, and with a prayer of praise and thanksgiving" (Doctrine and Covenants 136:28). At that time the Saints were suffering the greatest of hardships, but the Lord was commanding them to be full of praise and thanksgiving. Why? Because the Lord knew that members of the Church would be weary and discouraged and that this counsel would lift their spirits and help them overcome discouragement along the way.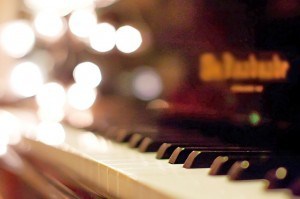 I believe singing praises is another way the Lord provided for His children to turn to Him: in times of need, in times of gratitude, in times of sorrow, in times of joy. The words of hymns combined with the melody reach to our very souls, touching us deeply, teaching us the truths that God does care, that He is there.
"We get nearer to the Lord through music than perhaps through any other thing except prayer." — President J. Reuben Clark Jr.
At a time when we feel to skip straight to the Christmas music (many of it also expressing some form of gratitude for the gift of the Savior) try to pause and sing or listen to songs of Thanksgiving. Here are a few suggestions to get you started.
A Thanksgiving of American Folk Hymns
LOVE this cd!
Come Thou Fount of Every Blessing
The Mormon Tabernacle Choir singing some of my favorite songs and spirituals.
Tiffany at An Ensign, Waving has created a playlist on spotify titled "Give Thanks." With about 80 songs there are over five hours of pure listening joy. Find her playlist songs here at her blog.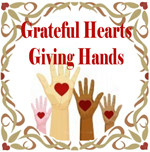 What songs are your favorite to sing this time of year in praise and gratitude to God?
This post is a part of the Grateful Hearts, Giving Hands series.