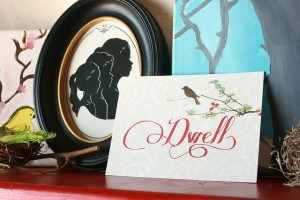 To remind myself to
dwell more
in the simple moments of the day, my one goal for the year, I created simple signs that are hanging above my favorite red shelf. This is the one spot that I can consistently decorate for the season that won't be destroyed or rearranged by little fingers.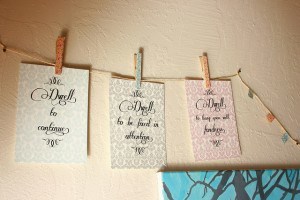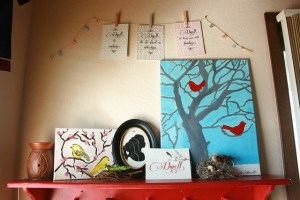 It is also right in the living room for all to see. It will be a constant reminder for me, and hopefully rub off a little on anyone else who lingers here.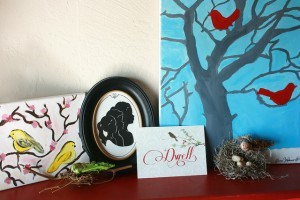 Sister Marjorie Hinckley traveled quite often with her husband, President Gordon B. Hinckley, to far off countries as they visited members of the church throughout the world. She tells of one experience while in Hong Kong as she went tracting with the sister missionaries. Sister Hinckley and the missionaries walked through the flats until they found a family they could teach. "They didn't have anything to sit on but packing boxes, but we were grateful. But the thing that impressed me was that high on a shelf there was a little glass vase with an artificial flower in it. And I said to myself, 'No matter where women live, no matter what their circumstances are, they can find some way to get a little beauty in their lives.'"
Is there a spot somewhere in your home that you make your own? A place you are able to put pretty things to look upon to bring a little sunshine or cheer? It doesn't need to be something or somewhere grand. Just a small spot for eyes to rest and be gladdened.
Though I know dwell is a rather unusual word to choose and I am probably the only one focusing on it this year you can find these printables here.