"His house was perfect, whether you liked food, or sleep, or work, or story-telling, or singing, or just sitting and thinking best, or a pleasant mixture of them all. Evil things did not come into that valley.

"I wish I had time to tell you even a few of the tales or one or two of the songs they heard in that house. All of them. . . grew refreshed and strong in a few days there. Their clothes were mended as well as their bruises, their tempers, and their hopes. Their bags filled with provisions light to carry but strong to bring them over the mountain passes. Their plans were improved with the best advice." (J.R.R. Tolkein, The Hobbit, 61)
I've always loved this description of Elrond's house from Tolkein's book, The Hobbit. It conjures up the image of what a home should be – a place to sleep, work, eat, sing, rest, where physical and emotional ailments are mended, where evil does not come.
It also describes perfectly the work a loving wife and mother does in any given day. We clean. We do laundry. We sing songs. We read stories. We cook. We create a space where our families can feel safe.
Unfortunately there are some who don't value the work of a wife and mother, who look down on us for not making ourselves the center of the world, who think because we have a husband and children we are keeping ourselves from being exceptional. Because we gave up being a doctor or lawyer or writer or CEO we are somehow less.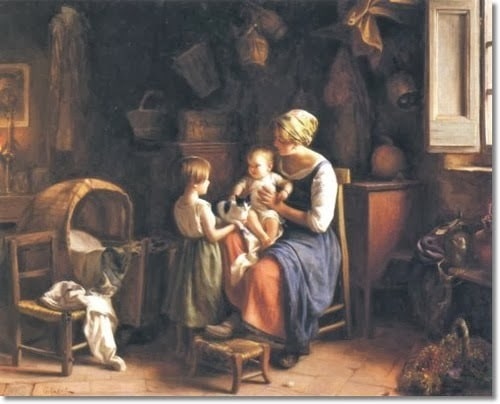 A Mother With Children by Giuseppe Magni
Where would the doctors or children's authors or teachers or construction workers or grocers be if it weren't for the wives and mothers at home – those women who need all those things to make their homes run smoothly and keep their families healthy? C. S. Lewis wisely observed:
"I think I can understand that feeling about a housewife's work being like that of Sisyphus (who was the stone rolling gentleman). But it is surely in reality the most important work in the world. What do ships, railways, miners, cars, government etc exist for except that people may be fed, warmed, and safe in their own homes? As Dr. Johnson said, "To be happy at home is the end of all human endeavour". (1st to be happy to prepare for being happy in our own real home hereafter: 2nd in the meantime to be happy in our houses.) We wage war in order to have peace, we work in order to have leisure, we produce food in order to eat it. So your job is the one for which all others exist…" (Letters of C. S. Lewis (1966), 262. emphasis added)
Talk to any wife and mother. If she is honest she will tell you it is hard work. It is real work. It takes sacrifice and a lot of love and sweat and tears to do the same things over and over again each day. But in the sacrificing we become more. We are teaching our children, showing our husbands that they are valued, they are worth it. At the end of a long day at work where do people long to be? Still at work, or stuck in a car in traffic, or sleeping in a hotel? No! The place that beacons them is home. Home, where someone is waiting for them with eagerness. Home, where the mundane brings comfort and reassurance.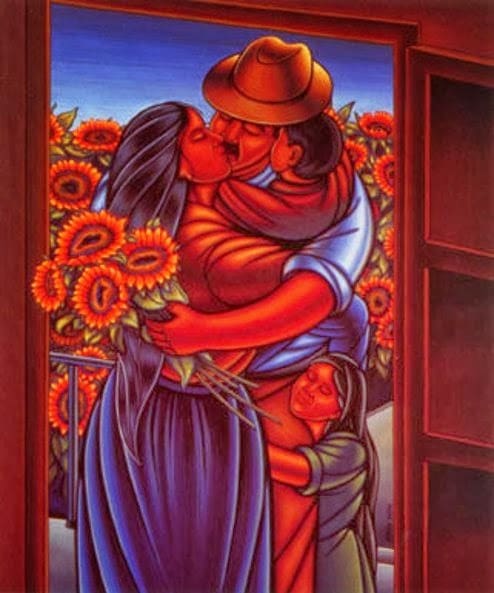 Amor Eterno by Simon Silva
At the turn of the century just over 14 years ago essayist Richard Rodriguez wrote about events in history and observed, "America sent its young men to fight in history's battles. They fought bravely and well. And though they came very close to seeing the face of history, many soldiers returned famished, they said — not for a hero's parade of tape and confetti–but famished for the mundane: a hot dog or the barefoot pleasure of washing the car on Saturday morning."
Famished for the mundane.
Famished for home.
Not long ago Barbara Walters, whose career in broadcast news spans five decades, gave an interview with Piers Morgan. He asked her, "If you could relive one moment in your life, the moment that brought you the greatest satisfaction, thrill, sadness perhaps, the moment?"
Do you know what she answered? Mrs. Walters didn't speak of her career or her successes, including becoming the first female co-anchor of a network news broadcast. No, she talked about being a mother. "Can I tell you what I regret when you're talking that way? I regret not having more children. I would have loved to have had a bigger family. I have one daughter. I don't have brothers and sisters. I had a sister that I loved and she was developmentally challenged, I guess, is how they put it. I wish I had a bigger family."
I applaud Mrs. Walters for being candid and acknowledging that in the end it always has been and always will be about family.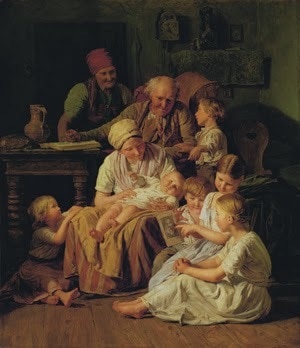 The Happy Family by Ferdinand GeorgWaldmuller
For every thing we pursue in this life there will always be something we will have to give up. The question is what are you willing to sacrifice? I went to college at the age of 15. I could have gone on to do anything. I wanted to change the world by finding cures to the world's diseases  Instead I chose to be a wife. I chose to be a mother. I still choose to be a wife and mother. I recognize that my influence is more powerful here at home raising my babies, working with my husband. I am changing the world one baby at a time.
"In our hands we hold the power to transform the perception of motherhood. We should no longer allow a mother to be defined as 'just a mom.' It is on her back that great nations are built. To play down mothering as small is to crack the very foundation on which greatness stands. The world can only value mothering to the extent that women everywhere stand and declare that it must be so. As we affirm other mothers and as we teach our sons, husbands, and friends to hold them in the highest regard, we honor both the mothers whose shoulders we have stood on and the daughters who will one day, stand tall on ours." (Oprah Winfrey, The Best of Oprah's What I know for Sure, supplement to O, The Oprah Magazine (May 2005) 66)
As each new day dawns and my mothering, homemaking tasks begin I do not feel my efforts are worthless. I am passing on a legacy of motherhood to my seven daughters and three sons. They will go forth into the world knowing they had a mother who valued them. A mother who changed their diapers, fed them, read to them, sang to them, learned with them. And I will be exceptional in their eyes.
I am a woman with a husband and kids and I am not sorry.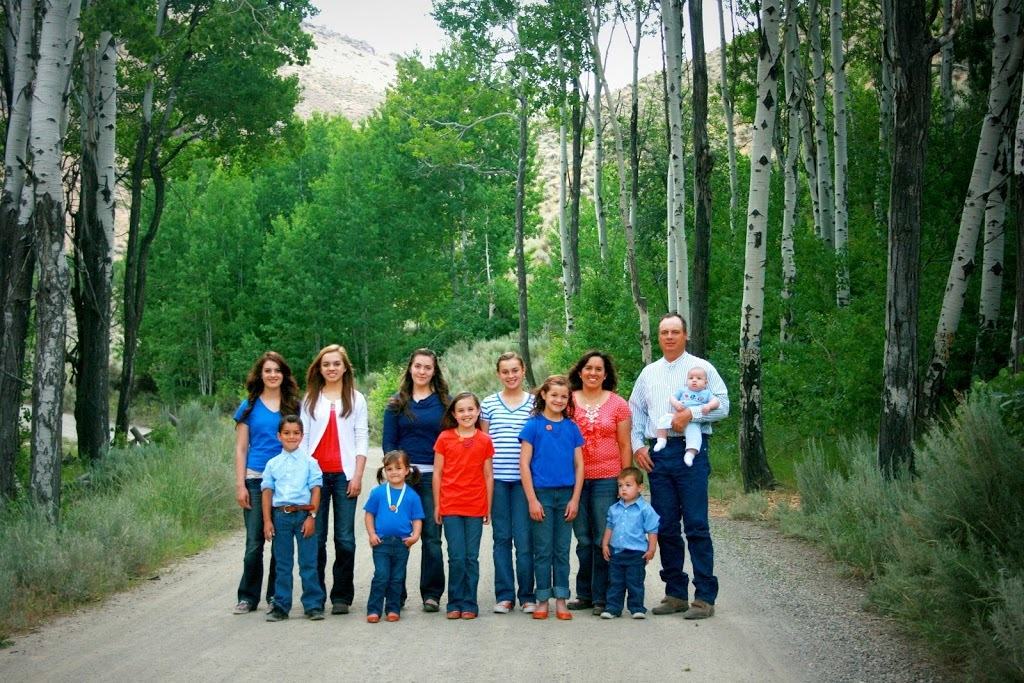 Read more of my thoughts on motherhood and homemaking:
The Power of Mothers and Babies
Children Have Value
Why Homemaking?
Motherhood – Service of the Highest Order
Have I Done Any Good?