There are moments in history worth sharing. The Olympics provides so many of them, stories that melt your heart and bolster your faith in humanity. Like Canada's Alex Bilodeau who credited his Olympic gold in freestyle skiing to his older brother Frederic, who has cerebral palsy or Swiss cross-country skier Dario Cologna waiting 28 minutes after winning gold to congratulate the last place finisher Roberto Carcelen of Peru.
But the one athlete I want to focus on is Noelle Pikus-Pace. Why? Because she is a mom and loves to tell people about it, to spread the joy that being with her family brings. After her final run in the skeleton Pikus-Pace knew she had won silver. She couldn't get to her family fast enough! We were watching it live Friday as Pikus-Pace rushed to her husband and two young children in the stands to share this moment with them. And you know what she kept repeating over and over again as they hugged and laughed? "We did it! We did it!" Her journey was her family's journey, her medal was their's too. Her husband and two children traveled with her to every competition. They stayed together as a family, supporting her, supporting each other.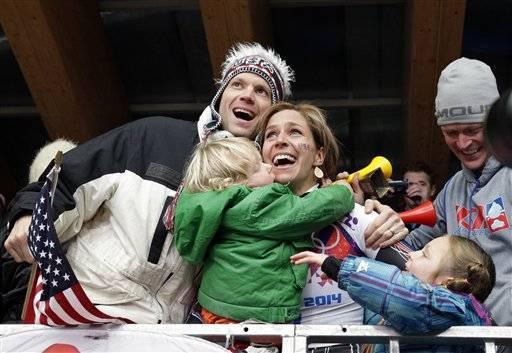 A Deseret News article relates:
"While she described the balancing act that is her life, a reporter asked her what her Olympic journey would be like without her family along for the ride.

"It's not the dream without them," she said. "I can't say it any other way. It's not perfect without them."
And she plans to repay their patience and kindness with the kind of commitment only supermom can offer.

"I absolutely, first and foremost, love being a mom," she said beaming, "100 percent — I love being a mom, and that will always be my priority. I want to make sure my kids can do anything, that they can be anything, and that they can have dreams that I will be right there, by their sides cheering them along the way. I want to join PTA; I want to bake cookies; I want to plant a big garden. I want to be at home doing the things I love doing."
Can't you just feel her mom-joy exuding through those words? Noelle Pikus-Pace has certainly had her share of trials. From concussions to freak accidents to suffering a miscarriage at 18 weeks she knows what is to have setbacks and disappointments. Yet, she keeps on going finding joy in the journey. I love this line from this NBC article about Pikus-Pace. "She was so blindingly happy that it was impossible to be around her without being happy yourself. Which I think is the whole point of the Noelle Pikus-Pace story."
Congratulations to Noelle and her family. Her motherhood journey will be one wild ride just like the ups and downs of her skeleton career. May it continue to bring her joy!
P.S. I totally stole the title of this post from Stephanie who used it on facebook to describe Noelle Pikus-Pace.