A while ago I mentioned I had a new system of organization I was working on. It's not so much a system of organizing my house, but rather one that organizes all the paper that comes in via mail, kids drawings and letters, and all the to-do lists that I have written down or have floating around in my head. It has been almost two months and look at the transformation that has taken place at my desk!
Before: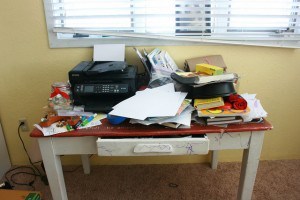 After: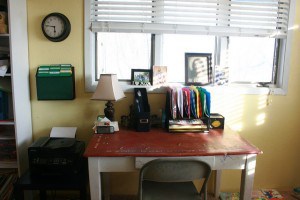 Seriously my desk has been like this for over a month! There are no piles and piles of papers to get through, no scattered to-do lists, just neatly organized file folders and a huge peace of mind (and some purple marker a la Ganache that I still need to paint over).

Back in January I was offered the opportunity to try out
Mind Organizations for Moms (M.O.M.)
created by April Perry one of the co-directors of
Power of Moms
. Have you heard of Power of Moms? Its the "professional organization" for mothers everywhere who take their "job" as a mother very seriously and desire a network of other mothers that can provide ideas, inspiration and empowerment. They have articles and podcasts, retreats and learning circles, and a huge amount of free resources on their website all designed to help you in your mothering. One of the programs they offer is Mind Organization for Moms.
April used David Allen's best-seller, Getting Things Done® and adapted it to be more mom-specific. She teaches you how to organize the papers that come into your home and all the information that you have stored in your head. Remember my fiasco with visitors to my house a while back? Yeah, it happened right when I was beginning to implement M.O.M. It just showed me how much I really needed this system!
Here's a quick overview of how my desk is organized.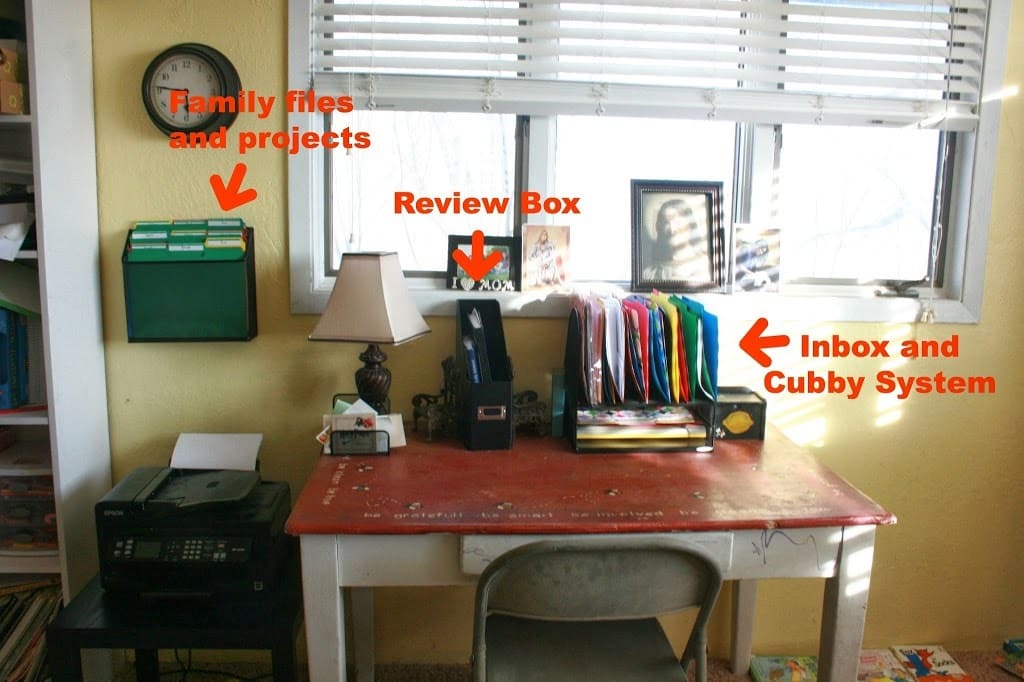 On the wall is a three tiered file basket. I have files for each member of my family there where I store any extra special pictures or letters. I also have files for family projects, vacations we would eventually like to take, etc.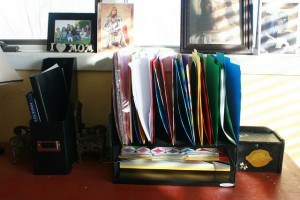 Closeup view of my "cubby" system. These folders are for my personal projects and goals, family management like finances or activity ideas, and the lower shelves hold my tickler file and "in"box folders. To the left you can see a magazine holder I use for my study journal as well as books I have agreed to review. On the right you can see an index card box.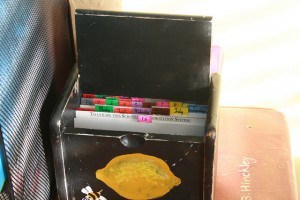 This cute black bee box was originally for recipes but I use it for my scripture and quote memorization system. Isn't it darling?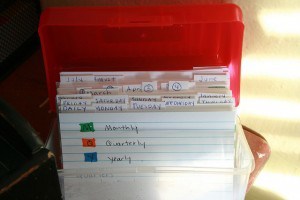 Behind it is this index card box which houses my cleaning system (more on that in another post). I am hoping to find another wooden recipe box that I can have Brownie paint for me to match my bee box.
Any mail or papers accumulated throughout the week get put in a lower "in"box. Once a week I sit here and sort through them, filing them in their appropriate folders. I look over my goals and project sheets crossing off or adding to them. Daily I sit here to try and do my personal scripture study, work on memorizing quotes or scriptures, and read. I also pull out the index cards with the cleaning tasks for the day and file them away in the evening.
I didn't use to carry around a calendar but I do now. It's a small one that fits in my purse but can also fit in my back pocket (I have a big bottom so my pockets are big!). I am learning to write down my to-do lists for the day or week there as well as keep track of appointments, blog deadlines, meetings, birthdays, etc.
The most amazing thing though is what has happened inside my head. You know we mothers are always thinking about this or that that needs to be done. In fact it takes me at least an hour to finally fall asleep at night…..or it did until I really got into the M.O.M. program. There was so much information floating around in my head that my brain was taking that slow down time to sort through it all. M.O.M. is like a file system for my brain!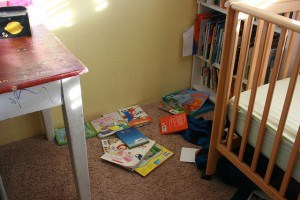 While I work baby Junior Mint occupies himself by pulling books off the shelves. Lovely.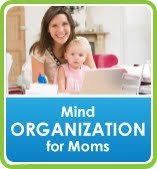 The ladies at Power of Moms have been great checking in to see if I have any questions or need any help or advice as I progress in the M.O.M. program. There are a TON of additional articles, pictures, and videos online as well as an F.A.Q. section to help you. I opted to take the slow route but there is also a Two Week Mind Organization for Moms program for those who want to get in and get it started already.
Want to find out more? You can read more about the M.O.M. program here or try out a free start-up M.O.M. program (its not the full thing but gives you an idea).

Congrats to Dezi Allen, the winner of the M.O.M. program!
Power of Moms is offering a FREE Mind Organizations for Moms program to one of you! This is a $75 value! To enter the giveaway:
1 entry (required) leave a comment on why you need to get organized, what's most difficult about organization, or some other question that will help Power of Moms better understand the needs of the moms out there.
1 entry – like The Power of Moms on facebook.
1 entry – follow The Power of Moms on Twitter.
1 entry each – blog, tweet, or facebook about this giveaway. Please leave link in your comment.

Please leave a separate comment for each thing you do, make sure your email is either on your profile, or in your comment, and good luck! Giveaway ends Saturday at 5pm PST.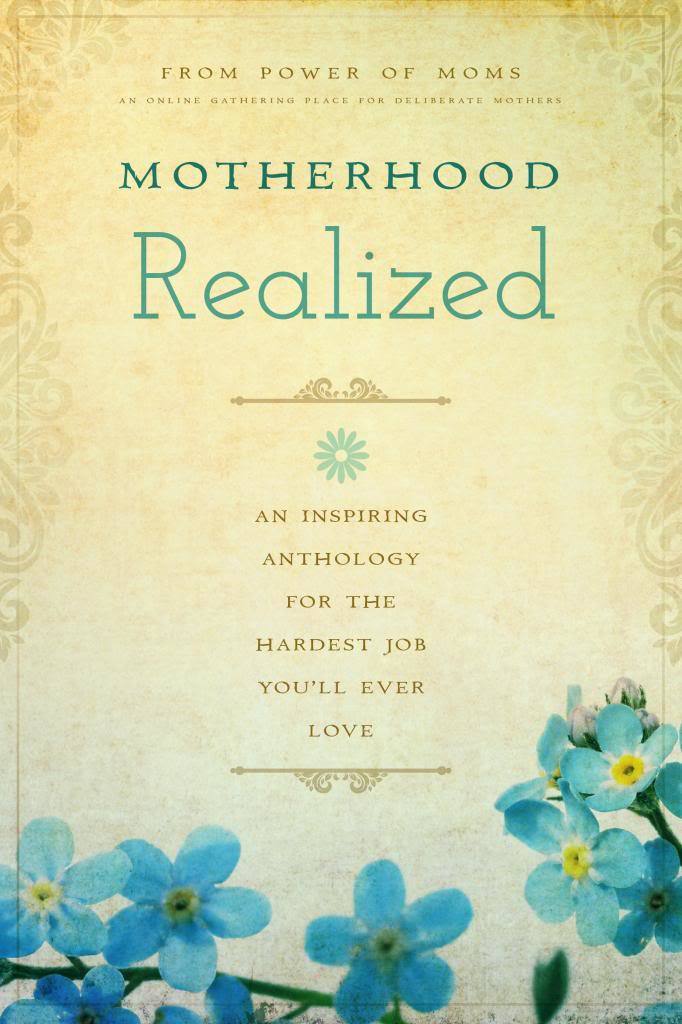 On a side note the Power of Moms newest book, Motherhood Realized: An Inspiring Anthology for the Hardest Job You'll Ever Love
went on sale yesterday! It is a collection of essays from mothers of all backgrounds sharing their experiences in finding the beauty of motherhood even when it is hard.