Summertime is starting, school is ending and for many families that means…..vacation time! While our family normally doesn't take big vacations in the summer due to our farming we do our best to learn about America in other ways.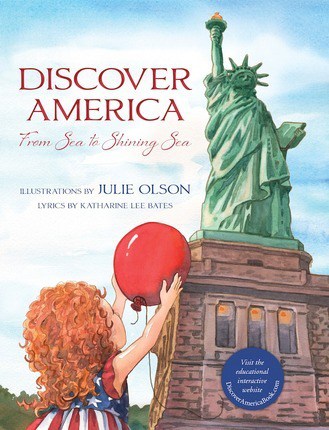 Introducing Discover America From Sea to Shining Sea! Using the lyrics of America, the Beautiful readers follow a red balloon across as it floats across this great country of ours depicted in gorgeous illustrations by Julie Olson. Reading books over and over again to my children means I have to enjoy them too. Translation: I hoard children's books for the illustrations. When we first read this book my four-year-old saw the illustrations and said, "These look like the pictures in The Happiest Mommy Ever
." She was right! And, oh! this book does not disappoint!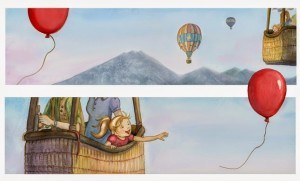 Freedom Festival Balloon Fest in Provo, Utah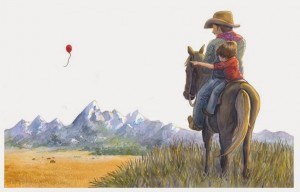 Grand Teton National Park in Jackson Hole, Wyoming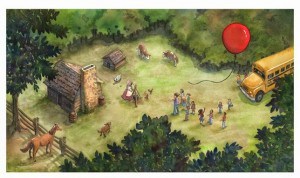 Lincoln State Park in Lincoln City, Indiana
With a country as vast and diverse as ours how do you go about choosing which sights to include? I don't know but Julie Olson did a fantastic job! As we follow the red balloon from the west coast to the east coast we visit twelve different places like the Freedom Festival Balloon Fest in Provo, UT, Gateway Arch in St. Louis, MO, Amish Country in Millersburg, OH, and Independence Hall in Philadelphia, PA.
Our experience reading the book continued online at DiscoverAmericaBook.com. There are coloring pages to download, and lesson plans for teachers but the most fun, at least according to my kids, is checking to see where "their" balloon has been. You can 'send' a balloon to your friend who then passes it on to their friend and pretty soon you have a map showing a trail where your balloon has traveled. How cool is that?!
With a resident artist in the house we also had to take some time to watch Julie paint the corn fields of Great Bend, Kansas. She turns the paper upside down part way through and paints. Super fun to watch!

I highly recommend this book as something the whole family will enjoy!
Illustrator Links
DiscoverAmericaBook | Website | YouTube
Purchase Links
Deseret Book | Amazon
Disclaimer: I received a free copy of this book to review. All opinions are my own.