Today the mountains are covered in mist as a light drizzle continues to fall in our valley. It rained all day yesterday. We don't have any hay down so it is welcome rain. The highs are only in the 70s. Naturally the windows are open, the enticing scent of wet sagebrush wafting through. Misty Mountains and Song of a Lonely Mountain are playing on itunes as they seem fitting for the day's weather. My stack of books are also calling me. I showed you what my kids have been reading this summer. Now it's time to show you my own reading list.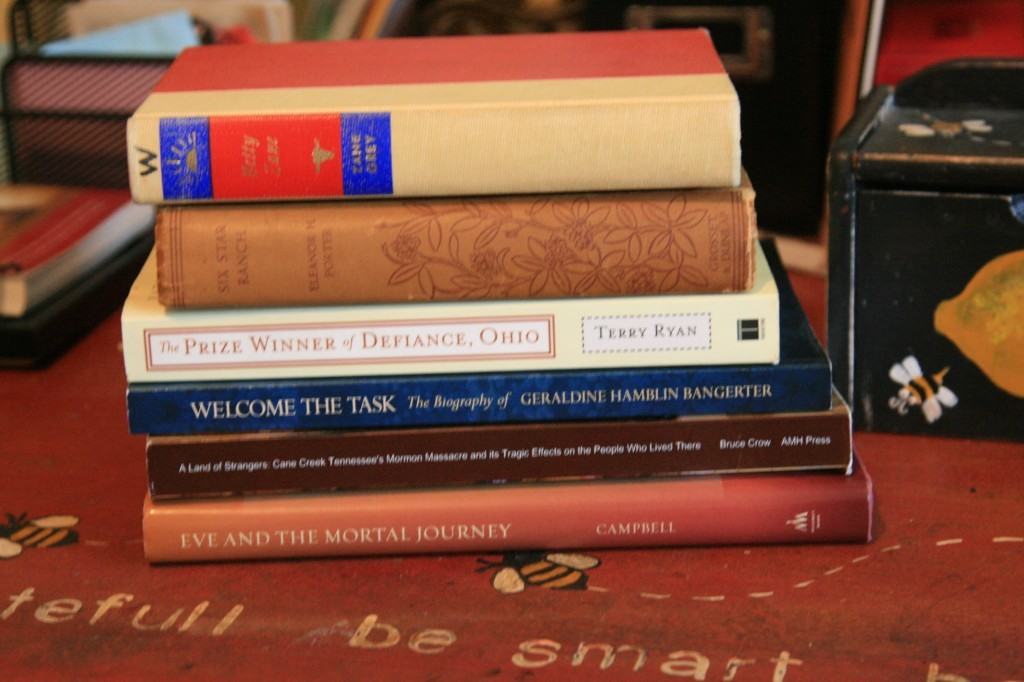 Pictured are just some of the books I have read or am currently reading. My books are scattered here and there throughout the house to pick up when there are a few spare minutes of time.
Betty Zane
was a heroine of the Revolutionary War on the American frontier and her exploits were recorded by her great-grand-nephew, author Zane Grey. It has been wonderful to read about this amazing woman who did so much and whose story is not very well known. I know there are so many more women whose stories are just as fascinating.
Six Star Ranch
was a quick joyful read about six friends from New Hampshire who visit a ranch in Texas. It's just a fun children's book that would be a great to read aloud for the whole family.
The Prize Winner of Defiance, Ohio: How My Mother Raised 10 Kids on 25 Words or Less
is about Evelyn Ryan, mother of 10, who kept her family afloat with her winnings from various contests throughout the 50s and 60s when companies were looking for slogans for their products and asking consumers to help. It is amazing how she was able to win kitchen or other household appliances just when their old ones gave out, or earn $10 or $5 here and there for poetry published in the local paper. She used the talent she had for witty prose to bring in the extra income needed to keep her family fed and clothed because her husband's pay was not enough especially when he used part of it every time to satiate his own addiction to alcohol.
Welcome the Task: The Biography of Geraldine Hamblin Bangerter is the life story of Julie B. Beck's mother. Anyone who is Mormon knows Sister Beck from her past service as the General Relief Society President. Reading about Sister Beck's mother you can see so many of the same qualities and characteristics of faithfulness, tenacity, and a "can-do" spirit that have been passed on and taught. Geraldine Bangerter is one of those steady, faithful women who has given her life to raising a family and supporting her husband in all his endeavors. She is one of those 'unsung' heroines who carry us all onward. I love this book so much I bought a few extra copies to give as gifts!
A Land of Strangers: Cane Creek Tennessee's Mormon Massacre And its Tragic Effects on the People Who Lived There is another history/biography that deals with one of my ancestors, John Henry Gibbs. He and another Mormon missionary, William S.Berry, were shot and killed by a mob in Tennessee in 1884. While the story has been passed down in my family history there is only one side told. This book not only gives the story but also tells about each of the people involved, what their backgrounds were, and what happened to them afterwards. There are so many involved – not only the missionaries and those in the mob but also other church members who were gathered to meet with the missionaries that fateful Sabbath day.
Eve and the Mortal Journey
 is Beverly Campbell's second book about Eve. It's been somewhat of a disappointment as it hasn't so much talked about Eve as much as it has about our own mortal paths. I guess I was wanting more. Campbell's fist book, Eve and the Choice Made in Eden
is so much better!
And just for fun here are our own misty mountains with a some pops of color from the flowers, bright yellow sunflowers and purple spiky thistles.