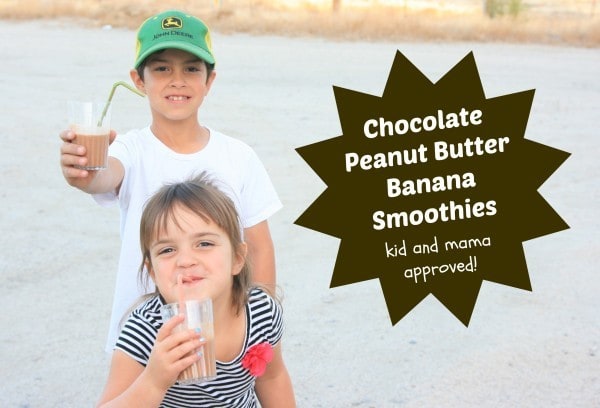 A favorite snack to eat at our house is chocolate peanut butter banana smoothies. I think it is made every day, usually a couple of times, so there is enough to feed the hungry masses that are always present here. They are super simple to make with a recipe that is very easy to remember. These smoothies are great not only for snacks but we've even eaten them for quick meals. Why, yes, I cheat and make these for dinner sometimes. At least it's better than ramen!
Chocolate Peanut Butter Banana Smoothies
1 cup milk
1 Tablespoon cocoa
1 Tablespoon peanut butter (smooth or crunchy according to your preference)
1 frozen banana
Put everything in a blender and blend until smooth. Makes 1 adult size serving or two to three kid sized servings.
We buy TONS of bananas, peel them, break them in half, then fill up quart size freezer ziptop plastic bags to keep them all in the freezer. The frozen bananas are used in other fruit or green smoothies too. We don't add any sugar as the bananas add the perfect amount of sweetness for our taste buds.