Every Sunday evening my siblings, parents, and I have a Google Hangout where we catch up on happenings in each others' lives. This past Sunday we somehow got on the topic of how we each had "the talk" with our parents. All kinds of hilarity followed as we recounted embarrassing moments and compared stories. I was grateful though as I realized even though it was embarrassing for my parents and us at the time, my parents cared enough about us that they wanted to be the source of any information we learned about sex.
Our kids are inundated with media from the internet to television to magazines and even songs. Each trying to push their own values of sex onto our kids at younger and younger ages. Sex is not a dirty or bad word but when we are too embarrassed to talk about it with our own kids they will think it is and go looking elsewhere for information.
Be on the front line and talk to your kids! Teach them while they are young how special they are and how no one is entitled to touch them or hurt them. Let them know you will always be there for them. With the prevalence of pornography and "anything goes" mentality in our culture it is, unfortunately, something that needs to be talked about at earlier and earlier ages with our kids. Yes, talking to your kids about sex can be embarrassing but it doesn't need to be.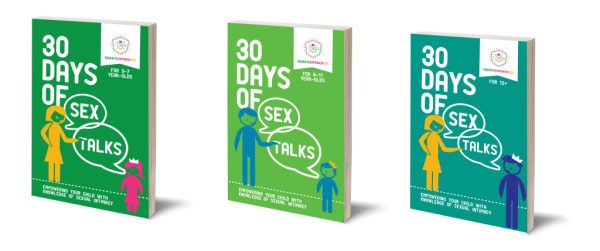 Educate and Empower Kids has created a series of three books called 30 Days of Sex Talks: Empowering Your Child With Knowledge of Sexual Intimacy
. The lessons are simple and direct. They are designed to provide conversation starters and age appropriate facts to share with your kids starting as young as age three. I love these books! They really do build upon each other layering the information over time as your kids grow and mature. The topics and information presented in the first book geared towards ages 3-7 is much different than that of the last book for ages 12 and up. You, as the parent, decide where to start and how much to teach.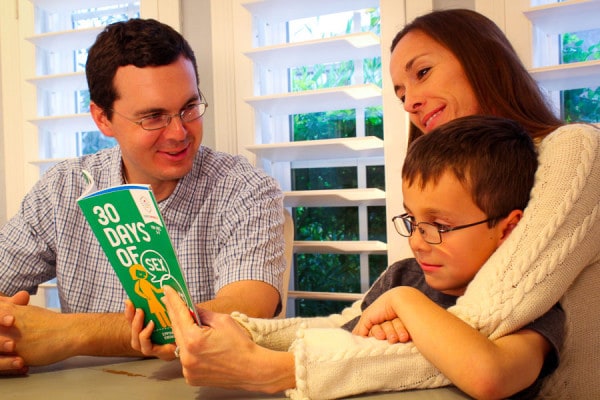 The name of the books is a bit misleading in that you don't really talk to your kids every single day for 30 days about sex. What you are given instead are tips and helps to have these conversations naturally as you interact with your kids on a daily basis, whether its shopping at the mall and seeing storefront displays for lingerie or discussing what they heard at the playground. You use your experiences, values, and cultural and religious beliefs in teaching your kids. Having these talks with your child will establish a pattern of healthy conversations for the future. Your child will feel comfortable talking to you about anything as he or she grows into a healthy, knowledgeable person.
30 Days of Sex Talks for Ages 3-7
includes dialogues on important topics such as boundaries, 'my body belongs to me,' 'how to say "no," human anatomy, and predators.
30 Days of Sex Talks for Ages 8-11
includes conversation starters on puberty, curiosity, self-worth, gender roles, body image, media literacy, instincts that keep you safe, pornography, sexual identification, and intimate relationships.
30 Days of Sex Talks for Ages 12+
includes topics on creating healthy relationships, consent, social media, pornography exposure and emotional intimacy and much more.
This series covers more than just sex. I love that! It also covers ways to show healthy affection, emotional health, and even different kinds of love (i.e. friendship, familial love, romantic love). Each book comes with a code to download bonus content and topic cards from Educate and Empower Kids.
Scared to have "the talk" with your kids or just don't know where to start? I have a set of the entire 30 Days of Sex Talks series to giveaway! This includes 30 Days of Sex Talks for ages 3-7, 8-11, and 12+.
a Rafflecopter giveaway