The Establish a House guest post this week comes from Jennifer. She shares 10 great ideas to have frugal family fun this summer!

Summer!  A time to slow down a little, relax, and spend some extra time together as a family.  Summer can, indeed, become a busy, stressful time with all the extra activities the world makes available, and it can become quite expensive if you try to experience it all!  We enjoy having fun as a family year round, and we've found the best family activities are often the cheapest.  I prefer my children have fun family memories in their own homes over those in  fancy parks and far away vacations.  While we do set aside time to travel and see things (and even go to a fancy park now and then), these are just a few of the fun things we've done at home during the summer that are easy on the wallet and make some of the best memories!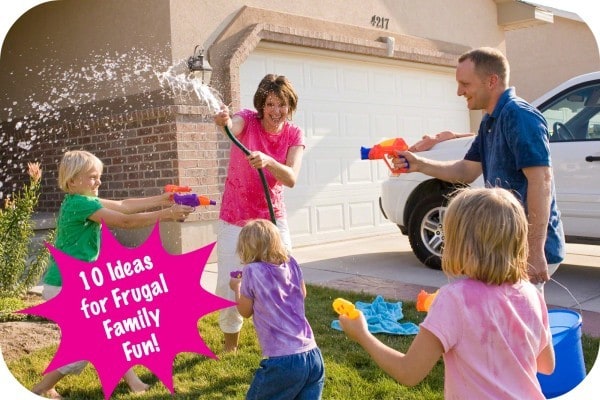 1. Watch the sun rise.  The night before secretly go outside and create a cozy spot to watch the sunrise.  Maybe set up some folding chairs and get some light blankets to snuggle with.  You can even get ambitious and set up a large tent.  Also have something yummy prepared to eat.  We like cut up fruit and warmed up, homemade cinnamon rolls you can bake the night before.  Then, wake everyone up right before sunrise.  Make sure to pick a morning when you don't have anywhere else to be or anything else to do.  (You want to make sure those who need it can catch a lazy afternoon nap.)  Have everyone follow you outside in their pajamas and bring along the food!  You can make it formal with a little devotional/scripture study or simply enjoy the time talking and watching the world wake up.
2. Have a family camp out – in the livingroom.  Camping is a quintessential way to have fun as a family during the nicer months.  I definitely recommend that as an activity for all you outdoorsy people.  It's a great way to get out in nature and make great memories.  But if camping just isn't your thing or you run into a stormy summer night, there's no need to miss out on all the fun!  Pull out the sleeping bags and mattresses off the beds and drag them into the livingroom.  Pop some popcorn and turn out the lights.  Give everyone a flashlight and take turns telling ghost stories, singing folk songs, and performing shadow puppet shows.  You can even turn on the stove burners and make s'mores!
3. Have a barbarian dinner night.  For this you can cook anything you want, but a pasta dish is always fun.  If you eat indoors, wash the table well and call the family for dinner.  Then after prayer, walk around and serve everyone directly onto the table.  No plates or utensils!  Everyone has to use their hands to eat – like a barbarian.  Expect some giggles, a bit of a mess, and a lot of fun!  After dinner you can top the evening off by watching the Flintstones.
4. Have a book party.  Pick a classic family read aloud and read it together.  After you finish, have a book party night!   Plan games and food around the book you read and watch the movie, if they've made one!  For example we read Pippi Longstocking as a family.  For our book party we surprised the kids.  We told them we were going to have a picnic on the back deck and they were thrilled.  But we wouldn't let them eat until they had scrubbed the kitchen floor.  They looked at us confused but I then proceeded to dump dish bubbles all over the kitchen floor I had mixed up in a bucket.  I quickly put on the song, "Scrubbing Day" and gave everyone rags to put under their feet.  We all had a blast skating around the kitchen floor to the music.  Then we ate on the back deck, picnic style.  I snuck in the house before they were finished and lined up chairs and pillows as an obstacle course.  I then told them there was a "Splunk" on the loose and they had to only walk across the chairs and various pillows I had place without touching the floor!  After they made it to safety we handed out musical instruments and had a silly parade "Pippi Style".  To finish the evening off we watched the movie "Pippi Longstocking" and tossed cookies from across the room at the kids for a snack.  (Pippi throws ice cream cones at the children in the orphanage for a treat, but we didn't think that would be such a good idea in the house.)  But you get the idea.  Let your imagination run away and have fun with family read alouds this summer!
5. Have a Happy Dinner Night.  This is a fun night that we always enjoy.  Make up a simple dinner that everyone loves.  Maybe add some google eyes and a smile of some sort.  The first time we did this we ordered pizza and then when the kids opened the box there was 2 googly eyes and a laminated silly smile we had added before they saw it.  Then we ate picnic style in the livingroom.  In the middle of the picnic blanket we had a jar full of printed out jokes and funny stories.  Everyone took turns choosing a strip and telling the joke/story.  After a while we started making up our own silly jokes and stories and everyone was in stitches with laughter.  We then chose a Bugs Bunny movie to watch as a family to continue the laughter.
6. Have a Backyard Water Games Day.  This is pretty self explanatory, but spend the day playing in the water as a family!  Get out water balloons, squirt guns, buckets, and hoses.  You can google dozens of different water games, but I'll share a few of the ones we have played.  We have enjoyed water balloon hot potato, water hose limbo, water gun freeze tag, transfer water from one bucket to the next using only sponges,  hide and seek where you try to get to base without being squirted first, wet sponge dodgeball, water balloon pinata, and of course, good old fashioned water fights.
7. Have a Neighborhood Scavenger Hunt.  Split into two teams, each with a list and run around the neighborhood as fast as you can and check off each item.  First team back wins!  This is a fun one to do with friends and afterwards you can barbeque.
8. Have a backyard campfire and star gaze.  This is one of my favorites.  A few times each summer after dinner is over, the house has been cleaned up, and we've read scriptures, we head out back and make a campfire.  We roast marshmallows, make s'mores, sing songs, and tell stories.  Then when it begins to get dark we put the fire out and lay blankets on the ground.  We just lay there watching the stars come out and talking.  It's so peaceful and relaxing and really opens up conversations with the kids on anything and everything.
9. Celebrate a Little Known Holiday.  There are endless possibilities to this idea.  If you want a place to start, google "holidays for every day of the year."  There are so many fun holidays and every so often we google them and then choose a day to celebrate.  As an example this June 20th is National Juggler Day.  So maybe you could spend Saturday evening watching a couple of youtube videos on juggling and let everyone in the family try it out.  To have even more fun, you could dress up in face paint and silly costumes and have a juggling contest.  It would also be a perfect night to watch the Disney classic, "Toby Tyler."  You get the idea.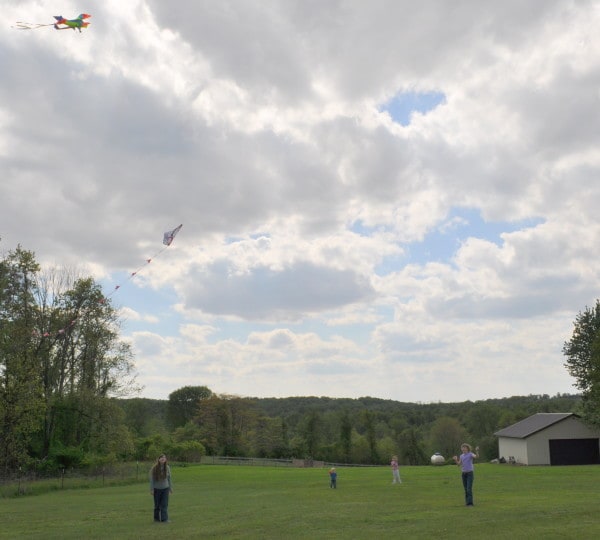 10. Fly a Kite, Feed the Ducks, Pick Wildflowers…….  The most important thing you can do this summer is enjoy the simple pleasures with your kids.  Go kite flying as a family on a windy day.  Go to a local pond and feed the ducks.  Play in a nearby stream and look for tadpoles.  Go outside on a rainy day and dance and get soaked in the downpour.  Pick a bouquet of wildflowers and use it as a lovely centerpiece.  Run through the sprinklers.  Put your kids to bed and then get them up shortly thereafter with a surprise trip to go get ice cream in their pajamas.  Have a picnic in the park.  Have a family pillow fight.  Sit on the back deck and listen to the sounds of summer like crickets chirping and frogs croaking. Play with homemade bubbles. Take the time to sit quietly with each of your children and tell them what is so wonderful about them.  Enjoy this time as a family and the precious memories you make!
Author Bio:
I am the wife of a wonderful man and a homeschooling mother of 4, soon to be 5 sweet children.  What I enjoy most in this world is mothering, reading to my children, and making fun memories as a family.