Husband, father, son, brother, Bishop, Scout leader, neighbor, friend. These are a few of the labels that define me. These are all roles that have helped me gain deeper understanding and appreciation of the doctrines contained in The Family: A Proclamation to the World. It's a document that has literally shaped my life, and I am blessed by it daily. To me, the most meaningful phrase from The Proclamation is "marriage between a man and a woman is ordained of God and the family is central to the Creator's plan for the eternal destiny of His children."
There's another label that shapes who I am, but one that might seem to conflict with the picture I just painted. That is I experience same-sex attraction. It's something I have been aware of since I was very young, but I've also known since I was very young that I wanted to marry and raise a family. When I joined the Church as a young adult, I found the answers to the questions I'd always had about God's plan for man and the importance of the family. The restored gospel also helped me to begin to reconcile my feelings (in regard to my attractions) and my new faith.
2015 has been a historic year in American society. The Supreme Court of the United States ruled on same-sex marriage. The Boy Scouts of America dissolved the ban on openly-gay leaders. Thankfully, Church leaders have issued statements on both matters that provide guidance, reassurance, and insight. This past summer, bishops and branch presidents led discussions on the doctrine of traditional marriage using an outline published by the Church. There has been much discussion on social media and in the hallways at Church on the issue of same-sex attraction; some of it has been healthy, and some of it has not.
So you may wonder, how does a man who is married, has children, holds the Priesthood and a temple recommend, and who has served as a bishop reconcile the doctrine on the family with feelings of same-sex attraction. Believe me, I wonder that myself. These are a few of my thoughts on that very question in an attempt to create a dialogue on this intersection of faith and feelings.
Be aware that there are active members of the Church who are same-sex attracted
There are likely active members of your ward who are either gay/lesbian/bisexual, or who have family members who are. When discussing the family and the Church's position on traditional marriage, let us be mindful and respectful. For faithful Church members who experience these feelings, remaining in the Church can be a challenging thing, and it is so reassuring to attend Church when genuine compassion and empathy can be felt. Many of us have felt lifelong shame for feeling these attractions, and nothing is harder than coming to Church in hopes of feeling and finding hope only to hear comments that convey a "those people" type attitude. "Hate the sin, love the sinner" conversations can actually be quite hurtful. "I love all of God's children, unconditionally" is so much better. We never know what burdens someone else is carrying, or just how hard they are trying to live faithfully.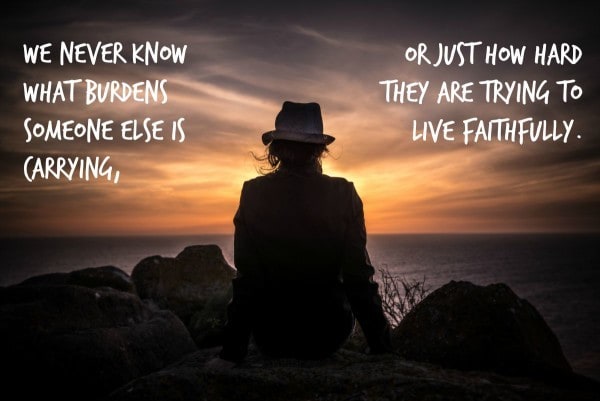 Study the words of the prophets on the subject
The Church's official website on the topic, Mormons and Gays, is a wonderful source of information on the Church's teachings in regard to same-sex attraction and the family. From the website: "The experience of same-sex attraction is a complex reality for many people. The attraction itself is not a sin, but acting on it is. Even though individuals do not choose to have such attractions, they do choose how to respond to them. With love and understanding, the Church reaches out to all God's children, including our gay and lesbian brothers and sisters." For me, knowing that the Lord does not view my natural attractions as a sin has helped alleviate much of the shame I have carried for years. It gives me hope that as I continue to live true to my covenants, I am entitled to all the temporal and eternal blessings He has promised.
Gay members of the Church are very aware of the doctrines contained in The Proclamation
As I have become acquainted with other members of the Church who experience feelings of same-sex attraction, it has occurred to me that perhaps no other group of Latter-day Saints understands the Proclamation more intimately. For some like me, temple marriage has been a blessing we've received in this life. No one is more important to me than my wife and children. My wife is my biggest cheerleader, and is a source of great strength to me in regard to this challenge. She teaches me so much about the meaning of being a helpmeet. And because I know what the world's alternative would have been for me, The Proclamation holds deeply eternal meaning for us. For others, marriage in this life may not be an option. Marriage should not be suggested as a solution to "fix" same-sex attraction. President Hinckley said "Marriage should not be viewed as a therapeutic step to solve problems such as homosexual inclinations or practices."1 Imagine wanting one of the most important eternal blessing promised by a loving Heavenly Father to His children, and due to challenges in this life, not having it within reach. Then imagine living faithfully to baptismal, priesthood, and temple covenants in spite of those challenges. For that reason, brothers and sisters in the gospel who experience same-sex attraction are people that I honor, respect, and pray for because of their obedience and example.
There are more lessons I have learned about the family because of this trial in my life. Many times I have felt like Paul, and prayed, wished, pleaded, and hoped that this "thorn in my side" would be removed. I often think of the Savior in the Garden, asking if His cup might be removed. As I strive to live worthily and focus on being the best husband and father I can, I know that He loves me and He knows my struggles. It is my hope that our wards will be loving and compassionate families, especially for those members who experience same-sex attraction, especially when we discuss the doctrines of marriage and the family. Elder Quinton L. Cook's counsel describes it best: "As a church, nobody should be more loving and compassionate. Let us be at the forefront in terms of expressing love, compassion and outreach."
Author Bio:
Chris Staggs is a convert to the Church as a young adult, served a two-year mission abroad, and married THE girl of his dreams in the Temple. They have several  children and live in the Midwest where he has served as a Young Men President, Bishop, and in stake callings.

This post came into my email this morning on the last day of our Family Proclamation Celebration. It is a much needed addition to our celebration! I am thankful the author took time to write it and share his experience and insights with all of us.