You guys know how much I LOVE family history. Love it, love it, love it! There are a few things that really make your ancestors come 'alive' for you and your family and can add greatly to your family history.
Pictures
You can see where you inherited your nose, or the curly hair, or the gorgeous eyes from old family photographs. Just take a look at this collage of my son, Ira, with his great-grandfather Samuel Alba on the left and his great-great grandfather Pere Ventura Pons on the right.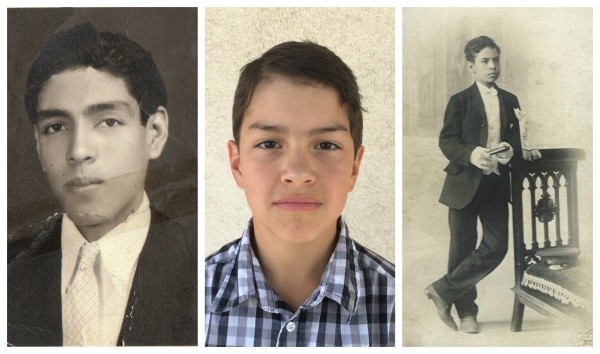 What's amazing about this is Samuel is on my mother's side while Pere is on my father's side. Yet you can totally see a family resemble from both men in Ira!
Gather copies of those photos from family members, search online for some (you might be surprised!), and then print them out and hang them up. Make them a part of your life.
Census Records
Census records are amazing places to gather details about your ancestors. Here is a copy of the 1940 census record that shows my grandmother's family, where they lived, what they did for a living and who was living with them at the time.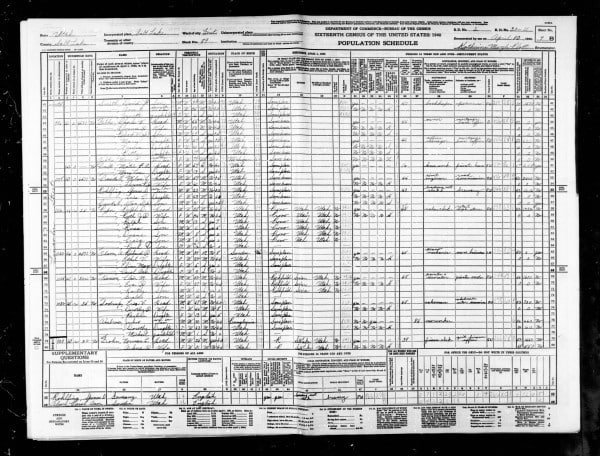 This is hard to see on a small photo so let's zoom in on parts of it shall we? To the left we find the house number of where they lived. I can see my great-grandfather Charles Worthen Gibbs listed as the head of the household. My great-grandmother Florence as his wife, then their children Richard, Mary, Norma, and Betty (my grandmother). I can see my grandmother was 17 at the time of the census and single. All the kids were!

If I move across the columns I can see my great-grandfather was the owner of a mortgage loan company and my great-aunt Mary was the office manager there.

Census records are neat little snapshots into a moment of time in your ancestor's life.
Vital Records
Birth, marriage, and death certificates are also great sources of information. Other people are usually listed such as parents and grandparents, spouses, and children. Here'a copy of my grandmother's birth registration.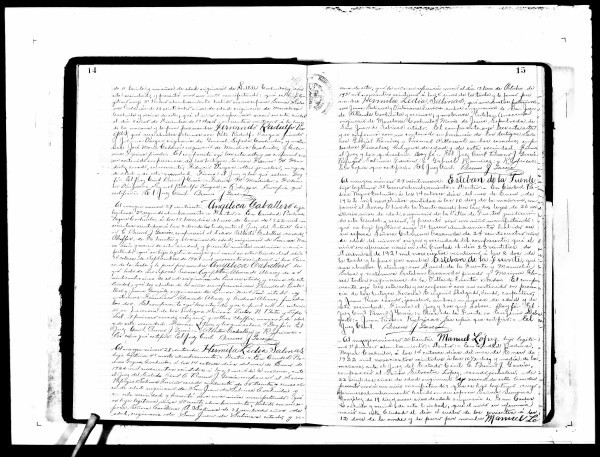 It is all in Spanish. Her entry starts at the bottom of the left page and carries over to the top of the right page. It not only lists her parents, her date of birth and where, but it also lists her grandparents!
Other Documents
There are hosts of other types of documents that contain information about your ancestors. Anything from war draft records, to border crossings, to passport applications can be sources of new information about your ancestor. Here are some examples from my family history.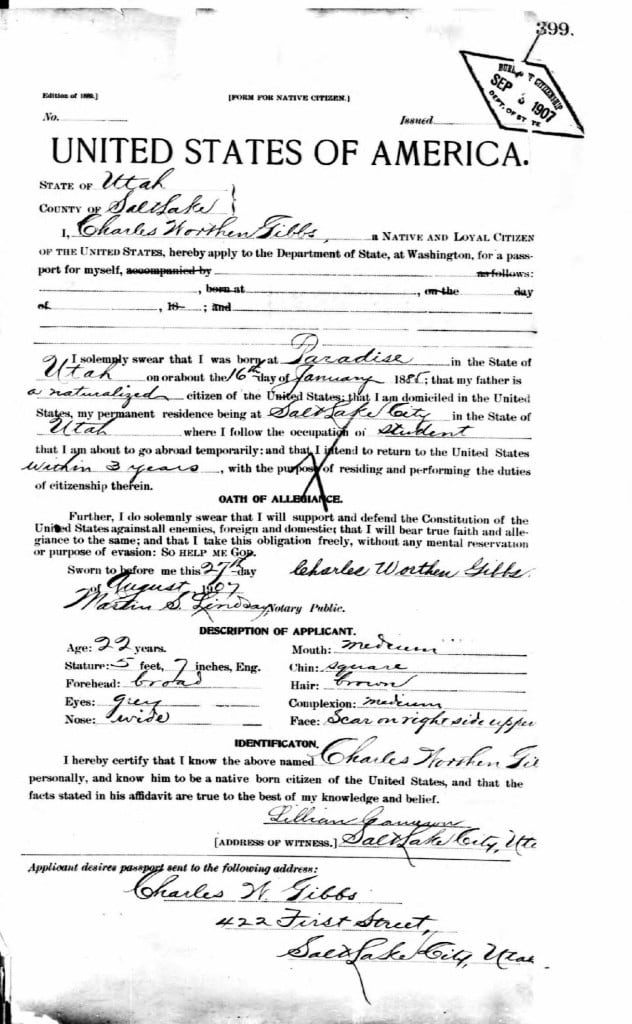 My great-grandfather's passport application gives a description of what he looked like. Charles Worthen Gibbs was only 5'7″ with a broad forehead, grey eyes, and a wide nose. And he had a scar on the upper right side of his face! I wonder how he got that scar?
He received his passport so he could serve an LDS mission in England. He left four days after he married my great-grandmother on Sept. 12, 1907.
Here is Charles' World War I draft card. The great thing about this is we can see his signature in his own handwriting.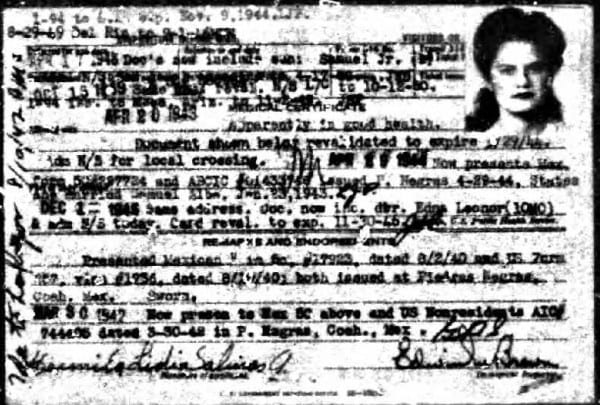 I just LOVE this border crossing card that contains my grandmother's photo. It's pretty hard to read but it shows she crossed the border from Piedras Negras, Mexico, where she was living to Eagle Pass, TX for a day trip. She was accompanied by her sister, and took her two children Samuel and Edna with her. And she was only 19 years old!
Indexing
These documents from border crossing cards to census to vital records were made searchable online because someone indexed them. This means someone typed out the information on the records. It takes thousands upon thousands of hours of volunteers typing the information contained on all these handwritten or typewriter typed documents so they are available online for people like me and you to find them.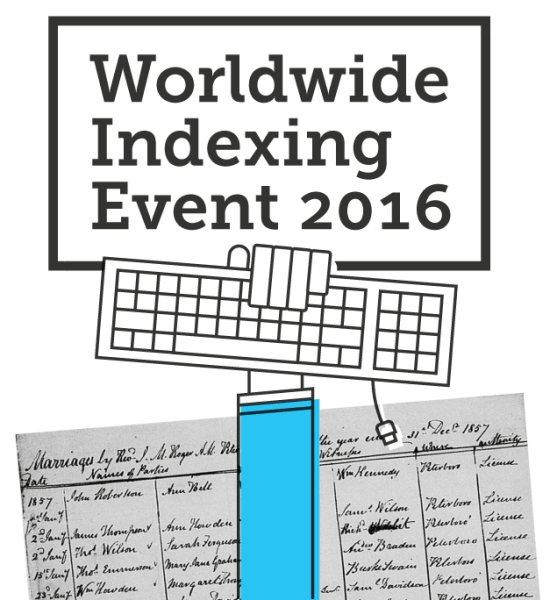 This weekend there is a Worldwide Indexing Event to "rewrite" history by making even more documents available for families worldwide to find their ancestors. We need your help! Will you join with other indexers to index at least one batch of records? It is really fun to do! My daughter, Debbie, has made it a habit to index at least three batches a week. She loves to do WW I or Revolutionary War draft cards and muster rolls.
These documents are available in many languages, as evidenced by my grandmother's Spanish birth registration, so if you live in another country or know another language you can help too!
If you have never indexed before, it's pretty easy to start. There is special software you need to download but other than that it's simple. Go here to learn more about indexing.

From July 15-17, FamilySearch International will sponsor the third annual "Worldwide Indexing Event," bringing 72,000 people from around the globe together online during a 72-hour event to save the world's records by making them searchable to the public. 
During the 72-hour indexing period, volunteers participate by downloading the FamilySearch software and completing as many names as they would like.  Anyone with a computer and internet connection can join.  

Volunteers have made over one billion historic records searchable online since FamilySearch introduced online indexing in 2008. The demand for indexed records continues to grow as millions of historical records worldwide are added every year.
To join 72,000 teammates in saving the World's records, visit https://familysearch.org/worldsrecords.
FamilySearch International is the largest genealogy organization in the world. It is a nonprofit, volunteer-driven organization sponsored by The Church of Jesus Christ of Latter-day Saints. FamilySearch and its predecessors have been actively gathering, preserving, and sharing genealogical records worldwide for over 100 years. Patrons may access FamilySearch services and resources free online at FamilySearch.org or through over 4,921 family history centers in 129 countries.