Pioneers abound in our family. We have pioneers that crossed the plains in 1847 and others that crossed later in the 1850s and 1860s. You know how big we are on family history! I have been wanting to take my kids to This is the Place Heritage Park for years. I remember going as a little girl and knew it was totally different now, and better than ever. Oh boy! We were NOT disappointed! In fact, we had so much fun I hardly took any pictures.
The park is set up like a pioneer town. Every house and building is either an original or replica of an original. Each building also has a story of the family that lived there or the events that took place. We started by taking the "train" around the outskirts of the town to get an idea of all that was offered.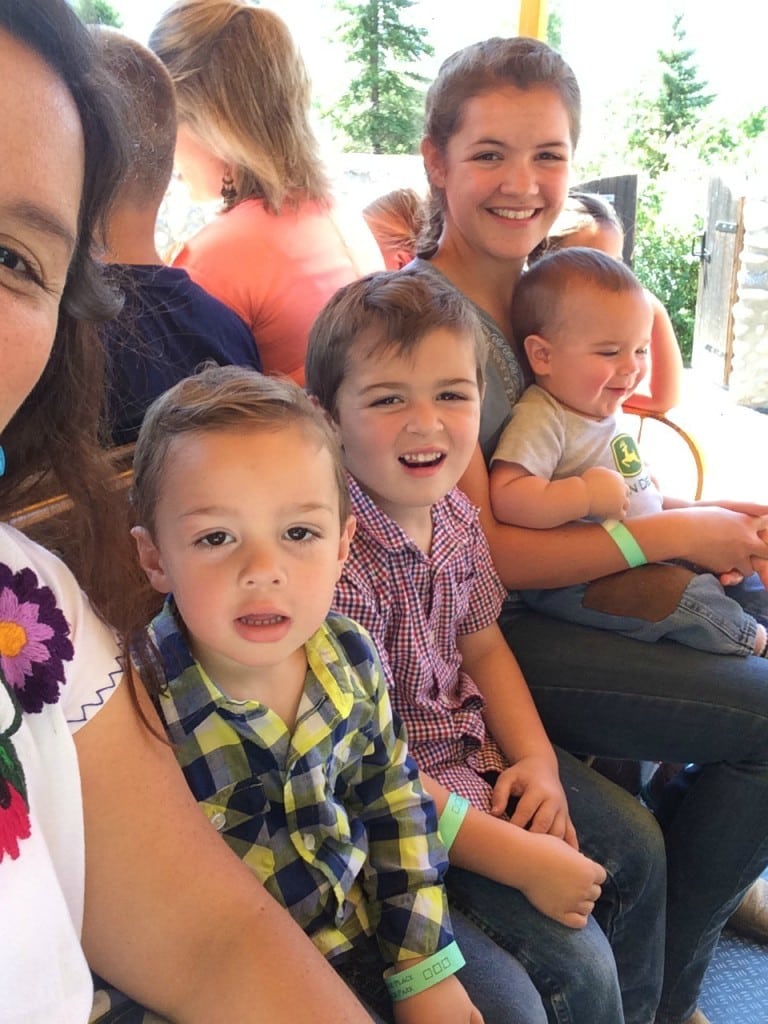 Little boys + trains = Total Win!
We didn't get to ride the train around Hogle Zoo the day before because it had broken down so this train ride was a great make-up from the day before. After going around the town we hopped off the train and started walking right up Main Street stopping at each house/building to learn more.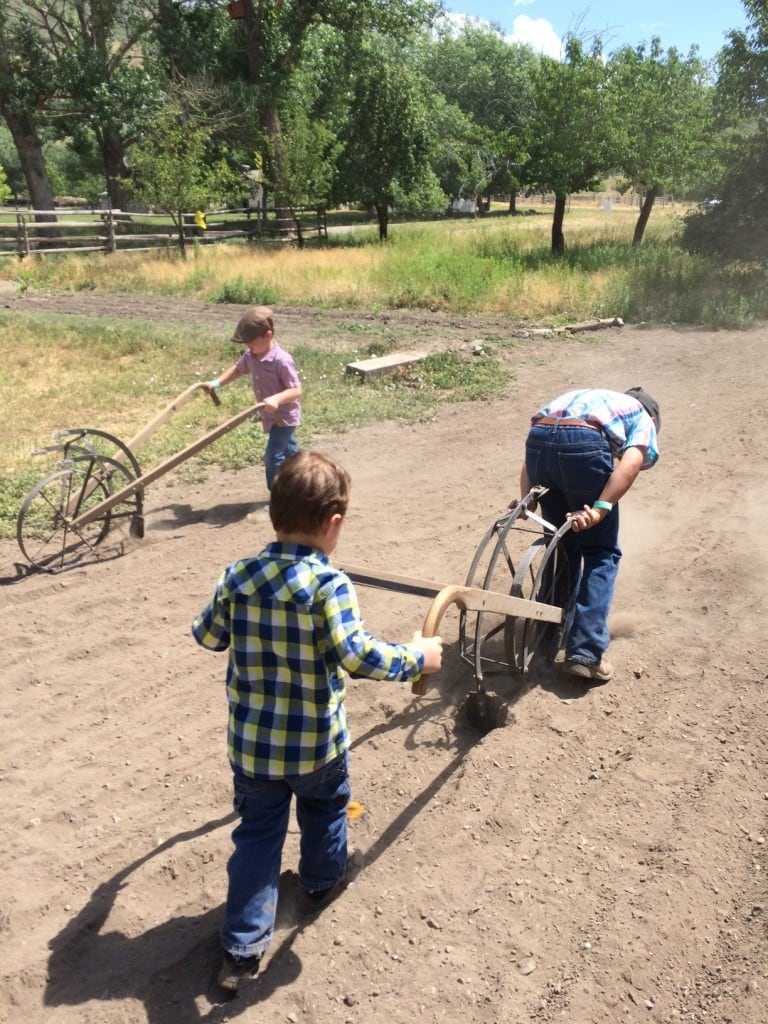 I texted this photo to Joseph who had stayed home because we are right in the middle of second crop. He texted back, "Makes my back hurt." The little boys had fun though!
At this same cabin the kids could wash clothes on washboards and hang them on the line, have races with hoops, and walk on stilts. Now we've done homemade stilts before so we had an advantage. I should have taken a picture or video of the older girls all getting on the stilts and walking around with virtually no problems while the other visitors who had been trying and trying to even stay upright stared in amazement. It was pretty hilarious! The trick? Instead of just holding stilts in your hands you need to wrap your arms back around the sticks so they stay tight to your body.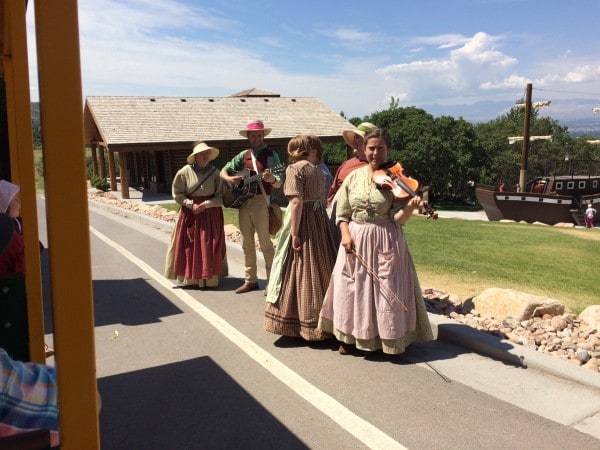 We had so much fun learning about the various pioneer families and their stories. Each building had at least one person waiting in pioneer garb to tell about what happened there. There was usually an activity the kids could do as well. Our favorite was the story of the Fairbanks family.
The Fairbanks bought some ducks to raise so they could have meat. As is usually the case though, they fell in love with the ducks and kept them as beloved pets instead. Mr. Fairbanks had to leave town for some business. While he was gone Mrs. Fairbanks walked outside to find all the ducks lying dead on the ground. She didn't know what to do! She decided to pluck the feathers and wait until Mr. Fairbanks got home so he could check to see if they were poisoned before they ate them. She went back inside to attend to her household duties.
Mr. Fairbanks came home and asked, "Why are all the ducks walking around without any feathers?" The ducks hadn't died! Instead they found the ducks had eaten tons of poppy seeds. So many they didn't even flinch when their feathers were plucked. Mrs. Fairbanks felt so terrible she knitted sweaters for the ducks and made them clothing. Word spread about the dressed up ducks and people would come from miles around just to see the sight.
We have ducks as pets. And they even have clothes! So we really enjoyed this story.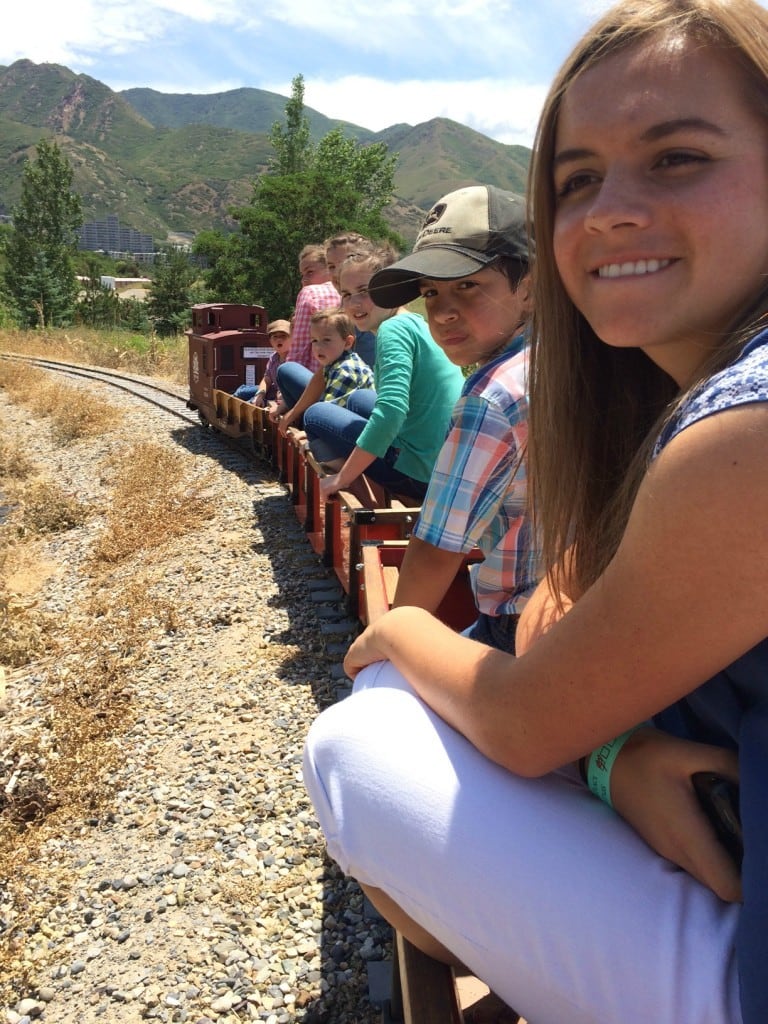 The kids panned for gold, made arrowhead necklaces at the Native American village, and ate Brigham's Doughnuts. We also took another train ride around a small pond full of geese and little goslings. There is so much to see and do we only got to see about a third of it. And we were there for six hours! We are definitely going back next time we go to Utah, especially if Joseph is with us. Our family is so big that the cost to get in for one day was the same as buying a yearly family membership. I bought that so next time we go it's free. Hopefully we can go a few more times before the membership expires next July!