Do you have a favorite uplifting movie? I do.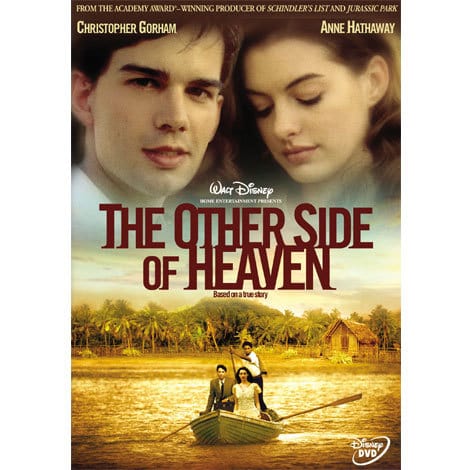 The Other Side of Heaven starring Anne Hathaway and Christopher Gorham. I love it because not only is it a true story, it is a story of faith and hope and love. It is based off the missionary experiences of John H. Groberg as he served in the Tongan isles in the 1950s. Elder Groberg wrote a book called "In the Eye of the Storm" but after the movie the name of the book changed to match the movie. It details all of his missionary experiences: the miraculous, the heart-breaking, the hard experiences all missionaries have.
During Eve's first year of college she was able to briefly meet John and Jean Groberg when they came to speak at BYU-Idaho. She was so excited to meet people she grew up admiring from afar! And she was told she looks like Anne Hathaway.  😀
Critics typically don't like movies like this and didn't treat this one kindly either when it was released fifteen years ago. While that doesn't seem very long ago our copy of the movie is a VHS tape! Still works great.
This is the only faith-based movie ever released by Walt Disney Studios but today it is now available on iTunes! Our family loves it and highly recommends it for everyone.
Have you seen The Other Side of Heaven?