Find the October 2017 General Conference Jeopardy Game here!!
The April 2017 General Conference Jeopardy is here!!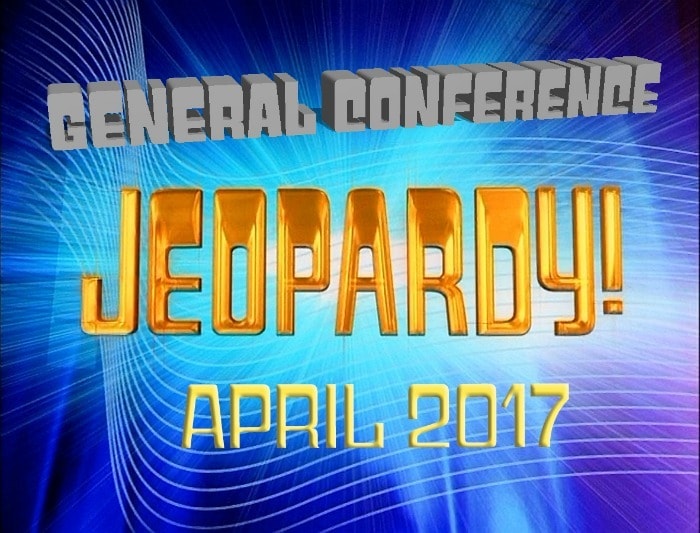 Oh, how I LOVE General Conference weekend! It is a boost to my soul. Hearing the words and counsel of the living Prophet and apostles and other church leaders brings peace and added insight to what I need to work on personally. One of my family's favorite ways to review what we learned at General Conference is to play General Conference Jeopardy. This is also great to play in seminary, family home evening, or for Young Men or Young Women activities.
Download the April 2017 General Conference Jeopardy game at the bottom of this post.
GAME INSTRUCTIONS
Each team must have a copy of the scriptures!
Open the game in PowerPoint Viewer. Depending on your version of PowerPoint you will be asked if you want to enable macros. Yes, you do! You might also have to push "play" in the upper right of your screen again depending on your version of PowerPoint.
Click through the first screen to get to the game board. A student picks a category and a dollar amount. You click on that dollar amount and it will take you to the question. Another click will take you to the answer. THEN click on the green triangle at the bottom of the answer slide and it will take you back to the game board. Hopefully the question previously picked will now be dark and only the "unasked" questions will be highlighted. When you finish Round 1 you will click on the Round 2 box and repeat as above. When you finish round 2 you will then click on Final Jeopardy.
You will need to keep score as the powerpoint won't do that.
A huge thanks to Linda Harper for gathering the questions together. I put them in a power point presentation to make it more fun and easier to play.
Have fun!
For those who do not have powerpoint to play the game here is a pdf file with all the categories and questions. Create the game board on a chalkboard or white board and erase the dollar amounts as each question is asked. Please note that I changed the order of a few of the questions when I created the powerpoint so the pdf file and powerpoint won't match exactly.