Longtime readers will know of my love for Sonlight. It is a history and literature based curriculum I have used for over 10 years.
Until now.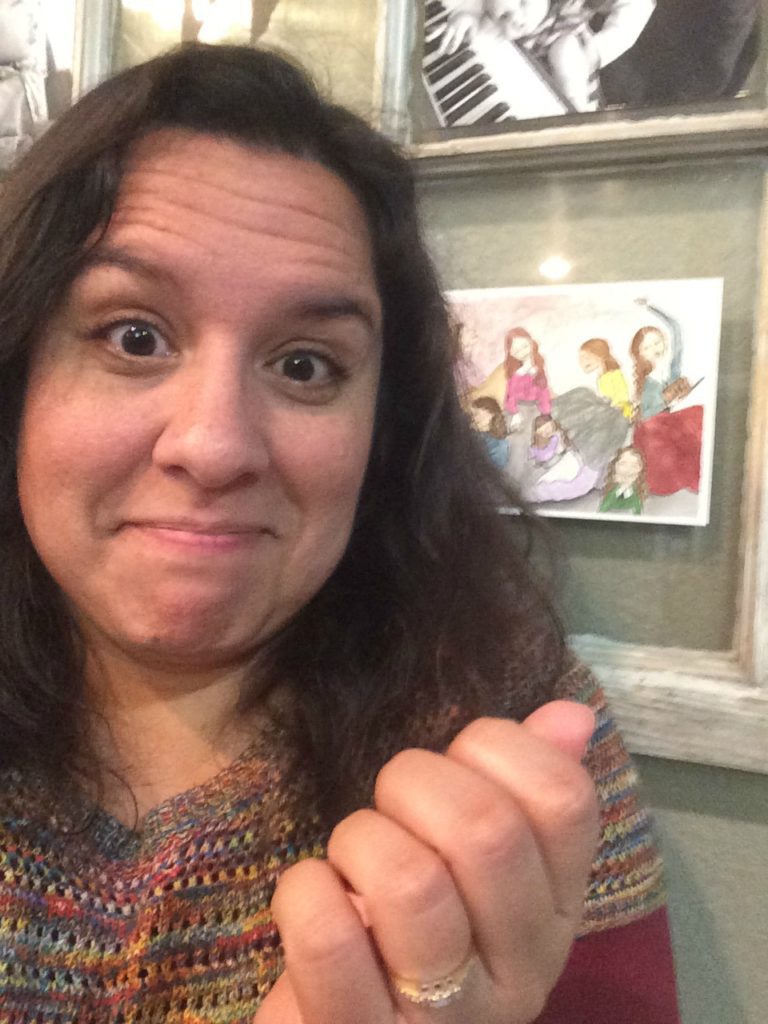 As hard as it is to say it, (because of loyalty) I have found something even better.
We started using The Good & the Beautiful for language arts this past September for Laura (middle school) on down to Jason (pre-k). It has been wonderful! I have been heard to say several times these past few months, "This is exactly what I've been looking for since we started homeschooling almost twenty years ago."
Why Do I Love It?
Everything – reading, writing, phonics, spelling, grammar, punctuation, and literature is covered. And bonus, art and geography are thrown in too. WHAT? Yes! In the language arts program!
Not only that but it is all wholesome reading with emphasis on faith, families, and strong morals. Beautiful paintings and other art are incorporated right into the books. Take a look at this page that Jason did a couple of days ago.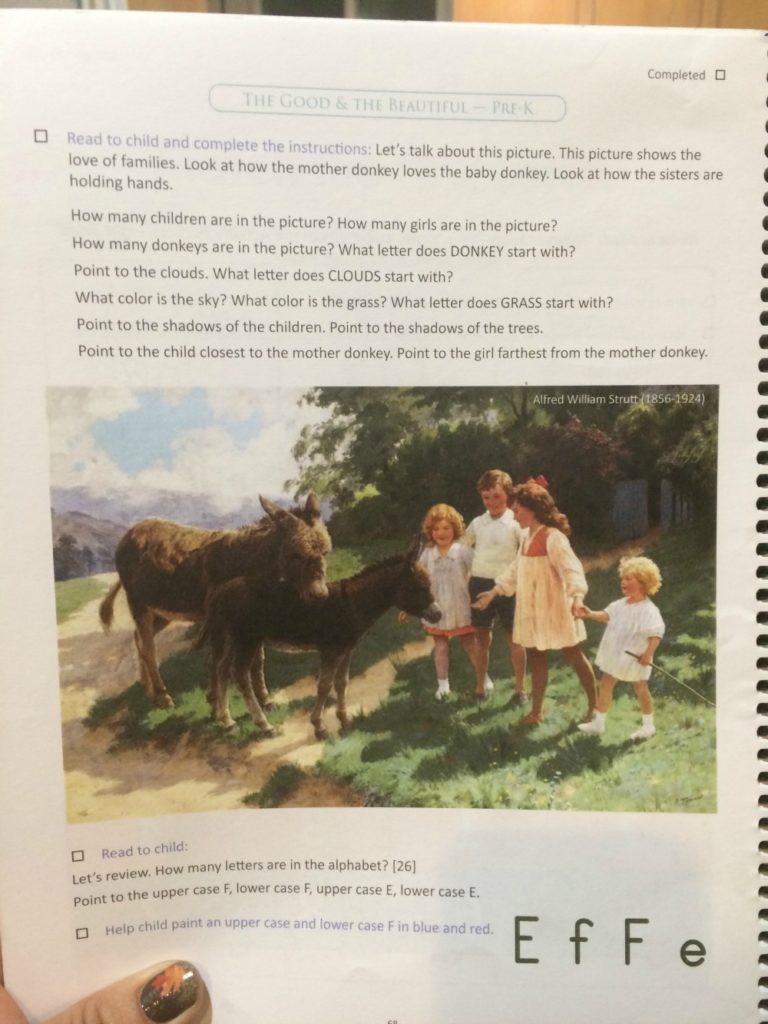 Notice the delightful artwork. The discussion starts with "Let's talk about this picture. This picture shows the love of families. Look at how the mother donkey loves the baby donkey. Look at how the sisters are holding hands." Then questions are asked of the child to help them notice the details in the painting as well as reinforce skills they have been learning. "Point to the clouds. What letter does CLOUDS start with?"
This page also shows another thing I really like about The Good & The Beautiful. There are no separate lesson or teacher plans. It is all written out in the books. The curriculum I was using before I had to pull out several different books as well as open the lesson plans which were in a giant blue binder. There are still a few separate books with The Good & the Beautiful but not as many as they try to have the literature already in the books.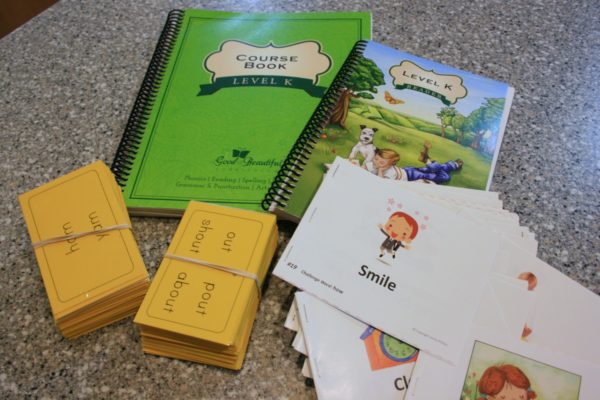 For levels K-3 there are phonics flash cards and reader books to practice those essential skills needed for successful and strong readers.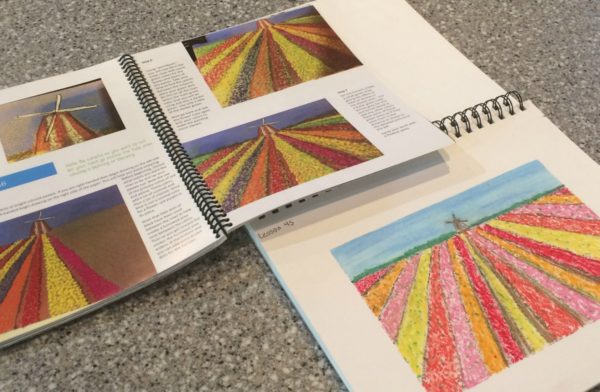 The older grades also discuss artwork but with more details. Children practice oral narration and are encouraged to be very descriptive in their language. Levels 4 has a creative companion that teaches art techniques while learning geography and practicing writing skills.
FREE CURRICULUM
One great thing about this curriculum is you can download levels 1-5 of Language Arts & Literature for absolutely free! You can try it out with your own children and see if it will work for you. If it doesn't you haven't lost any money. You don't have to worry about returning books in good condition. But, I can almost guarantee you will love it.
Before you purchase anything you can see sample pages of the books or units. I'm not talking about 1 or 2 page samples either! Samples are over 20 pages so you can really get a good look at what you are purchasing.
Through Saturday, Nov. 11th only you can download The Good & The Beautiful book list for free. It recommends books for children of all ages from pre-k up to high school. These books are uplifting, have no bad language, teach good morals, etc. And there are a lot of them! The book list is 117 pages long. Did you know there really are good books out there for children and families to read?
HISTORY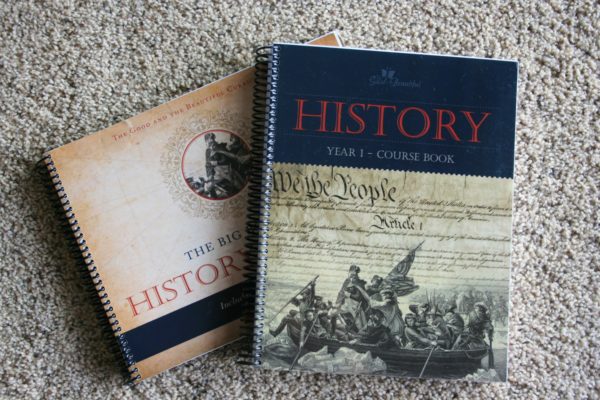 We loved the language arts and literature so much we recently ordered the history and science.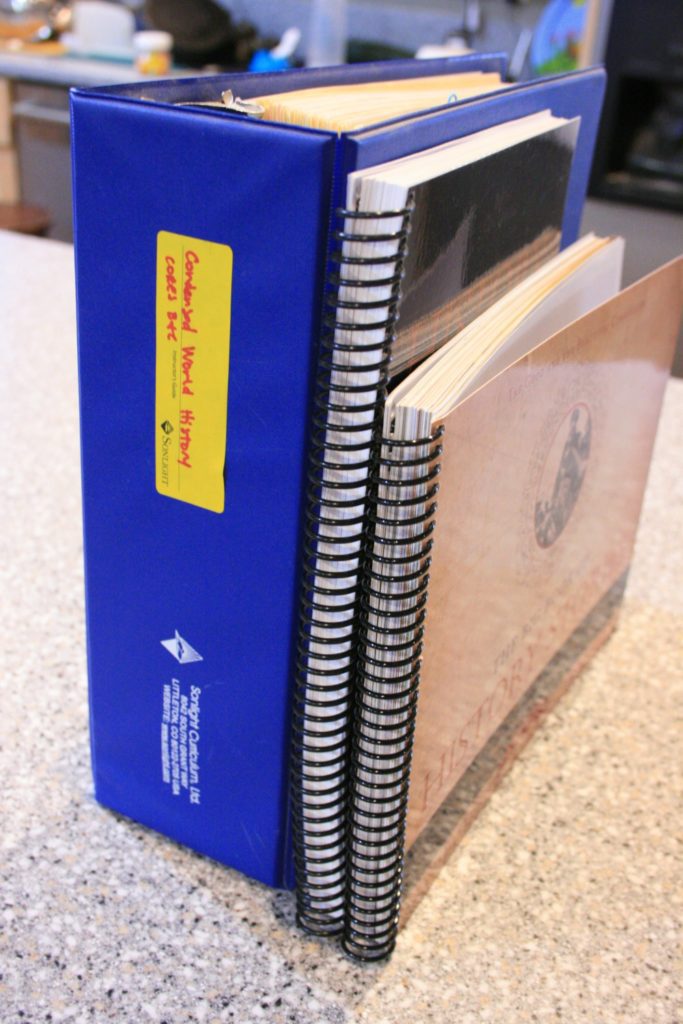 Take a look at the difference between Sonlight on the left and The Good & The Beautiful on the right. Do you know how much more shelf space I am going to have to fill with more good books to read? Squee! Sonlight is done on a daily basis while TG&TB is just a couple of times a week so that does affect the size a bit.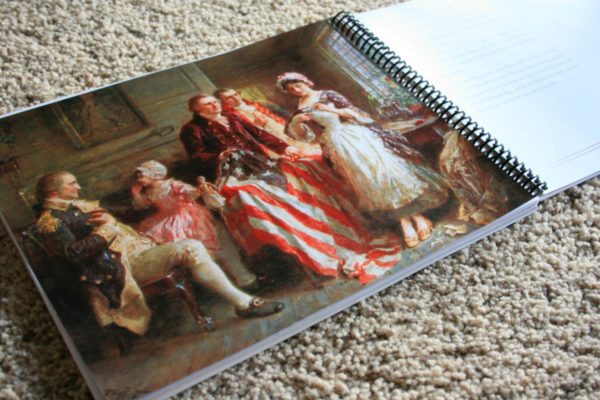 Again, beautiful artwork is sprinkled throughout the books as stories from history are told.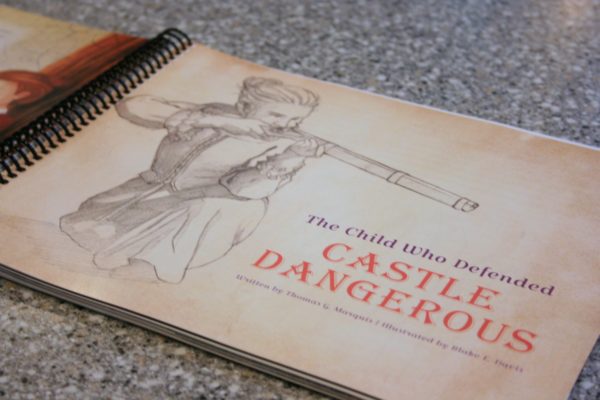 I LOVE that women and girls are included in TG&TB world history as much as the boys and men are. Have you ever heard the story of Madeleine Vercheres?
Another wonderful part of the history courses are the dramatized audio recordings. My children love listening to Old Time Radio classics like 'Tales of the Texas Rangers' and 'Gunsmoke" so these recordings are right up their alley.
SCIENCE
We haven't started the science yet. I ordered The Solar System and the Human Body units to begin with. We start them next week.
HAPPY KIDS – HAPPY MOM
Overall we have all quite enjoyed The Good & The Beautiful!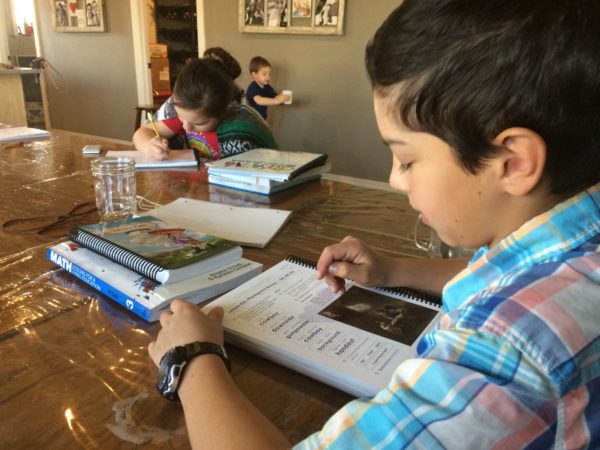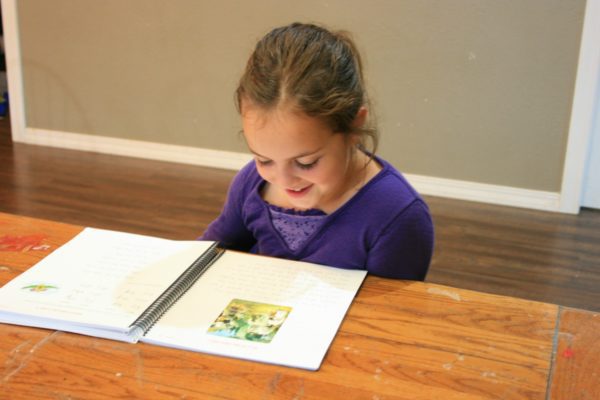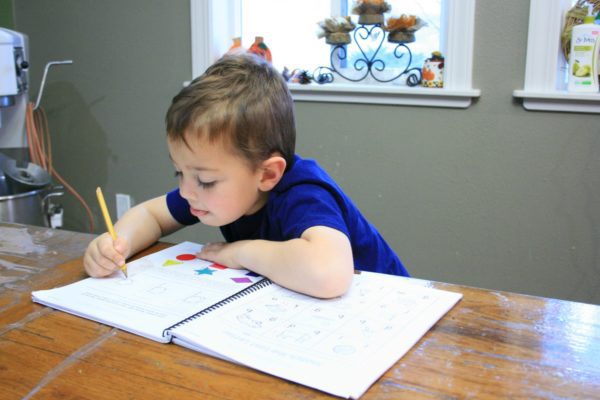 My kids are actually excited to do school, still. They are usually excited when school starts in September but that wanes pretty fast. Here we are three months into the school year and they are still enjoying it.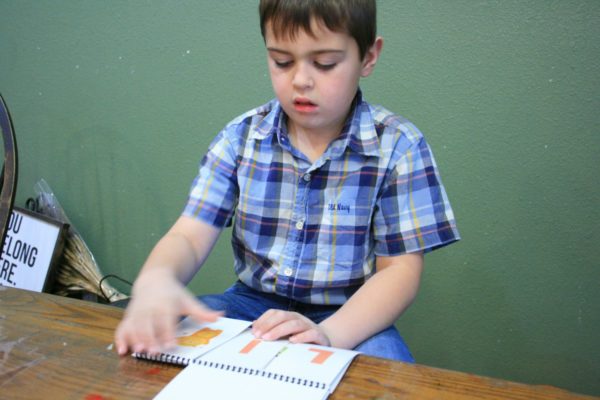 If you knew Gideon, you'd realize how much of a success this is!
If you are looking for academically strong curriculum that also teaches good morals along with faith and family, The Good & The Beautiful is everything it's name implies.