Here's a reposting of my summer activity list from last year. It has been updated with more ideas to have fun with your children this summer. I always feel so sad for those children whose parents dread the end of school, who fear having their children home all day, who don't enjoy their children.
Now for the re-post.
Ahh…the good old summertime when school is out and carefree days are full of swimming, bike riding, street ball, reading. Then the second week of summer vacation starts and you begin to hear every once in a while the whiny sounds of "I'm bored". It gradually crescendos so by the third week your ready to pull your hair out wondering how to keep everyone happy, busy and mommy sane.
May I introduce our 6th annual Cool Summer Days.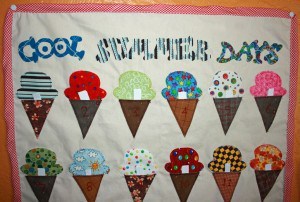 I came up with this summer event calendar 6 years ago after seeing a similar idea in the Family Fun magazine. Each day of the month corresponds to the numbers on the ice cream cone. The kids take turns pulling out the slips of paper to see what activity or field trip is planned for the day. Sometimes it is something elaborate most times it's not. Whatever it is, though, my children always enjoy the suspense of finding out what they get to do.
As you can imagine I've developed quite a list of activities to keep the kiddos learning, creating, playing, laughing, HAPPY! Here is my list divided into categories:
Crafts:
Make homemade stickers
Paint with watercolors (I let them use my real watercolor paint)
Use potatoes carved with simple designs as stamps to make our own wrapping paper
Stamp birthday cards for family and friends, file them to send throughout the year
Make Christmas decorations or ornaments
Create scrapbook pages
Make home made pinatas
Break your pinata
Make Kool-Aid playdough
'Stained Glass Windows' – Cover the sticky side of contact paper with several colors of tissue paper, make sure to leave about an inch edge all the way around so it will stick to the window
Make your own chalk
Make candles
Make papercrafts. This site has loads of fun printables to make and do!
Write Secret Messages
Make your own flower press
Build a teepee
I Spy Bottles
Send a message in a bottle
Homemade Bowling Pins
Eric Carle Style Art
Personalized Notepads
Cooking:
Bake a cake, decorate it, and sing "Happy Unbirthday to Us!"
Make popsicles
Bake mini loaves of bread, make butter to spread on them
Bake up different batches of muffins to freeze for snacks
Make homemade bagels
Decorate sugar cookies
Bake cupcakes and deliver to friends
Choose different cookies recipes to bake and freeze for snacks
Make Ice cream in a bag
Make tiny birthday cakes
Mix up rice krispy treat balls
Petite Watermelons
Make homemade pretzels
Field Trips:
Go swimming
Pick raspberries
Go to the museum
Ride a horse
Go out for ice cream
Trip to the dollar store
Go to the movies
Attend a concert
Visit a nursing home or an elderly neighbor or friend
Go bird watching
Visit a farm
Go to the beach and collect seashells
Visit a fire station
Education:
Learn a new Primary Song or Children's Song
Check out a book from the library on paper airplanes. Make all different kinds and have competitions.
Make 'Slime'
Make a list of what you want to learn about this year (Homeschool)
Buy school supplies
Catch butterflies, compare them, learn the life cycle of a butterfly
Plant a garden
Learn about different types of poetry (haiku, limerick, acrostic) and write your own
Design a quilt
Sew your quilt
Read books all day or listen to books on tape
Write a story then illustrate it
Take a week to learn about a country: cook a food from it one day, color its flag the next, listen to native music on another day, etc.
Collect flowers to press in your own homemade flower press
Patriotic:
Make patriotic bracelets
Paint T-shirts for the 4th of July (search FamilyFun)
Make patriotic hats
Attend a parade
Do patriotic activity pages (wordsearches, crossword puzzles, coloring pages) Do an internet search to find more than you can ever do!
Sing the other verses to the Star Spangled Banner
Ring the "Liberty Bell" by throwing rolled up socks at a bell hanging up on the ceiling
Learn how we got "The Star Spangled Banner"
Boutique Week:
Make soap
Make chapstick and lip balm
Have a make-up makeover. Don't forget to take glam shots!
Paint toenails and fingernails.
Make charm bracelets
Make seed bead rings
Sew some cool new PJ pants
Make hair accesories – tie lots of ribbons around hair elastics or make ribbon headbands
Outdoor Activities:
Build a campfire, roast hot dogs and marshmallows
Camp out on the lawn
Blow bubbles. Use different wands. Be creative!
Go for a walk
Try geocaching or letterboxing. These are SO MUCH FUN!!!!
Play water games
Try some new outdoor games (search FamilyFun)
Have a nature scavenger hunt. Write a list for older children. For younger children paint different colors on the bottom of egg cartons (different shades of green, brown, other colors of nature) and see if you can find objects matching those colors. You'd be surprised at what they can find!!
Bike riding
Hiking
Squirt gun fights
Water Balloon fights
Have different races: wheelbarrow, crab walk, crawling, etc.
Relax on the lawn watching for shapes in the clouds
Go Fishing
Water Park Day – Invite friends over and tell them to bring their swimming suits and any baby pool, sprinkler, or water toys. By the time everyone is there, your kids have an entire "water park" to play in with several pools, slip and slides, and sprinklers. (Thanks Janetta!)
Play stick-ball
Stay up late and look at the stars
Indoor activities (Sabbath appropriate):
Draw pictures and send to the Friend Magazine
Write down everything you are thankful for. Be very specific.
Read pioneer or ancestor stories. Act out your favorite ones.
Try writing your own song
Choose a cousin to write a letter to. Make sure to tell them all the things you admire and like about them!
Make your Christmas wish list (I like to get my Christmas shopping done by November)
Write real letters (not e-mail!) – to grandparents, cousins, aunts, uncles, or friends
Make your own envelopes out of wrapping paper to send your letters in (Look here for templates)
List 5 nice things about each member of your family
Play board games all day
Think of a good service project to do. Plan it out and carry through with the plan
Make a list of what to give everyone for Christmas
Music Mix CD
Make your own "books on tape"
Write your own skits
Create a puppet play with stuffed animals
Turn off all the lights, turn on a flashlight and make shadows on the wall
Eat dinner by candlelight
Other:
Backwards Day – Have dinner for breakfast and breakfast for dinner, etc.
Celebrate Special Days for:
June,(summer solstice, Flag Day, Donut day, Chocolate Ice Cream Day)
July, (Embrace Your Geekness Day, Hammock Day, Chocolate Day)
August (Friendship Day, Watermelon Day, Toasted Marshmallow Day)
I hope this list will get you started on making this a great summer spending time with your children. And please let me know if you can think of more fun activities!
Sugardoodle and The Dollar Stretcher also have HUGE lists of summer activities.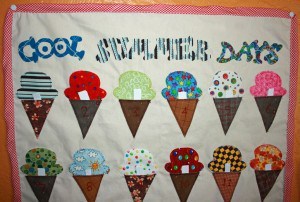 Here is the link to sew your own Cool Summer Days Calendar.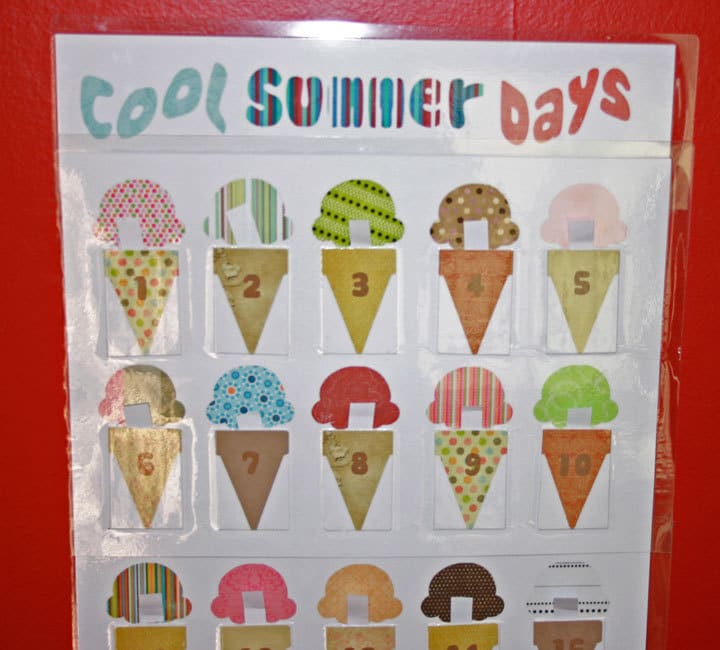 Here is the link for the printable paper Cool Summer Days Calendar.