This craft goes along with day eleven of The Living Christ: An Easter Countdown.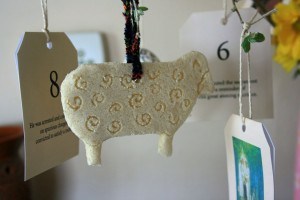 I forgot to post this yesterday! So sorry. We just made simple salt dough sheep to hang as ornaments on our Easter tree.
Salt Dough Recipe
2 cups flour
1 cup salt
1/2 – 3/4 cup water
Mix flour and salt in a bowl. Slowly add water until dough is formed. You do not want it to be sticky!. Knead dough several times. Roll out to 1/4 inch thickness. Cut out with cookies cutters or or trace around an image (like we did). Let dry over night or bake at 200 for several hours turning over once to make sure it is completely dry. Dry salt dough can also be painted but we left ours a natural color.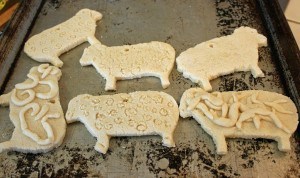 © 2007-2011 Chocolate on my Cranium, LLC all rights reserved