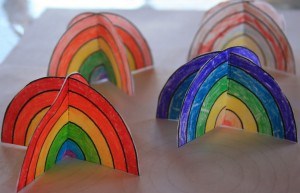 For day three of our Living Christ Easter Countdown we talked about John the Baptist baptizing Jesus. We discussed being baptized by immersion, and what it feels like to be clean. It lead to us singing:
"When I am Baptized" (Children Songbook pg 103)
1. I like to look for rainbows whenever there is rain
And ponder on the beauty of an earth made clean again.
2. I know when I am baptized my wrongs are washed away,
And I can be forgiven and improve myself each day.
Chorus
I want my life to be as clean as earth right after rain.
I want to be the best I can and live with God again.
After the song we talked about rainbows, how they are formed and the significance of the sign of the rainbow given to Noah after the flood (when the earth was baptized!).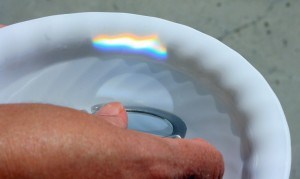 We made our own tiny little rainbow by placing a small mirror in a bowl of water and holding it at various angles to refract the light.
We made the 3D paper rainbows shown at the top of the post. And also made these Rainbow Pudding Pops, but they're still in the freezer setting up.
This activity goes along with day three of The Living Christ: An Easter Countdown.
© 2007-2011 Chocolate on my Cranium, LLC all rights reserved