Real catchy post title, huh?
I realize I forgot to post the topic for Wordfull Wednesday tomorrow. It is to write about a time (or times) your children have surprised you by serving others on their own. Children are usually very good at seeing a need and wanting to help. So go ahead and brag a little. 🙂
The randomly chosen winner from the Wordfull Wednesday participants in October is Tiffany from an ensign, waving. Which is really, really funny as she is also the guest writer for tomorrow's Grateful Hearts, Giving Hands (and Wordfull Wednesday) post! I kid you not, random.org chose her!
She won this lovely Bee Brave necklace from Kathryn Reichert Jewelry etsy shop to go along with the last Wordfull Wednesday topic.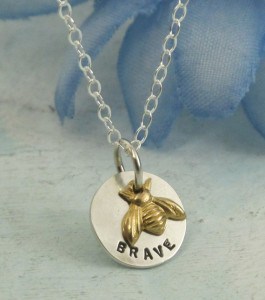 © 2007-2011 Chocolate on my Cranium, LLC all rights reserved