Perfect to eat on a cold, snowy day.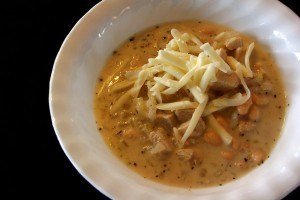 1 pound chicken, cut into 1/2 inch cubes
1 medium onion, chopped
1 1/2 tsp. garlic powder
1 TBSP. vegetable oil
2 15 oz. cans great northern beans, rinsed and drained
1 can (14 1/2 oz) chicken broth
2 small cans green chilies
1 tsp. salt
1 tsp. ground cumin
1 tsp. dried oregano
1/2 tsp. black pepper
1/4 tsp. cayenne pepper
1 cup sour cream
1/2 cup heavy cream
In a large saucepan, saute chicken, onion, and garlic powder in oil until chicken is no longer pink. Add the beans, broth, chilies, and seasonings. Bring to a boil. Reduce heat and simmer uncovered for 30 minutes. Remove from heat. Stir in sour cream and heavy cream. Serve immediately.
© 2007-2011 Chocolate on my Cranium, LLC all rights reserved