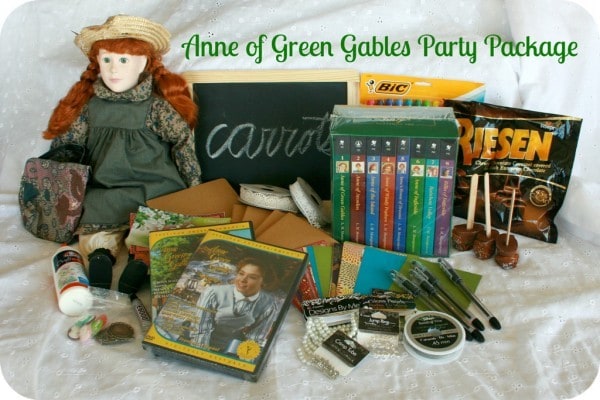 I've quite enjoyed sharing some of what went into the Anne of Green Gables Party package we sent to my daughter for her birthday. There were several other goodies we included that I wanted share here. Let's take a closer look and see.
Confession: The Anne doll didn't go. It's mine. 🙂 But as you can tell from the hat has been well played with by the girls.
There is a small chalkboard slate appropriately labelled with "carrots" for the famous scene where Anne breaks a slate over Gilbert's head for calling her "carrots."
Blank journals, lace, and Anne quotes to decorate the journals with. (see tutorial and get printables here)
Anne of Green Gables
and
Anne Of Green Gables – The Sequel
dvds to have a movie marathon.
Supplies to make
cameo brooches
Pearl beading supplies for
pearl bracelets
Scrapbook paper to use in decorating the journals as well as making
corner bookmarks
and
decorating pretty pens
.
The Complete Anne of Green Gables Boxed Set
! Another confession: I didn't send the books to my daughter as she already has them. Instead I sent them to a dear friend in her Anne of Green Gables Party Package. That one will be a surprise when she gets it in the mail on Friday!
Chocolate caramels and Salted Caramel Hot Chocolate on a Stick (recipe adapted from here)- why these? Because Anne tells Matthew and Marilla, "I had one chocolate caramel once, and it was simply delicious. I've often dreamed that I had a lot of chocolate caramels, but I always woke up just when I'm going to eat them."  See? I can always tie chocolate in somehow.  ☺
FUNNY STORY:  My daughter got her package yesterday and couldn't decide whether to open it or wait until her birthday next week. To keep her mind off the package she started looking at pinterest and noticed one of her friends pinned a tutorial for an Anne of Green Gables Cameo Brooch. She clicked on the link and it took her to my blog. She started scanning through it and feeling left out that we had done this super cute craft without her and then she read where I said I was sending it in her birthday package. She got so excited she called and asked if she could open her package right away, which is what I meant for her to do and why I posted the tutorials. So funny that to get her mind off the birthday package she instead accidentally found out part of what was in it through pinterest!
There are certainly many more things one could add to an Anne of Green Gables package such as a recipe for homemade ice cream, lace doilies, a copy of Tennyson's poem, The Lady of Shallot, tutorials for hairstyles, clothing guides for dressing in a modern Anne fashion, old-fashioned pens, fancy Edwardian type handwriting scripts to copy and imitate, posters of Gilbert and Anne or Anne and Diana,  etc.
What would you add to an Anne of Green Gables package?