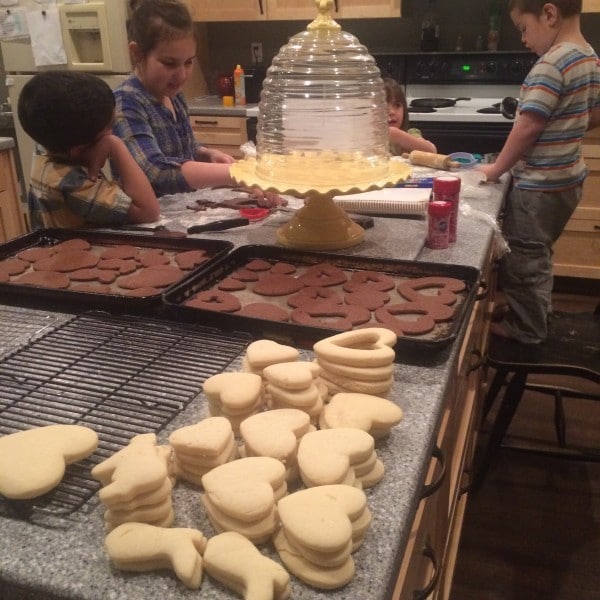 Last night the kids helped me bake dozens and dozens of sugar cookies, both regular and chocolate. Always gotta have some chocolate!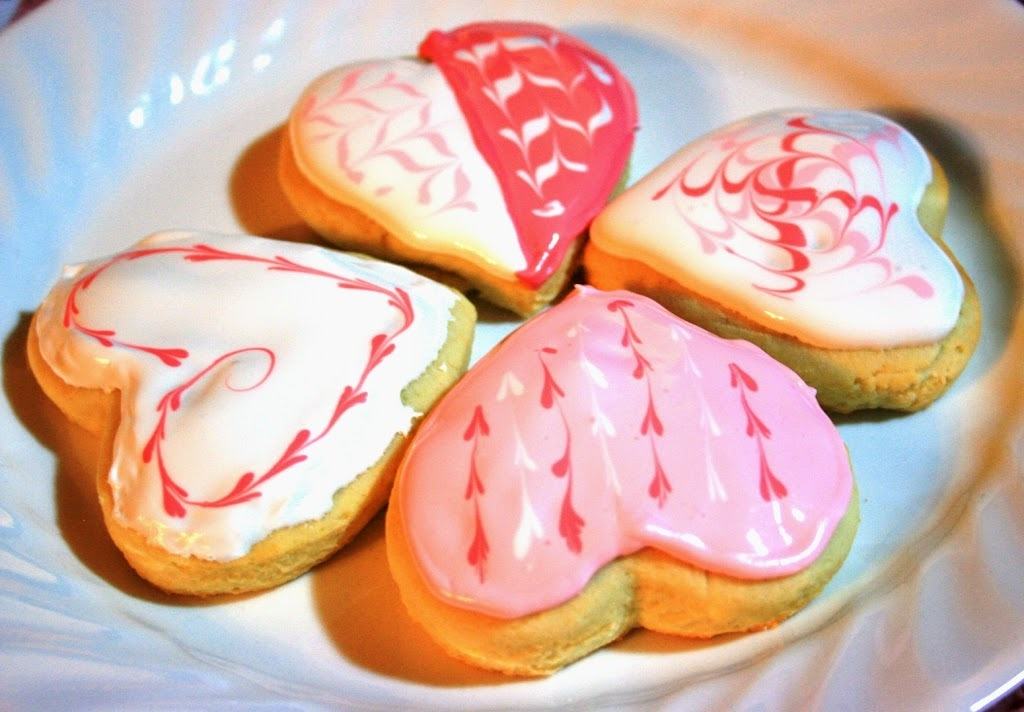 It's tradition to make sugar cookies close to Valentine's Day. There are just some really neat ways to make hearts while decorating with Royal Icing! You can see some of them on a past Valentine Cookie post.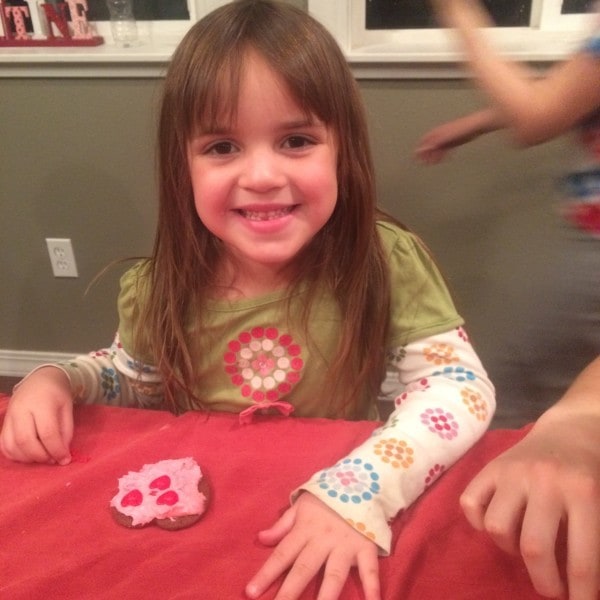 This year we stuck with regular buttercream frosting. I love watching the littles try their fine motor skills out. So much fun!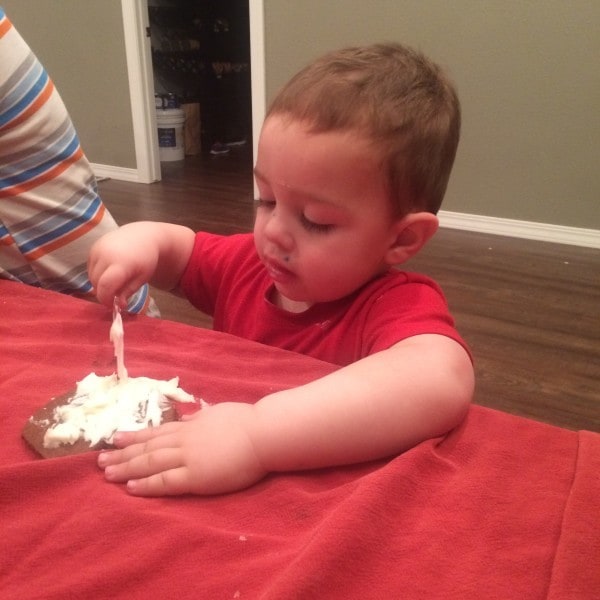 While we love our sugar cookie recipe I decided to try out a new one this year that doesn't have near as many ingredients as our old one. This recipe is so good I could NOT. STOP. EATING. THE. DOUGH! I'm also sharing our recipe for Chocolate Cut Out Cookies.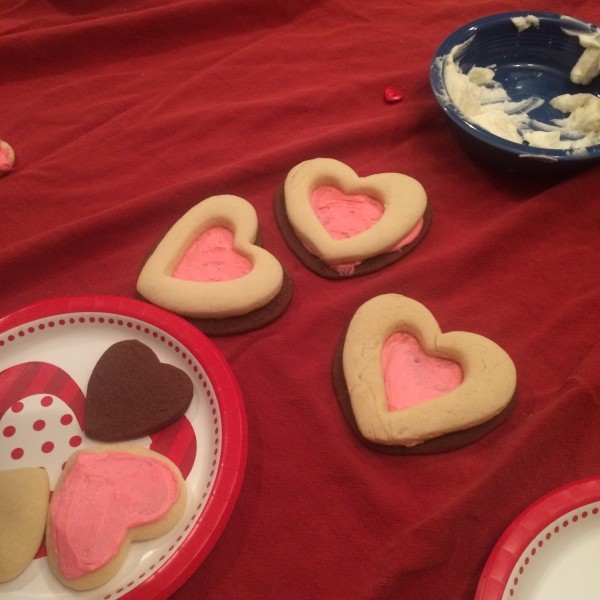 Soft Sugar Cookies
1 cup shortening
2 cups sugar
2 eggs
1/2 tsp. vanilla
2 cups sour cream
2 tsp. baking soda
1 tsp. baking powder
1 tsp. salt
6 cups flour
Cream shortening and sugar together. Add eggs, vanilla, and sour cream and mix well. Sift together dry ingredients and add to creamed mixture. Mix well. Wrap flattened dough in plastic wrap and refrigerate for 1 hour. Roll out to 1/4 inch thickness on a lightly floured surface. Cut out with cookie cutters. Place on ungreased baking sheets. Bake at 350 for 8-10 minutes.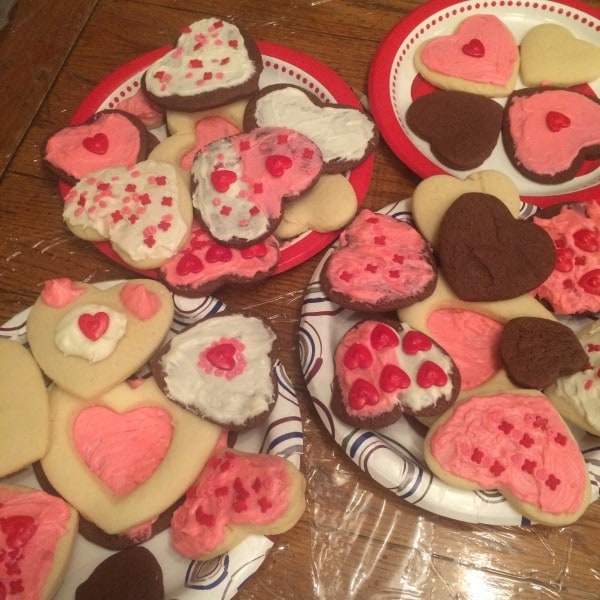 Chocolate Cut Out Cookies
1 cup butter
2 cups sugar
10 TBSP cocoa
3 eggs
1 TBSP vanilla
3 cups flour
1 tsp. baking powder
Cream butter, sugar, and cocoa. Add eggs and vanilla and beat well. Sift dry ingredients together and add to creamed mixture. Wrap dough and refrigerate for 2 hours. (I put it in the freezer for about 1/2 hour). Roll out and cut with cookie cutters. Bake at 350 for about 8 minutes.