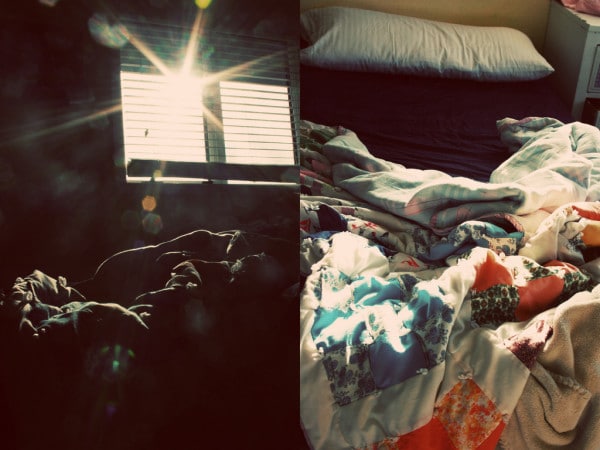 In the stillness of morning the sun peaks out behind misty mountain tops. Its rays reach out to bathe my room in golden beams of light. The glow is ever so subtle at first; shimmering flecks emerging from darkness dancing all about me. My eyelids flutter open sensing the change as a whispered thought nudges me awake.
"It is a fearful thing to fall into the hands of the living God." (Hebrews 10:31)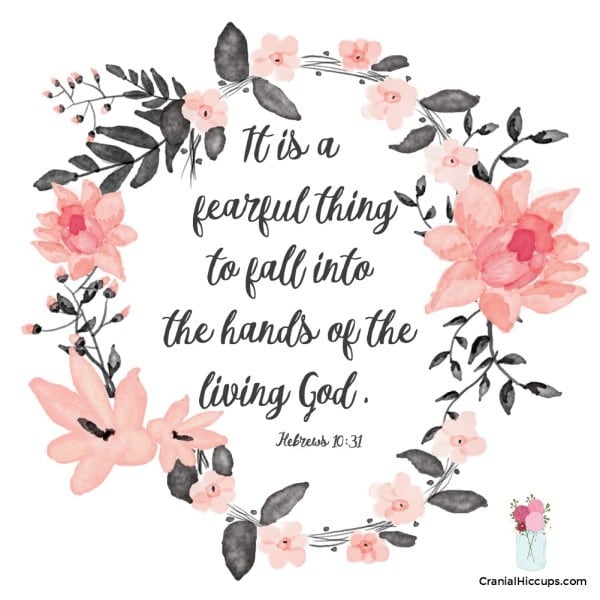 This scripture had been percolating in my subconscious for days only coming to the surface long enough to tickle my thoughts, to edge them a little further. There is more meaning to the words than what first appears.
Upon reading this verse in context Paul is admonishing, exhorting, scolding the Jewish (Hebrew) Christians not to forsake all the truth and light and knowledge they have received. He pleads with them not to return to their previous ways or else God will punish them with His "fiery indignation." "It is a fearful thing to fall into the hands of the living God" comes at the end of Paul's warning, a reminder of what happens to the wicked.
A few days after my initial reading I am surrounded by my children all working and arguing then laughing. This scripture dances on the edge of my periphery. It is also a reminder of what happens to the righteous.
What? I can't quite grasp the meaning of this new idea. For days I ponder off and on what it means for me. And like the shimmering flecks of morning light that slowly filled my room, God gently taught me.
I was reading the scripture the wrong way. Stuck with the typical meaning of fearful – a dread or anxiety of impending doom, frightening – I wasn't getting very far. My horizons needed to be expanded. Elder David A. Bednar explained in this past General Conference,
"The righteous fear I am attempting to describe encompasses a deep feeling of reverence, respect, and awe for the Lord Jesus Christ (see Psalm 33:8; 96:4), obedience to His commandments (see Deuteronomy 5:29; 8:6; 10:12; 13:4; Psalm 112:1), and anticipation of the Final Judgment and justice at His hand. Thus, godly fear grows out of a correct understanding of the divine nature and mission of the Lord Jesus Christ, a willingness to submit our will to His will, and a knowledge that every man and woman will be accountable for his or her own sins in the Day of Judgment (see D&C 101:78; Articles of Faith 1:2). . . .Godly fear is loving and trusting in Him. As we fear God more completely, we love Him more perfectly."  (Therefore They Hushed Their Fears, emphasis mine)
Fearful can mean full of awe or reverence! How had I forgotten? When we allow ourselves to fall into the hands of the living God through our reverence and respect for Him we willing submit to let Him direct our lives. Yes, that can be scary sometimes.
I have seen it in my own life and in the lives of others around me who are trying to do their best and follow whatever path God has given them.
Women who offer their bodies as a 'living sacrifice' (Romans 12:1) only to go through the painful grief of a child gone too soon, lost in the womb.
Mothers and fathers who only get  two short years with their precious daughter.
Others who yearn for a child of their own but God has other plans.
Sometimes, many times, it is in the day in and day out everydayness of our lives that wears us down and knocks us out. And yet, there is the continued turning and seeking and reaching to God to help us through. Why?

It reminds me of this quote from Francis Webster. He and his wife, Ann Elizabeth Webster, experienced great hardships and physical difficulties as part of the ill-fated Martin Handcart company. After recounting some of their experiences Francis Webster said,
Everyone of us came through with the absolute knowledge that God lives for we became acquainted with him in our extremities. . .  Was I sorry that I chose to come by handcart? No. Neither then nor any minute of my life since. The price we paid to become acquainted with God was a privilege to pay.
There it is. It is through our trials, our struggles, our difficulties, all the adversity, sorrow and suffering that we come to know God. It is the refiner's fire. James E. Faust observed, "This change comes about through a refining process which often seems cruel and hard. In this way the soul can become like soft clay in the hands of the Master in building lives of faith, usefulness, beauty, and strength."
I see that beauty and strength all around me, in the lives of so many who are trying to do good, be good, who fear the Lord and are willing to submit to His plan for them.
I have come to realize "It is a fearful thing to fall into the hands of the living God" (Heb. 10:31), but it is a still more terrible thing to fall out of the hands of the living God. I pray I will never separate myself from Him and His goodness.
It is why I wake up now every morning with Hebrews 10:31 echoing in my head. It gives me courage to face another day to know my world is in His hands.