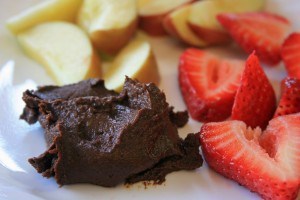 My children love to eat fruit: apples, mangoes, strawberries, bananas, kiwis, pineapple, grapes, you name it! Once in a while for a treat we'll make this fruit dip to go along with our afternoon snack.
It is delicious, smooth, not too sweet, and even healthy! I had to include this to continue on with the theme lately of adding everyday ingredients in unexpected places.(Tangy Meatballs, Tomato Spice Cake)
Chocolate Fruit Dip
adapted from Chocolate Fondue in Deceptively Delicious
1 Tbsp. margarine or butter
1/2 cup avocado pureed smooth
1/4 cup carrot (cooked and pureed smooth, we actually use some of our frozen homemade baby food!)
1/2 cup confectioners' sugar (powdered sugar)
1/2 cup unsweetened cocoa powder
1 tsp. vanilla extract
Melt butter over low heat in a medium saucepan. Add the remaining ingredients and whisk well until smooth. Serve warm or cold with fruit.
Make sure you puree the avocado and carrots really well. Little green chunks somehow don't make the dip as appealing. 😀

© 2007-2011 Chocolate on my Cranium, LLC all rights reserved