The Family: A Proclamation to the World has been a fixture and a guide about families for members of The Church of Jesus Christ of Latter-day Saints since it was first read by President Gordon B. Hinckley in the General Relief Society meeting on September 23, 1995. It has been spoken of, quoted, memorized and recited. Now it is also celebrated in an annual blog event held every September!
To celebrate the anniversary of the Family Proclamation, bloggers from all over the web are coming together to share inspirational experiences, crafts, FHE ideas, photo essays, and more. We want to spread the message about the importance of families and the teachings espoused in this wonderful document. The truths contained therein are universal to many cultures and religions of the world. The purpose of the Proclamation Celebration is to have a safe place where those who desire can express their appreciation for these wonderful teachings. The hope is that by focusing on the Proclamation and really digging in, all can understand its teachings better and learn how to better incorporate them into relationships with spouses, children and God.
Our annual celebration is held every September. Come join us! You can grab a blog button below or read posts from past celebrations by following the links that are after the blog buttons.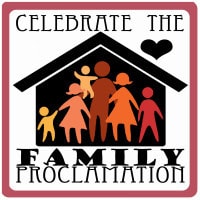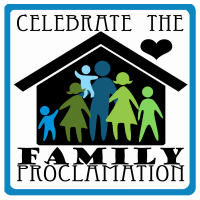 You can find links to all the wonderful posts for the past five years of celebration below. Each will open in a new window so you don't have to worry about backtracking in your browser.
Celebrate the Family 2014
Five Ways to Strengthen Your Family
Importance of Having Family Dinners
Working Together as a Family
The Family that Prays Together Stays Together
Communication and Forgiveness
The Importance of Family Home Evening
Family Scripture Study
How to Simplify Outside Activities
To Fill a Life
Home as a Family History & Missionary Training Center
Happiness in Family Life
Strengthen Your Family by Listening
Home Can Be a Place of Peace
How to Love and Care for Your Spouse
3 ways to help your children champion each other
How to Encourage Good Behavior in Children
Creating a Family Media Plan
Get kids excited about the scriptures!
Setting Family Priorities & Traditions
Family Mealtime Tips
Homeschool AFTER school
Kindness at Home
Letting Our Children Be Friends
Celebrate the Family 2013
Celebrate the Family 2012
Looking Towards Perfection
Why We Need the Proclamation
Family Proclamation Lapbook
Homosexuality and Compassionate Compromise
How The Family: A Proclamation to the World Inspired the LDS Mother's Almanac and My Life
Women Today
Living Your Love Story
Altered Shirts and Stable Patterns
The Blessing of a Body
Family Proclamation Photo Essay
Structuring a Life
Why I Love "Wholesome Recreational Activities"
Never Check Your Religion at Your Door – Defend the Family!
Building Righteous Family Traditions
The Family Proclamation: A Clarion Call
The Family Proclamation in a Consumer Society
At Long Last by Rozann Thoelke
Leave the Judgment at Home by Serene Heiner
Serving Your Spouse and Family by Jessica Clark
Made to Fit by Dennis Gaunt
Our Spiritual GPS
Family Proclamation FHE
Infertility by Steve Dalton
The Spirit of Elijah by Catania Larson
Handkerchief Dress Tutorial
Being My Children's Friend by Real
Teaching Children to Protect Their Bodies
Taking the Bus to Kolob
FPC 14: The Part-Member Marriage
FPC 13: Inches and Milestones
FPC 12: Unlikely Angels
FPC 11: Janette Rallison on Joy (?)
FPC 10: The Proclamation Captured
FPC 9: Nothing Normal About "The New Normal"
FPC 8: Ideal Families in the Proclamation
We Are at War – Encore
FPC Day 6: How About a Laugh?
FPC Day 5: Rags to Riches
FPC Day 4: You Have All Girls?
Opie, FHE and a Blog Hop
FPC Day 2: Cheeseboy: Love and/or Righteousness
FPC Day 1: A Bra Story
Family Proclamation Celebration, Day 1: Family Is Central
In the Image of God, by Shantel Gardner
Divine Nature and Destiny, by DeNae Handy
Sacred Covenants and Holy Temples, by David Dibb
Divinely Appointed Sacred Powers, by Michelle
Husband and Wife, by Shawni Pothier
Children Are an Heritage of the Lord, by Ken Craig
In Love and Righteousness, by Melanie Jacobson
Marriage Is Essential, by Michele Stitt
When Founded upon Christ, by Becca Riding
Principles of Successful Families, by Becca Wilhite
Faith, Prayer, Repentance, Forgiveness: The Power of Apology
Mothers and Nurturing, by Allison Kimball
Warnings, Calamities, and … Hope?, by Matt
Celebrate the Family 2011
Welcome to the Madness Celebrate Family Posts
Celebrate the Family 2010
How We Celebrate Family
  by Deirdre and James
Family Proclamation Download  by Heather
What is Real  by Misty
My Savior Loves Me by Jaime
Families are Forever by Momza
Family Proclamation Photo Essay Blog Hop
Eternal Families by Allison
I'm a Big Fat Chicken by Steph
Hold My Hand by This Girl Loves to Talk
Rearing God's Heritage by Deanna
That's What Fathers Do by Braden
Music and the Family by Marilyn
Family Proclamation Craft or Activity Blog Hop
Cottage Cheese, Ketchup, and the Family Proclamation by America Jane
The Miracle of Adoption by Allison
Growing by Ryan
I Do Not Ask for the Easy Path, I Ask for the Necessary One by Charlotte
Parking Lots of Kids by Paul
Forgiveness by Esther
Sharing the Family Proclamation Blog Hop
Teaching Our Children to Love
by Hannah
Hard Work and Independence by Shawni
Family Councils by Andalucy
Presiding in Love by Ken
Being a Mother by Sarah
You Are a Lioness at the Gate by Meg
Family Proclamation FHE Blog Hop
The Ties That Bind by Amber
8 Ways to Be the World's Greatest In-Laws by Michelle
Cher*ish by Sonja